Sometimes I get chocolate right from the source or shipped out in pristine condition, perfect and ready for review. And sometimes I get some disasters. Chocolate that somehow got destroyed in transit. I don't think this is a fair way to review chocolate, but I do think that even with broken up bars they can still be talked about and discussed without having to be so technical or score them. Though deeply I would love to rate a few of these, this will make for one hell of a post instead.
A friend of mine though twitter was in New York a few weekends ago for a chocolate show. I happened to be in town on some other business. The two of us decided to meet and do a little chocolate trade. Unfortunately, all of the chocolate bars she brought to me were damaged. But the brilliant news is that my new friend, Louise Thomas, happens to be a chocolate consultant in London. She shares a passion for chocolate and brought me some really wonderful bars. As I mentioned before, these bars didn't quite make from London to NY and back up to Boston, but just because I can't fully review these, doesn't mean all is lost. And it certainly doesn't mean I am ungrateful for having the privilege of these chocolates even reaching me. Louise is a thoughtful person with a deep passion for chocolate and she was kind enough to bring me some gems.
Let's put all that aside now and just sit like friends and talk about chocolate for a change instead of hardcore reviews.
Duffy's Corazon Del Ecador Milk 43%
Red Star Chocolate LTD. Made in Lincolnshire and sold at Paul A. Young in London. Single origin bean-to-bar chocolate maker. They use organic bean, though no certified a organic, and practice fair trade.
Batch # 100103
Size: 80g
Ingredients: Organic sugar, cocoa beans, cocoa butter, and milk powder.
Unfortunately this was the most destroyed bar in the bunch. All I can say is that it has simple molding and a fairly decent snap for a milk chocolate bar.
Nice aroma for an Ecuadoran milk bar. Beans from Ecuador or Arriba Nacional beans haven't been my favorite. They are very subtle in flavor and it takes some real tricks to get their true floral aroma to present itself. It also has a drying effect to the palate which sort of wipes the slate clean from lingering flavors. Sometimes that's a good thing and sometimes it's a nuisance.
Here is where it gets tricky. There were some nicks in the foil wrapping. No doubt a lot of the true aroma has dissipated. However, the subtleties of Nacional beans could also be a big contributing factor to a lighter aroma. I won't be able to tell until I can do a round two these bars.
What I did pick up from smelling it was a sweet, mildly roasted cocoa nose, light, peanuts, slightly buttery, wood, mild hints of spice and *cinnamon.
*I found cinnamon to be a common theme in a few of these bars.
Cinnamon was the first thing I noticed on the taste as well. Tasted like a rich hot chocolate, slightly musty, sweet at first them creamy and buttery. Slightly chalky texture, with a medium melt time.
I really enjoyed how buttery am creamy this chocolate was. The texture was okay a Little dry and chalky. Could be refined a bit more. I think I like Montezuma and Rococo's milk chocolates a bit better, but their didn't have the big buttery taste that this one has. They just happen to be a little bit more refined which is what I personally like. For those who like it a bit more raw, then this would be a good milk chocolate for them.
Duffy's Corazon Del Ecuador 72%
Batch #: 100144
Size: 30g
Ingredients: Cocoa beans, organic sugar, cocoa butter, soya lecithin.
Smaller bar, custom molding versus the standard squared tablets. Once again broken up but not as badly as the milk bar. Light nose and again this could be based on the bean varietal, mild roasted notes, lightly nutty, light wood aromas, buttery, and cinnamon. Thin snap, but fairly decent for a small 30g bar.
Sweet, sugary, tart, acidic, citrus notes, wood, berries. A lot smoother texture than the milk and a faster melt time and a creamier texture.
A hallmark British chocolate. I have noticed that British chocolate tends to be a lot sweeter (a personal observation). This is a very sweet bar of chocolate for a 72%. Very sugary, but this helps tone down some of the citric acidic notes. Clean but sweet finish with some lingering berries. This is pretty robust in the middle and has big fruit characters, but like all Nacional bars, those profiles stick their heads out, and then disappear and the palate is completely dried out and wiped clean. You forget that there were deep berry characteristics and some citrus notes from the acidic content.
Let's move on to something a little fancier, or maybe not?
Lot #: 10214
Ingredients: Cocoa and soy lecithin.
Word on the street is, this might not be real Criollo. I am not going to come out and call them liars, but there has been a recent movement of bars being released and being called Chuao or Criollo with no real proof to back up those claims. Chuao is a small village in the northern coastal region of Venezuela where some of the most prized cocoa beans in the world come from. But pure Criollo is not an every day find. It's not unheard of by any means, but the bean is hard to maintain as Criollo is very susceptible to diseases hence all the hybrids like Trinitario for strong varietals (that's a vague nut shell description). Calling it Criollo sounds good, and these are rare and delicate beans. Also the Chuao region is known for hybrids as well as pure Criollo beans. But no mention of genetic testing leads to suspicions that these most prized and rare beans are being used for their name sake but not really in the finished product.
Here is a good article written by Allan McClure of Patric Chocolates that explains some of the issues with pure varietals like Criollo and hybridization.
Chocolate-Myth Busters #3: Criollo Cacao tastes better than other types?
Having said all that, I shouldn't be taking out on them what a lot of companies are more than likely practicing today. And having never have contacted them to prove their beans are real, it's not exactly fair to single them out. However, I will note the pricing of this bar. For such rare beans, £5 for a bar of this so called rare chocolate seems a little low.... Maybe not by UK standards.
I love the molding that makes it look like a swath of chocolate with a simple monogram. Smooth shiny surface with some marginal mated patterns and one break in the bar. This is in pretty good shape considering the others. There are some long streaks running across the top, but that is from other things being pressed upon the bar. The packaging is very nice with pictures of the farms and brief descriptions about the rare beans in the bar.
The original founders of Hotel Chocolat, Angus Thirlwell and Peter Harris, went to St. Lucia for Rabot Estate and use those beans from the Caribbean. I praise them for their commitment to regrowing cacao on St. Lucia, revitalizing that industry and working towards producing natural and pure chocolate bars. But unfortunately in my opinion, they over conched their beans and conched a lot of the good flavors right out of those beans with a gimmicky longer conching process. And like the St. Lucia beans, they have given these Criollo beans a 96 hour conch. If Criollo is so delicate, then why would they need to go through such a long process? Criollo is the exact kind of bean you wouldn't want to conch for long to protect it's delicate flavors. Granted I am not a Criollo bean expert or a Chuao regional expert.
It smelled like Venezuelan beans that's for sure. Those notes of rubber tires and tar, a little chemical and medicinal. I always pick those notes up on coastal Venezuelan varietals. Inky, nutty, sweet notes like honey, dried fruits. Very sweet, tangy, lightly acidic, bright fruits, fresh, green wood characters, red wine grapes Very smooth and creamy texture. Fantastic tasting bar.
Very complex fruits and deep flavors. I like this chocolate very much. It is far more superior than that of their Rabot Estate bars. But again I am left with the above questions, why conch these beans to death if they are so delicate. I think by far this was one of the best tasting bars I have had in this entire group, but show me the money. Show me some genetic testing behind this bar and then explain why such an excessive conch was necessary for delicate and rare beans.My guess is that these were hybrid beans falling victim to a silly gimmick such as excessive conching times. Luckily for them it worked.
I realize most people don't know this about Criollo beans or the Chuao region. And that the things I am asking are in fact geek-shit when it comes to chocolate tasting. But as someone who is a novice and just a taster, this is how I think. Imagine what it's like for the industry at large?
Whatever the case may be behind this bar, and my apologizes if this stirs up some shit for these people, (as if a small time blogger ever could get that sort of reaction), this is great chocolate. I liked it very much.
Duffy's Star of Panama 70%
Batch #: 100124
Ingredients: Cocoa liquor, sugar, cocoa butter, soya lecithin.
I haven't had cocoa from Panama before. I was anxious to try this too because it smelled differently from the other bars of chocolate. It was more dank and had descriptors that wouldn't necessarily sound that appealing. Not in a classical sense anyway. A lot of beers or cheese have similar funky descriptors. This chocolate isn't that dramatic but by citing cheese or funky beers, you get the idea that even though something may not sound very appetizing, that doesn't mean I am saying it's not good. You will find that I often do this with certain funky chocolates. More notably for the Patric Rio Caribe in which I compared it to a funky gueuze.
The aroma was dry wood, Earthy, musty, underlying stone fruits like apricots. Typical non-monogrammed molding, but good snap quality.
This is pretty bold chocolate. The taste was sweet up front, a little smoky up front as well, but then it opens up and is buttery, smooth texture, leather notes, musty, more sweetness as the chocolate opens up on the palate, dried wood, mild medicinal hints.
The flavor descriptors on the package say: Deep Chocolate, buttered toast, warm chestnuts, with a sweet almond aftertaste.
I get the chestnuts for sure and yes that sweet almond after taste and buttery. But I got more dried wood than buttered toast. More like oak barrels or whiskey barrels followed up with sweet sugary notes. Musty basement tastes mixed with chestnuts. Strange flavor, profiles but I really liked it. My husband said peat moss notes and nuts.
L'Artisan du Chocolat Jamaica 72% Dark
Lot #: 00003971
Ingredients: Cocoa beans, cane sugar, cocoa butter, and soya lecithin.
As part of their single origin bars collection, this is a limited edition bar using Jamaican beans. And my first time sampling some Jamaican beans.
Huge aromas. big wood, nuts, char, ink, roasted cocoa, soft and subtle berry and floral aromas on the top of this big aromatic bar.
Sweet up front, licorice, pen ink, buttery cocoa, and wood. The packaging did say licorice was a big flavor profile on this bar of chocolate. They weren't lying. But they also mention plums and jasmine which I feel like were totally lost on this plate due to other conflicting flavors.
This one has been my least favorite of the bars so far. It's big and bold in it's flavors but it's almost like they don't match on the taste. The packaging did say licorice was a big flavor on this bar of chocolate. They weren't lying. But they also mention plums and jasmine which I feel like were totally lost on this plate due to other conflicting flavors. Buttery cocoa and licorice flavors competing leave an awkward flavor. The char and ink flavors dominate covering up any berry flavors or subtleties.
I absolutely loved the aroma. It's big and has so many layers to it you could hold it to your nose and smell it for hours. But the taste didn't work for me. But too many contrasting flavors all vying for your attention on the palate and it left an undesirable aftertaste.
It's hard to say what the score on this one would have been. High marks for aroma and lower marks for taste.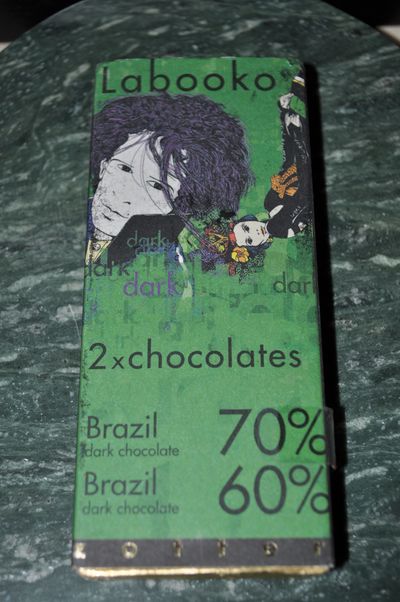 Zotter "Labooko" Brazil 70% Amazonia and 60% Medicilândia
Ingredients: Cocoa Mass, cocoa butter, raw cane sugar, salt.
70% minimum cocoa, and 60% minimum cocoa.
A two for one package with some funky art on the cover make for an interesting bar(s) of chocolate.The artist responsible for the designs is Andreas H. Gratze. It makes for wonderfully cool packaging. I encourage you to look at the Zotter website (especially on their Austrian site) and see the rest of the products and designs. Also important to note is the environmentally friend paper and ink used for the packaging.
The idea behind this series is to compare cooperatives, regions, and percentages in cocoas.
I only worry about one thing with the way they are packaged. They should be sealed in plastic if they are going to sit on top of or right next to each other in their package. If one has a bigger or more robust aroma, it could infect the other bar or interfere with the aroma of the other bar.
Here is a bean-to-bar producer from Austria, Josef Zotter, who prides himself on using fair trade products and certified organic ingredients. It is sold through out the UK which is how it came to be in my collection.
Another first for me as I have not had Brazilian chocolate before.
Brazil 70% Amazonia
Amazonian rain forest cocoa, mildly roasted, slowly rolled, and intensely conched for 32-34 hours.
The only negative about the name would be to have a more specific region to detail or list. Saying Amazonia might as well be like saying the world since the Amazon jungle is so big. I realize that's a small detail but consider this: Venezuela could probably fit inside the Amazon at least four or five times over. They have at least 8 specific regions where the flavors of the cocoa beans are so drastically different from one and other. Not to mention that 60% of the vast rain forest is inside of Brazil.
This, like the Duffy's Star of Panama, was most interesting on the nose. Subtle dry aromas like paper, roasted cocoa, musty, burnt notes, a little acidic, and medicinal, cherry Robitussin. Again I know how funky this sounds, but this doesn't mean it's bad.
Sweet upfront, tart, roasted cocoa, cherries, lightly acidic, mild charred and burnt flavors, cedar wood, and a slight herbal hint on the finish
It's very fruity and Earthy at the same time with the rich wood flavors. It's so much like Venezuelan beans. Bright cherry flavors a little acidic and tart, but followed up with rich woods and roasted cocoa flavors.
This is very nice chocolate. It's complex and fun at the same time.
Located at what Zotter calls a town like the "Wild West" in Medicilândia at the Trans-Amazonian Highway. The major highway that crosses through the country and rain forest.
The aroma on this bar has a much softer aroma, nutty, cinnamon, slightly creamy like a candy bar. Like a milky way or nougat.
A much creamier taste and texture. It's almost like a dark-milk chocolate. Again some tangy notes, but very sweet and rich. Rich tobacco notes, milky, caramel, cinnamon, some complex fruits underneath the cream, and lightly hidden wood characters. Some lingering astringency on the palate.
This is delicious chocolate. It's a good balance for the milk chocolate lovers and the dark chocolate lovers. It has the best of both worlds as far flavor profiles go. I would definitely give this an A.
And there you have it. Excellent chocolates from the UK. Once again I am grateful to Louise for thinking of me and making a good trade with me. Zotter was my favorite in the tasting experience with a side by side tasting of two regional Brazilian cacaos. I think pound for pound the Duffy's is great chocolate but the Hotel Chocolat Chuao bar was by far the tastiest despite whatever controversies I may have drummed up for it.