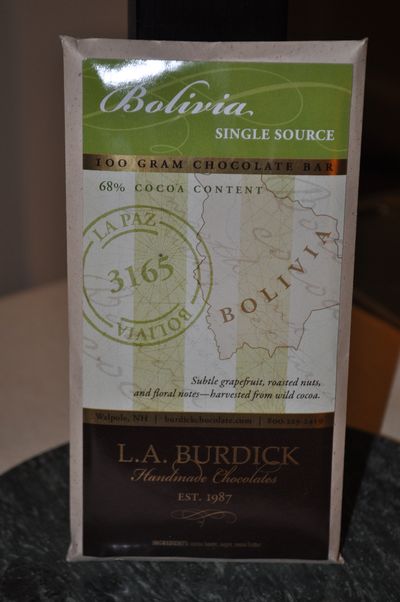 **Archived notes.
A single origin bar from Burdick's but not bean-to-bar. They source from a Swiss chocolate company.
This is a bit of a different review. This is a chocolate that survived, marginally, through the changing seasons of a cooler spring to summer. Though these are archived notes, I wanted to show you what happens when it's my fault that the appearance is a mess. This won't be taken out on Burdick's in the review. There are some surface issues that can be scored, but I will note that in the review. Again, this is what happens when temperatures are not controlled. I write about that often when I get chocolate that hasn't been handled properly. Usually it's not my fault. But in this case it is. And for reviewing purposes I will always make a note of conditions, circumstances of travel, or longevity in my reviews.
Type: Bittersweet, 68%
Bean Varietal: Unknown, probably Trinitario
Ingredients: Cocoa beans, sugar, cocoa butter.
Sample Size: 100g or 3.5oz
Appearance: Dark chocolate brown color, it was shiny on the surface but had a few plastic matted marks on the surface from it's plastic covering and some chocolate particles on the surface. Standard square patterned molding, non-monogrammed. (Ashy, dusty, sugary appearance comes from the heat damage. This is what makes it look matted and dull. It was very shiny.)
Score: 89
Snap: Firm snap, with low and dull snap sound. Clean break lines.
Score: 89
Aroma: Big aroma of soft roasted cacao and oak wood. Mildly astringent and tart, deep dark fruits.
Score: 92
Taste: Soft roasted cacao, berries, pen ink, a little tangy, oak wood, sweet but balanced sugars, and a little bit of char on the lingering finish.
Score: 93
Texture: Smooth, a little hard and waxy at first, then opens up to a nice silky texture with a medium melt time and creamy texture.
Score: 92
This is interesting chocolate. It's very subdued and mild. This is a good midway chocolate for the milk to dark fans. It has a big roasted nose of deep berries and rich oak wood, but it's flavor comes off as soft roasted cacao, balanced sugars, mellow fruits and berries, and a slight hint of lingering char on the finish. Some mild pen ink and hints of bitter astringency, but not enough to over power.
This could have been a much more dynamic bar, but I kind of like it's subdued quality. You don't always need kick-you-in-face robust flavors to have a worthy bar of chocolate.
Final Score: 91