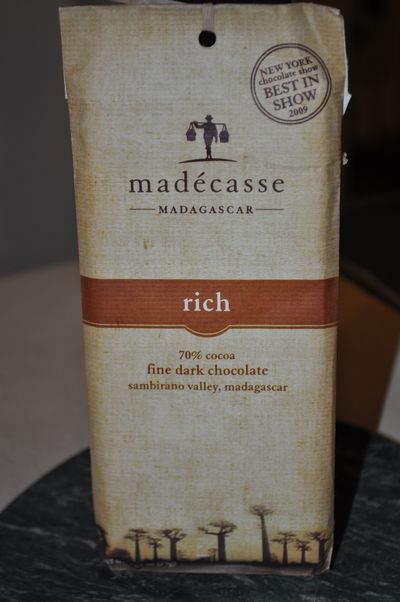 Type: Bittersweet, 70%
Bean Varietal: Trinitario, Hybrid
Ingredients: Cocoa beans, sugar, cocoa butter, soy lecithin, natural vanilla.
Sample Size: 2.64 oz or 75g
Appearance: Simple square patterned, monogrammed tablet, ashy, medium chocolate brown color, smooth surface. Some minor matted marks on the surface.**
Score: 90
Snap: Good strong snap. Nice audible snap sound, clean break lines.
Score: 94
Aroma: Dried wood, soft roasted cacao and huge dried figs.
Score: 95
Taste: Deeply rich cocoa, a bit acidic, bitter, big cedar wood, mild leather notes, cereal grains, and deep in the back of the flavor of this chocolate are cherry notes.
Score: 87
Texture: Medium-hard, dry, long melt time.
Score: 84
**I did not deduct from the appearance of the bar based on it's ashy appearance. It's in great shape for holding on to it as long as I have. I am being completely honest about my Madécasse reviews as I have had their bars since the fall. They are not past their prime by any means, they're not close to being expired yet, but it has gone through the winter with me. I didn't expect a shiny bar after all this time. And it shouldn't be taken out on them that I waited this long.
Very simple descriptions on the nose of this chocolate. It was 3 simple things. Dried wood, roasted cacao, and dried figs. The fig aroma was awesome. It was big, but not too big and it didn't push down the other aromas. Well, the other aromas that I could detect anyway. I even pulled out a tin of dried Turkish figs for comparison, and they were identical sans the wood and cacao on the bar. Simple yet fantastic.
It's all bitterness and acidity up front. Mild acidity, but deeply bitter and it interferes with some of the nuances of the flavors. In the middle, it opens up with big cedar wood flavors and cereal grains, some slight leathery notes. But the bitterness and wood flavors trump a lot of the deep and complex fruit notes. There is a cherry presence, but it's buried underneath everything else.
Although I love big wood flavors in chocolate, especially cedar wood, it's a bit much on this chocolate. It's all you really get out of it. The wood flavors coupled with the bitterness of this chocolate makes it taste a bit unbalanced. I could tell that there could be more going on with this chocolate and more flavors wanted to come out and play but the bully's were on the play ground as bitterness and wood.
The texture didn't do it any favors either. It was hard, very slow melt time and dry. It wasn't horrible texture by any means, but if this were softer and creamier, it could have been a lot better despite its dominating flavors.
Final Score: 90