Mast Brothers

Dark chocolate 81%, from the Dominican Republic.

Johnny Cash, "Cash"
Single-Origin Dominican Republic
Try the man in black (one of my heroes) with a dark single-origin chocolate from the Dominican Republic. This cacao is particularly delicious in its pure form, unadulterated by additional ingredients. After you unwrap one of these rustic bars and open up this indispensable autobiography, you may catch the scent of rum and tobacco—from the chocolate and the pages.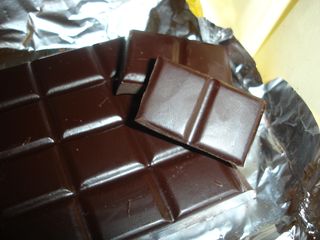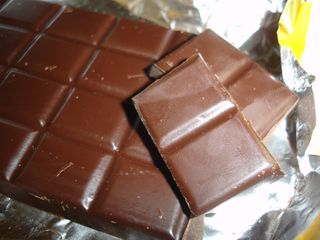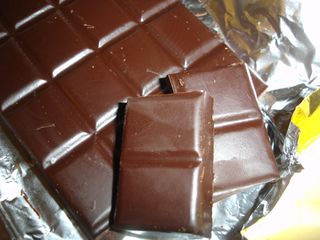 Type: Bittersweet, 81%

Bean Varietal: Trinitario, maybe some Criollo present.

Ingredients: Cocoa, cane sugar.

Sample Size: 2.5oz or 71g



Appearance: A little nicked up, but smooth, shiny, deep dark brown color, simple molding.

Score: 93

Snap: Deep, hearty snap. Clean break lines.

Score: 96

Aroma: Rich roasted cocoa, medicinal, slightly minty, tobacco, mild hints of nuts.

Score: 93

Taste: Sweetness and berries on the first taste, very bitter up front, a little astringent, big woody cedar notes, vodka, and cherries on the finish. A little drying and palate killing with the robust and intense cocoa percentage.

Score: 95

Texture: Smooth, medium melt time, hard at first, but then opens up and becomes creamy.

Score: 94
Nice and robust cocoa. Straight forward bittersweet cocoa, but with some interesting aromas and individual notes on the taste.

Smelled like Rio Caribe cocoa from Venezuela. Had the medicinal and minty tobacco characters with tar to follow it up. Then it tasted it like Madagascar cocoa beans with classic vodka notes and big cedar wood notes. It had a lovely sweet berry taste to start then it opened up into huge bitterness Roasted cocoa, cedar wood, and finished with cherries.

This was exciting chocolate for me because it reminded me of Amedei 9 chocolate bar. For that bar, they used beans from 9 different plantations from around the world. You could actually taste or identify certain markers from the different regions. It was a fantastic palate experience. This is kind of like that where there are aromas and tastes from various regions but this was a single origin bar. It's pretty amazing to have all of those individual notes on this one bar.


Final Score: 94.2