A little while ago, I found out about a create your own custom chocolate bar company called Chocri through Twitter. They began to follow me and I followed them. I eventually ordered some of my own custom creations.

They were delivered and they looked beautiful!

A few things I should note right off the bat, The order was promised by Jan. 21st. I didn't get it until the 25th. Granted, there was a weekend there, but still they send you emails of when your chocolate was made and guarantee you a timely delivery.

The only other bad thing I want to mention is that one of my bars was messed up. The Health Bar is the name of my creation and it was requested to be made with dark chocolate and even the label it was sent with said dark chocolate. It came as white chocolate. I don't like white chocolate all that much and since white chocolate is completely unhealthy, it defeats the purpose of the bar. Simple mistake I am sure, but for am $11 to $14 dollar bar of chocolate, it's very frustrating.

A small, petty detail of The Health Bar is that it also had a huge chunk of walnut on it. This is really a petty detail for me to point out, but if you happen to be allergic to nuts, then you should be careful that your custom bars might be contaminated with other ingredients you did not request. Again, I must stress that that is a petty detail to call out, but in the case of being fair and honest it must be noted.
Chocolate Ingredients:

Milk chocolate:
Sugar 50.5 % ; Cocoa mass 32.5 % ; Cocoa butter 16.5 % ; Emulsifier: soya lecithin ; Natural vanilla flavouring.
White chocolate:
Cane sugar*** 45.0 % ; Cocoa butter *** 30.0 % ; Whole milk powder *** 24.5 % ; Emulsifier: soya lecithin
*** : from organic farming in accordance to EU regulation

With the Dark chocolate, we have a special case since we mix some chocolate with less cocoa content to it, and since that such a custom mixture no one ever actually calculated the percentages other than the cocoa content (64%). Here's the dark chocolate that we use as a base:
Cocoa mass *** 61.0 % ; Cane sugar*** 26.5 % ; Cocoa mass *** 8.0 % ; Cocoa butter *** 4.0 % ; Emulsifier: soya lecithin
*** : from organic farming in accordance to EU regulation CERTISYS BE-BIO-01
*** : from organic farming in accordance to regulation USDA National Organic Program certified by CERTISYS SPRL/BVBA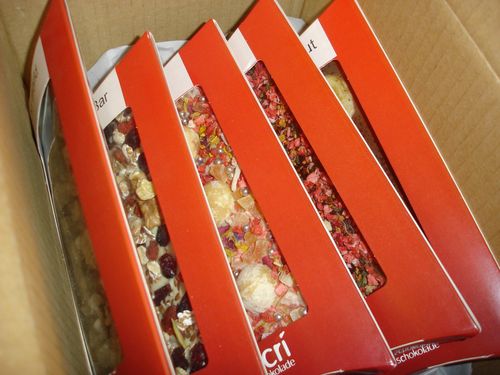 Let's get to it shall we.
First up:

Old World: Dark Chocolate (64%) with Anise, Rosemary, Sea Salt, Date Bits, and Fig Bits.
I was trying to gather all of the toppings that they offered that were considered old world. Anise, figs, dates, sea salt, and rosemary. They just sounded old world and sounded like they would taste good together on dark chocolate.

The dark chocolate was very tasty. The rosemary was the most flavorful, and the fig and date bits added a nice chewy texture. I barely noticed any sea salt, I think they may have forgotten it or it was barely coated with it. I think the sea salt would have added the right contrast. Overall though, it was a pretty tasty bar.
Strawberry Basil Martini: Dark Chocolate (64%) with Strawberry, Ground Chili, Basil, and Organic Mint Leaves.

I created this bar because Boston has been known for the Strawberry-Basil Martini. While I was in San Francisco for a food festival, a company that jars peppers, displayed their products with a Strawberry basil martini that contained muddled red peppers and garnished with a pepperocini. I decided to try and recreate that with this bar of chocolate.
This bar was messy! It looked beautiful though. Lovely red colors with hints of green from the mint. Tart strawberry bits, and dark chocolate dominate the flavors on the bar. A little bit of spicy heat on the finish as well as bit of cooling mint from the dried mint leaves. Rather dull though for the amount of ingredients in it. Still, I didn't mind eating this one either.
Banana Nut: Milk Chocolate with Banana Chips, Cinnamon, and Walnuts.

This one is almost self explanatory. I was trying to make banana nut muffins or loaf bread into a chocolate bar. I wanted to try their milk chocolate as well and thought this would be the right combination for milk chocolate.
This was very tasty! Creamy and soft milk chocolate, huge chunks of walnuts bigger than anything I have ever seen before. The cinnamon added the perfect touch. The bananas added a nice crunchy texture. I liked this bar the most. It was so good.
Health Bar: Dark Chocolate (64%) with Blueberries, Cranberries, Organic Flax Seeds, Goji Berries, and mymuesli - Organic Muesli.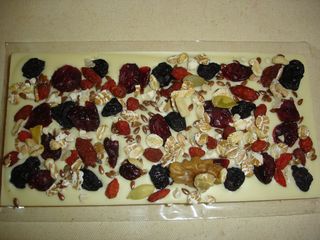 As I mentioned earlier, huge disappointment that this bar came in white chocolate when the ingredients called for it to be on dark chocolate. The intention for this bar was to include everything super healthy in their profile and make a super bar. White chocolate being all fat, completely nulls and voids the premise for this bar.
The white chocolate completely ruined the taste of this bar as well. I am not a big fan of white chocolate. The creamy taste of the white chocolate completely clashed with almost all of the ingredients added to this bar. I did not like this bar and was not able to finish the sample bites I snapped off.
Pretty: White Chocolate with Strawberry, Papaya Cubes, Flower Mix, Silver Pearls, and Macadamia Nuts.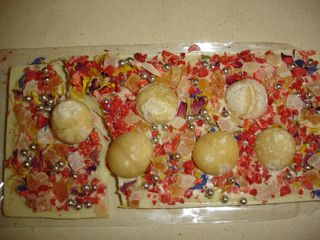 I created this bar for aesthetics. I wanted something pretty to look at. I think I may have over done it a bit. The bar also came broken. But that wasn't a big deal to me as I was trying to figure out how to snap a chunk off that had the huge macadamia nut on it.
The size of the macadamia nuts were outrageous. I have never seen them that big before. Same as the walnuts on the Banana Nut bar. I think this bar would have looked better if they were smaller, but I am not going to complain that they were too big. I thought flowers and papaya cubes, and silver pearls would be gorgeous together, but it ended up being a bit too much. I still think the bar was pretty overall, but it would have been nicer if it was tweaked a bit.
The flavors were very nice on this bar. The strawberries, white chocolate, and macadamia nuts dominated the flavors, the papaya rounded out the finish. These are the kinds of flavors made for white chocolate. Even though I am not a major fan, there is still a time and a place for white chocolate. These are the kinds of ingredients for white chocolate. Crunchy texture with soft white chocolate made it balanced. Lovely flavors.
I think the idea behind these bars is a cool concept. Custom made chocolate bars from Europe delivered right to your door. These do make for a great gift idea. Anyone who is a chocolate lover will appreciate this concept.

However, they are a bit expensive and had some issues in execution. The ruined Health bar was a major fail all the across the board simply because it was meant to be dark chocolate and not white chocolate. It upset all of the other flavors. Some of the spices and flavors were not as robust as I would have hoped as noted with the Strawberry Basil Martini. Just some things to keep in mind when creating your own bars.
Overall it is worth the risk. And I like the people behind this company. They have a donation area when ordering your bars that you can chose to donate to to help support the regions they get their chocolate beans from. This is something I can totally support. They are a young company with young people working the helms. Their customer service is fantastic too. They stayed in good contact with me to give me the ingredients, followed up with me when my bars were running late, and have stayed in contact via Twitter.

I like this company and I wish them success.