William and Suzue Curley, a husband and wife duo with a world class reputation as patissiers and chocolatiers. This bar once again, comes to me as part of the British Chocolate Invasion.
I was doing some random research about chocolate in London, when I stumbled upon the name William Curley. A quick search of the name and lots of accolades began to come up. This was about the time I asked my friend if he would sweep London and hit up all the fine chocolate shops for me.






About William and Suzue Curley:


The rise to the top has been a hard but rewarding climb for William and Suzue Curley. The couple have enjoyed many successes in their careers so far but retain the passion and drive that is certain to see them enjoy many more in the years to come.
In 2004, they opened their first shop in the leafy suburban haven of Richmond's Paved Court, just off the prestigious and picturesque Richmond Green and made an almost immediate impact. William was awarded the Best British Chocolatier accolade for 2007, 2008 and again for 2009 by the Academy of Chocolate.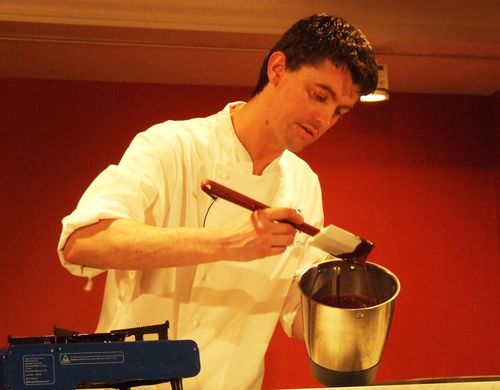 [Images via Scottish Chefs Conference 2006]
Brought up in Fife, William's career began with an apprenticeship at Gleneagles. He then went on to spend 6 years at numerous Michelin-starred establishments, working with respected chefs including Pierre Koffman at La Tante Claire, Raymond Blanc at Le Manoir aux Quat' Saisons and Marco Pierre White at The Oak Restaurant.
He has won numerous awards, including The Caterer's Acorn Award, The Craft Guild Pastry Chef of the Year, The Academy of Culinary Arts Awards of Excellence and British Dessert of the Year. Having won the William Heptinstall Scholarship, he was given the opportunity to work under Marc Meneau at L'Espérance in France.
"During my twenty-five years in the business, only one or two like William have ever come along. He is a fantastic pastry chef and chocolatier - perfect!" declared Koffman, London's undisputed Chef of Chefs. He then became Chef Patissier at The Savoy Hotel under Anton Edelman (where he met Suzue), as Chief Patissier leading a team of 21 pastry chefs.
Suzue is also a highly respected patissier. Originally from Osaka, Japan, Suzue moved to London in 1996 where she trained at Le Cordon Bleu. She has worked at Claridges and The Savoy where she was in charge of the world famous Afternoon Teas. She has won many national competitions including Gold at Hotelympia in 2000. Both William and Suzue have represented Scotland at international culinary events, winning Gold medals in Chicago and Basle. Prior to opening their shop together William and Suzue both won Gold at the Culinary Olympics in Germany in 2004.
The Academy of Chocolate's Best British Chocolatier three years in a row. That's quite a feat. This particular bar was also the 2008 winner of the Best House Bar using cocoa liquor or courverture from the Academy of Chocolate in London.

They work exclusively with Amedei chocolate.
It gives us great pleasure to announce that William Curley will become the first ambassador for the Amedei chocolate brand.
Having already enjoyed a successful and rewarding partnership, Amedei and William Curley will cement this relationship further by working more closely together on a number of future projects. This means all our creations will be made purely with Amedei chocolate.
"We believe that there is currently no finer brand of quality chocolate on the market than Amedei. I recognise that being the sole chocolatier in the UK exculsively using only Amedei in his products is a rare honour and feel this reinforces my commitment to bringing the finest chocolates both to my art and more importantly, to my customers."
For me, this is all about pioneering new ideas in chocolate whilst setting the standards for quality."
Cecilia Tessieri commented, "I find in William Curley, uprightness and passion; the same cultural approach to the world of chocolate that we share, made of creativity and the constant testing of inspiration and technique.
"I'm proud that William has taken on this prestigious task and I'm sure that being such a perfect match will bring our brands to be ever higher level of leadership and prestige".
I have only reviewed one bar from Amedei so far and that was their "9" bar. I have had their Toscano Black 70%, but massive fat bloom made it unworthy of review. Too bad really, it tasted amazing. They pulled their products out of the US, so it's hard to get their chocolate now.
Bean Varietal: Unknown, probably a blend.

Type: Bittersweet 65%
Ingredients: Cocoa mass (65% cocoa solids), cane sugar, cocoa butter, vanilla.

Sample Size: 50g or Nearly 2oz

Appearance: Smooth, shiny, simple molding, no monograms, deep, rich brown color.

Score: 95

Snap: Excellent firm and crisp snap. Clean break lines.

Score: 99

Aroma: Interesting aroma of roasted cocoa and wood, with subtle hints of tobacco, cherries and cinnamon. It kind of smells like dish washing machine soap.

Score: 89

Taste: Strange opening taste. Just like the aroma it tastes like the way dishes smell coming right out of the dish washing machine. I know that's a weird way to describe this. Very funky then opens up to roasted cocoa flavors, sweet low acidity, hints of leather, once it's opened up and has lovely subtle cocoa flavors on the finish and through retro-olfaction. But that initial taste ended up being the dominating lingering taste on the finish, bitter and soapy mixed with cocoa.

Score: 76

Texture: Soft, very smooth, medium melt time.

Score: 94
I realize that this wasn't the most elegant way to describe this chocolate, but there were some strange things going on with the aroma and taste. It smelled like dishes right out of the dish washer with that clean soap smell. It was holding back the roasted cocoa and other aromas. It was odd but I honestly didn't know how else to describe that aroma.
Then the taste was totally loaded with that extremely odd soapy character. It was too funky right up front. I actually almost spit it out, but it did eventually open up with a lot of other flavors that were enjoyable. Still, this odd soap taste was too dominating and ended up being the lingering taste of the chocolate.

There is something else blended in this bar that I can't put my finger on. Amedei does not taste like this. I could just have a funky bar, but based on looking at it, nothing seemed off about it.
This is a case where it's technical marks prevent it from being scored lower. It was beautiful looking chocolate, simple molding, great snap quality, but the taste was very bad. The roasted cocoa that was hidden underneath this soap taste is what prevented the score from being even lower for the taste. I was very tempted, but there were great flavors hidden in this chocolate.

I am really hoping that this was just fluke for this one bar. With all of their accolades and the use of Amedei, this was not a good first introduction. Especially considering that this is their house bar.
Final Score: 90.6