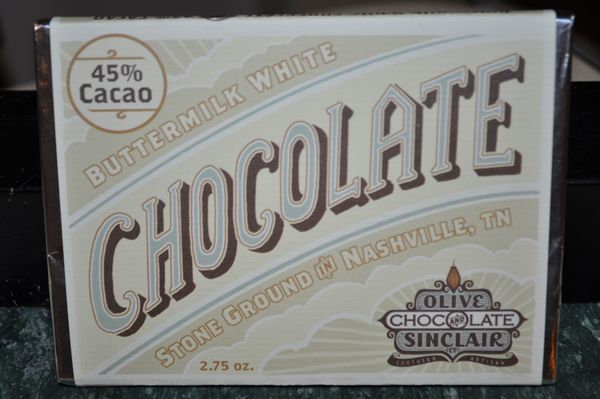 The bar that got me in trouble with my ordering. It all started with a simple tweet from Olive & Sinclair announcing they released these Buttermilk White Chocolate bars. I love all things buttermilk being a good southern woman at my core (when it comes to food only). I logged on to order this bar, and ended up with 5 bars of chocolate and two kinds of cacao nib brittle.
This is my first experience with Olive & Sinclair and I was quite happy with the Brittles being tastes first. I am actually a believer in white chocolate. I haven't always loved the commercial crap that is usually sold and used for baking. It's generally too sweet, and too artificial tasting. But having experienced craft white chocolates, I am sold on how good they can actually be. I am also a believer that white chocolate is in fact chocolate. Or at the very least a crucial part of the cacao bean and in some cases makes up more of the bean. So many hardcore reviewers and so-called experts will disagree vehemently that it is not chocolate because it does not contain cacao liquor. Without getting too technical, in my point of view, a cacao bean is made of roughly 55% cocoa butters or fats according to Beckett's The Science Of Chocolate Second Edition. It's the seed's food supply. The bean and winnowed down nib is made up of more fat that ends up pressed away. Low and high quality fats are pressed from nibs and separated. They go hand in hand. I am sure many actual experts will disagree and argue until they are blue in the face, but cacao cannot be without it's main food supply which is the fats that are pressed away for cacao liquors and pastes.
Where people draw the line is with the content of white chocolate is that it's made of up the pressed cacao fats, milk powders, vanilla, and sugar without having any cacao liquor or paste put into it. But again with the nibs and seeds being made up predominately of fats and cacao butters, I am inclined to consider white chocolate real chocolate. I welcome comments and debates about this subject.
Back to Olive & Sinclair. This is a white chocolate bar done with buttermilk powder, salt, and black peppercorns. This is not the Buttermilk White with Salt and Pepper bar though. I am noticing they hallmark some of their products with hints of salt and pepper. It does say they used "Unfiltered" cacao butter. I am wondering if that just means it hasn't been deodorized. Cocoa butter is aromatic and pungent and is often deodorized so that it can be added to chocolate bars without effecting the taste.
Buttermilk White Chocolate 45%
Type: White chocolate, 45%
Bean Varietal: Unknown
Ingredients: Cane sugar, organic unfiltered cacao butter, buttermilk powder, milk powder, kosher salt, black peppercorns.
Sample Size: 2.75 oz
Batch #: 041313
Appearance: Arrived broken, Creamy white color with black flecks of pepper, short and wide bar with large tabs, custom monogrammed molding, smooth surface with muted shine, slight particles on surface.
Score: 84
Snap: Nice firm snap, good snap sound, clean break lines.
Score: 91
Aroma: Big aroma of dry roasted cacao, nutty, wood, and cream, slightly peppery.
Score: 94
Taste: Creamy, lightly salty, very peppery, a little funky, tangy buttermilk flavors, slight lingering nutty flavors but mostly lingering pepper and milk on the palate.
Score: 76
Texture: Smooth surface, medium melt-time, gritty texture, a little chewy and gummy.
Score: 73
I like the molding on this bar. The tabs are wide, but not too thick to bite into. I am disappointed that it came broken though. All the bars were broken in the same place. But the color is good and the molding is great. Simple and monogrammed. Nothing too fancy.
I love love love the aroma on this bar. It's simple yet super full and wonderful. I love the huge dru roasted nutty aromas, and big wood aromas mixed with cream. There is really nothing more to the aroma than that except a little bit of pepper. I personally love this aroma. It's not what I expected at all for this bar. I expected sweet vanilla aromas and cream.
The taste is interesting. I wasn't entirely sold on it. The buttermilk makes it tangy and creamy, adds a little funk to this bar. But it's overwhelmed by the black pepper. The salt adds a nice contrast up front to the sugars, but then the tangy buttermilk and pepper take over and it's unbalanced. The tang and pepper detracts from the creamy quality of the white chocolate. I also think there are undertones of that nutty quality that wants to come out more but is overtaken by the dominating pepper. It's not supposed to be a salt and pepper bar either. Unless I got one mislabeled.
Not all is lost with the taste though. This needs to be cut up and baked into macadamia nut cookies. Buttery cookies with buttery nuts, and tangy, spicy white chocolate to add a different direction.
I had much higher hopes for this bar. I think it would be great without the black pepper. It's just too much and destroyed everything about this bar. The salt was fine even with the tangy buttermilk, it added a balance without interferring too much with the flavors. But overall, the taste just didn't work out.
It seemed like such a good idea at the time.....
Final Score: 83.6