Burdick's chocolate has now taken to making single origin bars. So far they have a collection of three bars from Grenada, Madagascar, and the Dominican Republic.





Good places to start an origin collection. This is the 75% Grenada bar.





I don't have a lot of information about this chocolate. There was very little information on their website and there wasn't even ingredients printed on the package. They may have had actual information about the bars at their store and cafe, but this was a Valentine's Day gift and I am not going to be too upset that my gifts didn't come with a full disclosure of information. I will just get right into the review.

Here is a little bit of general information about what to expect from Grenada chocolate from The Nibble.



Grenada
•Trinitario
•Light body
•Fresh dairy, white fruit
•Woody & grassy
•Acidic, citrus

Home to some fine Trinitarios, Grenada's cacao shares similar flavor properties with many of its Caribbean cousins. It is lighter on the palate with varying flavors of fresh dairy, woody and grassy nuances, white fruitiness, and even some degree of acidity, depending, on the manufacturer.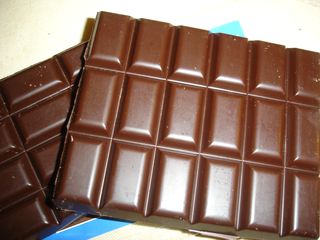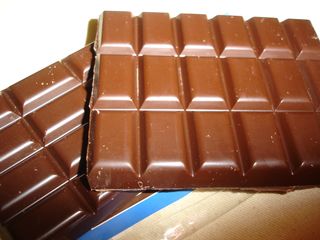 L.A. Burdick ~ Grenada 75%

Bean Varietal: Unknown, but probably Trinitario or some hybrid varietal.

Type: Bittersweet, 75%

Ingredients: Unknown

Sample Size: 3.5oz or 100g



Appearance: Beautiful and shiny, simple non-monogrammed molding.

Score: 98

Snap: Light, crisp snap sound, excellent! Good clean break lines.

Score: 96

Aroma: Softer nose, a little smokey, roasted cocoa, a little bit nutty, fruity with plums and a little acidic with citrus aromas.

Score: 92

Taste: Deep cocoa flavors, bitter and rich, a little spicy, inky, oak wood, lingering roasted cocoa taste.

Score: 93

Texture: Very smooth, medium melt time.

Score: 94

Though it's packaging leaves it susceptible to nicks and damage, this bar made it to me in very good condition. Shiny and pretty. Simple is always best.

This is a very subtle bar on the aroma, but the flavor reveals big and complex roasted cocoa flavors. It's deeply rich and bitter without being too acidic. The bitterness is complex with ink notes and spicy characters. Leaves a nice woody oak finish.

L.A. Burdick's makes amazing truffles and little noshes around their cafe's but I have to admit I am pleasantly surprised by the quality of this bar. The texture is fantastically smooth, the taste is deep and complicated.

Final Score: 94.6