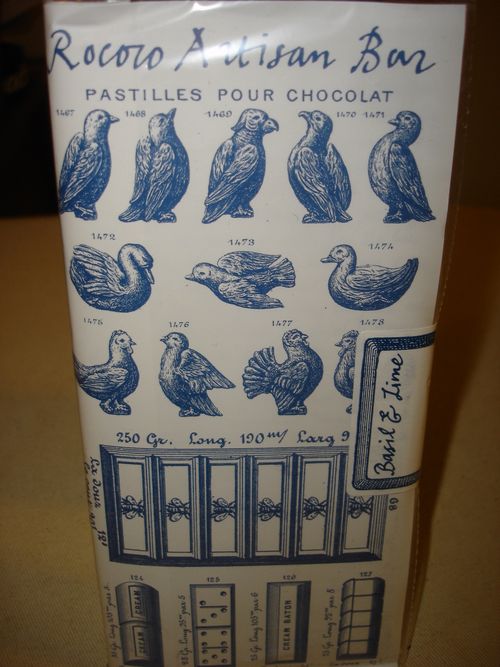 Rococo Basil and Persian Lime

Sadly, this was the last bar of chocolate from Rococo in my British Chocolate Invasion collection. I don't want my journey with Rococo to end here. I have become a fan and I look forward to getting back to London, where I can visit one of their shops.

What is a Persian lime? Well for us, it's just a fancy name for limes commonly found in any grocery store or the. That's not to say this is a bad or generic combination by any means. These limes have a distinctive taste which I think work well with basil.



The Tahiti lime tree is moderately vigorous, medium to large, up to 15 or 20 ft (4.5-6 m), with nearly thornless, widespread, drooping branches. The leaves are broad-lanceolate, with winged petioles; young shoots are purplish. Flowers, borne off and on during the year but mainly in January, are slightly purple-tinged. The fruit is oval, obovate, oblong or short-elliptical, usually rounded at the base, occasionally ribbed or with a short neck; the apex is rounded with a brief nipple; 1 1/2 to 2 1/2 in (4-6.25 cm) wide, 2 to 3 in (5-7.5 cm) high; peel is vivid green until ripe when it becomes pale-yellow; smooth, thin, tightly clinging; pulp is light greenish-yellow when ripe, in 10 segments, tender, acid, but without the distinctive bouquet of the Mexican lime; usually seedless, rarely with one or a few seeds, especially if planted among a number of other Citrus species. The Tahiti lime flowers have no viable pollen.
The origin of the Tahiti lime is unknown. It is presumed to be a hybrid of the Mexican lime and citron, or, less likely, the lemon, and it is genetically a triploid though only the normal 18 chromosomes have been reported. Dr. Groff, in a reference to Citrus aurantifolia in his "Culture and Varieties of Siamese Pummelos . . . ", said: ". . .it is represented by a large variety known as Manow klom and by a small one known as Manow yai." One might speculate as to whether the large variety might be the female parent of the Tahiti lime. At any rate, it is believed that the Tahiti was introduced into the Mediterranean region by way of Iran (formerly called Persia). It is said that, for some centuries, a virtually identical lime called 'Sakhesli' has been cultivated on the island of Djerba off the coast of Tunisia, and that the local name means "from Sakhos", an old Arabic name for Chios, a Grecian island. Portuguese traders probably carried it to Brazil, and it was apparently taken to Australia from Brazil about 1824. It reached California from Tahiti between 1850 and 1880 and had arrived in Florida by 1883. It was being grown at Lake Placid in 1897. This lime was adopted into cultivation in California but is not extensively grown there, the bulk of California's lime crop being mainly the Mexican lime. In Florida, the Tahiti quickly took the place of the more sensitive small lime and the lemon. Following World War I, the Tahiti lime became a well-established commercial crop. At first, there was market resistance, buyers viewing the Tahiti lime as a "green lemon", and, for some time, Canadians would not accept it because they were accustomed to the more flavorful Mexican lime. In the 1930's, many Florida citrus growers planted limes for extra income and, in 1949, the development of limeade concentrate provided further impetus to the Tahiti lime industry.
In 1954, Libby, McNeil & Libby topworked 100 acres (40 ha) of grapefruit trees in Florida to Tahiti lime. Production increased 60% from 1970 to 1980. In 1979, the total crop was valued at close to $9 million. Nearly 1 million bushels (250 limes per bushel) were shipped fresh and the same amount was processed. By 1980, there were approximately 8,000 acres (about 3,250 ha) of commercial groves. Five years later, Dade County shipped 110 million lbs (50 million kg) of fresh fruit worth about $14 million to the growers, from a total of 6,500 acres (2,630 ha). Florida produces 90% of the national crop, for marketing fresh and for canned lime juice, frozen lime juice, frozen lime juice concentrate, frozen limeade and powdered lime juice. The Florida Lime and Avocado Administrative Committee conducts research on production and carries on national promotional activity.
[Source: Perdue University]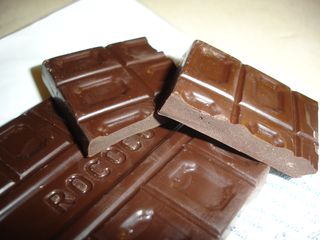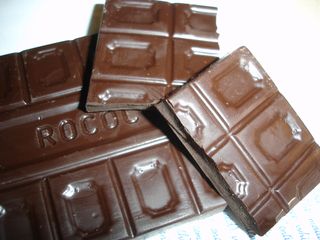 Type: Flavored Bittersweet, 65%

Bean Varietal: Unknown

Ingredients: Cocoa mass, sugar, cocoa butter, cocoa powder, Persian limes, basil essential oil, soya lecithin.

Sample Size: 70g or 2.4oz



Appearance: Deep dark brown with a glossy surface. Classic molding from the 17th century chocolate molds used by Rococo. A few spots of matting from sticking to the inside of the package, but not much.

Score: 93

Snap: Very firm, deep snap. Excellent, but the cracking snap sound was just a tiny bit subdued.

Score: 96

Aroma: Immediately out of the package it was very robust with basil. It was completely dominate and over powering at first. There was also a very strong pepper aroma coupled with roasted cocoa. I let this one sit out of for a bit and the basil toned down quite a bit allowing a bit of a lime aroma to present itself. It still had a lot of pepper notes though. Also, it had a light sweet aroma as well once the basil toned down a bit. Like sweet roasted cocoa not just the wood and toasted aromas on cocoa.

Score: 94

Taste: Roasted cocoa, pop of pepper up front, basil upfront, it is pleasant and light, cocoa is robust and intense, and the lime is very soft. I expected a much bigger basil taste based on the initial aroma. Cocoa is rich and dark, not acidic, or tart. There is nice lingering lime flavors on the after taste and through retro-olfaction. This is balanced with soft flavors that help tame this potent chocolate.

Score: 96

Texture: Smooth opening but some grittiness towards the end of the melt. Medium melt time.

Score: 92


I expected a much bigger basil taste based on the initial aroma. The cocoa is rich and dark, not acidic, or tart. The flavors of basil and lime are soft and delicate.

This is lovely flavored chocolate. I honestly wasn't sure I was going to like this one at first because the first time I encountered basil and lime in chocolate, the basil was so overwhelming. This was very soft and pretty. The basil and lime ended up being a lovely compliment to the robust chocolate.

The chocolate was rich and robust, but also very sweet. Characteristics of British chocolate I am coming to know. But this was beyond just being a sweeter dark chocolate. It was fairly robust and hearty chocolate for a 65%. Sometimes you can get 65% and it's too light or too sweet, and sometimes you can get fantastic flavors of the chocolate to come through. It was big cocoa content after all.

But it can all depend on the cocoa butter content. A little known secret to the average fan of chocolate, is that if a chocolate bar says 65% it could only have 50% cocoa and 15% cocoa butter. Since cocoa butter is derived from the beans even if it's different beans than the cocoa being used, it can technically be called 65%. You can taste it when it's not as big as it should be.

I liked this chocolate a lot. I have only had 3 bars from Rococo, but I am starting to get the big picture here. Someone with almost 30 years of experience, Chantal Coady knows chocolate and knows how to balance flavors in chocolate the right way.

Final Score: 94.2