Dark Chocolate Fudge Brownie
It's that time of year again. The time my best friend in London, sweeps through the city bringing me back some requested gems from across the pond. This post is dedicated solely to Paul A. Young. It's been a while since I have sat down with some of his products. I requested a brownie this time. Snuck in were a few extra bars including one filled with Caramel. Let's get right to it, shall we?
I requested brownies because I have spent years hearing about the famous Paul A. Young brownies. His caramel brownie inspired me to make my own. I figured if I couldn't get to London, I would have to make my own. They were amazingly good. I tried to see if they had a baking mix. Not yet. But hopefully that will come.
Thick cocoa-y brownies. Nice buttery aroma and very fudgy texture. Super rich and velvety. Nice and sweet and buttery. This is a very decadent brownie. I would prefer to be a little bit more well done, but it's flavor trumps the slightly underdone texture. It's pretty much a chewy piece of rich fudge. I would send a couple of these to someone very special you know that might be having a bad a day. This would cure even the deepest depressions.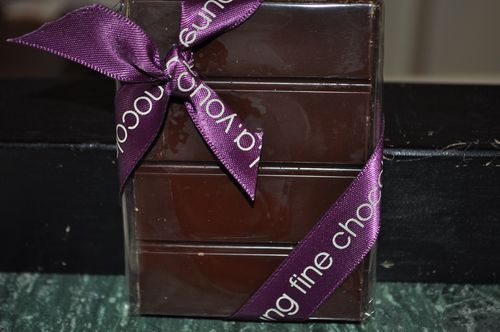 Sea-Salted Caramel Bar
Madagascar bar with 64% cacao filled with rich salted caramel.
Rich cocoa-y aroma with all the Madagascar hallmarks. Citrus, wood, berries, pen ink, cream and butter. When I say cocoa-y, I am referring to a richer dry cocoa aroma. Like the way chocolate powders smell. So that aroma is very similar to what the aroma of the brownie had. This was all rich Madagascar aromas with added cream and butter aromas from the caramel.
This bar was a total mess to look at. Molding marks on the surface either due to the plastic or from it's molding case. Ritual Chocolate recently explained how their molds leave an unintended thumb print to their bars. This might be the same thing. A little bit of separating on this bar but it's a filled bar that sits up vertically. The center is a very soft and runny service. It won't take much to disturb this bar. But luckily it's thick enough to contain it. On one hand I love the simplicity of the packaging. But on the other hand it leaves it so susceptible to any kind of topical damage.
I cut the bar in half at first to see if it was a mou or a runny caramel. I am happy to report that it is a runny caramel bar!
The ingredients list two chocolates in it. I am not sure if there is a touch of milk chocolate in the caramel or blended into the Madagascar. He used Valrhona's Jivara Milk. I am sure the base is also Valrhona. Not sure if it's exactly the Manjari but I am sure it's Valrhona. He uses them and Amedei for his base chocolate or couverture.
Nice buttery caramel. Perfect balance with the sea salt and the cream and butters. I love the caramel. The chocolate is very rich and sharp. It's soft and sweet up front so it gives the caramel time to shine, but overall it's a bit too much for the delicacy of the caramel. The caramel is the best part. Perhaps a softer cacao origin next time. The Madagascar leaves a sharp finish of berries and acidity. Usually I suggest and acid to compete with rich creams, butters, or caramels. But in this case I found it to be too sharp and acidic for the caramel. It dominates the palate as soon it begins to open up and by the time you have swallowed it, your taste for the caramel is all but forgotten.
Verdict: I want to see a different base for this bar, but the caramel in it is perfection. It's unblanaced and a mess with it's appearance. But I want to stress how perfect the caramel is in the center. Perfectly balanced with the salt. Look at the pictures above and click on the caramel ones. It's gorgeous.
Votesiperifrey pepper
Wild Madagascar black pepper with Ecuador base 66%.
This is all black pepper on the aroma. The cacao aroma is really so faint compared to the very dominating black pepper.
Same thumb print on the surface. Some surface scuffs but not as matted as the caramel filled bar. Very thick bar. Hard snap, but very clean break lines.
Up front it's all pepper, sweet sugars in the chocolate, some slight floral notes on the chocolate gives way to an almost cologne-like flavor. A little bit like aftershave. That might not sound appealing but it's odd, funky and interesting. This is the reverse of the caramel bar. The Ecuador should be used for the caramel and the bigger Madagascar should be used for this big bold black pepper. The Ecuador is lost underneath this huge pepper. It does leave some floral notes, that adds to that clean, soapy, aftershave taste. But there is not much left after that. It is fairly fruity, but it's hard to keep track of those flavors with the pepper. Some of the chocolate flavors become more apparent on the second and third taste and the pepper does seem to tame itself, but it is still too dominating in the end.
Verdict: It's a cool bar of chocolate because of that funky strong black pepper. But overall I think the base needed to be Madagascar. Something stronger to stand up to the pepper.
Brick House Sourdough Bar
A collaboration bar made with Brick House Artisan Sourdough Bakery from London using their Peckham Sourdough Rye. Also with blended Madagascar and Dominican Republic cacao.
Molding thumbprint and my own thumb print. Good fat snap again due to the shape and thickness of the bar.
It smelled like bold Madagascar right out of the package. Very strong with citrus, wood, and pen ink.  It mellows out a lot and softens on the aroma once it's breathed a bit. Bold pen ink and berries with faint traces of the citrus. A good balance of both cacaos.
Very fruity and a little bitter, a tiny bit tangy at first, crispy bits of bread, strong but balanced cacao blend. Very woody and bright with red fruits and berries. Not acidic but for a tiny bit of tartness up front. The bread doesn't impart too much flavor. I thought it would be a little bit more yeasty or bread-y. But I like that it's crispy bits of bread. Adds a fun texture.
Verdict: This was awesome. Good blend of cacaos and the bread acts a little bit like Rice Krispies. Not to diminish the fine bread that went into this bar. But it's crispiness is fun. Paul should consider this a signature blend and roll with it for more bars. Loved it.