Being a blogger comes with some very special perks. When a chocolate maker sees your blog and decides they want you to write about their product, the gratitude will never cease to happen. It's truly an awesome thing. And I only hope that I can do justice to the fine makers who deem me worthy of trying their products. 
I was contacted recently by Dana Brewster about trying Millcreek Cacao. She sent me a very generous package of 6 full bars. The Cube Collection. That is a lot. Each bar is about 50g. That means this review has taken place over a few days. Oh the humanity... Life is so hard.... Effort....
Hailing from Salt Lake City, Utah (the unofficial new Mecca of chocolate making in the US or so it seems these days), official bean-to-bar chocolate makers and roasters with a special caveat of selling cacao teas (steeped cacao nibs and husks) using Arriba Nacional beans of Ecuador. Originally coffee roasters, but both armed with a passion for chocolate, Dana, an École Chocolat school alum and Mark Delvecchio decided upon Arriba Nacional beans as their favorite taste. Traveling to Ecuador, they sourced out a local cacao farm and bought beans and cocoa butter of the same varietal to become bean-to-bar makers. 
More on Heirloom Cacao Preservation with Arriba Nacional beans from Millcreek's blog. 
Heirloom Cacao Preservation for the farmers.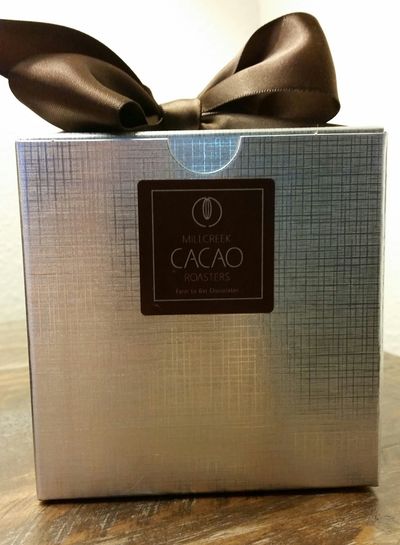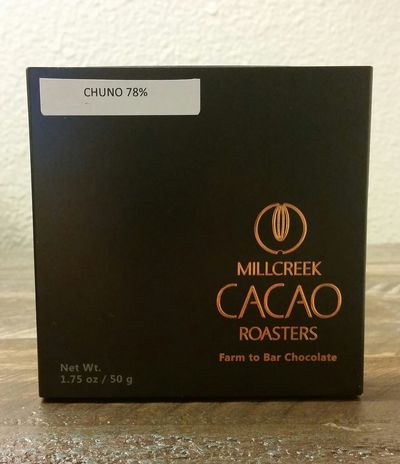 Type: Unreleased bar from Nicaragua. Bittersweet dark chocolate 78%
Bean Varietal: Chuno, Trinitario. 
Ingredients: Cacao, cane sugar, and unsure of cocoa butter content.
Sample Size: 50g
Quick reading on Nicaraguan beans from Confectionary News: 
New World of cocoa: Artisan chocolatiers marvel at origin Nicaragua
Artisan chocolate makers are welcoming Nicaragua as a rare and blossoming cocoa origin, according to supplier Ingemann.
http://www.confectionerynews.com/Commodities/US-chocolate-makers-drawn-to-Nicaraguan-cocoa
Appearance:  Large square monogrammed tablet. Deep brown color, large crack on one corner, a bit dusty with particles. Slight bubbles in the molding, but flat smooth filling on the back side. Slightly shiny. 
Score: 72
Snap: Good clean snap, lighter snap feel, but clean and crisp sound. 
Score: 93
Aroma: Bright full sharp aroma. Tangy with citrus fruits. Deep fruits and deeper floral aromas. Sweet aroma with sugars and some slight char. 
Score: 94
Taste: Bready first tastes, full bitter roast, acidic, slightly tangy, deep berries and dark fruits, cereal grains, softer and extremely subtle flowery notes on the second taste, as well as inky char notes. 
Score: 96
Texture: Slightly drying and chalky. Creamy melt but by dry finish on the palate. A tiny bit grainy to the palate. Medium long melt time. 
Score: 83
Great flavors. This is extremely complex with lots of different factors coming into play at different moments on the palate allowing for each taste to present itself individually. Loved the cereal grains and bready flavors mixed with the soft floral tones and big fruity berries. It's deep and rich and has the right amount of tangy acids. It gives off a mix of delicate but grainy earth tones and big berries. This is great tasting chocolate. Loved it.
The aroma is nice and strong too. Big profiles presenting right off the bat and some softer subtleties, just like the taste, come out later. Nice and full. 
The texture is a mixed bag. It's creamy and good melt but grainy and dry finish at the same time. A little chalky because of that dryness. 
The appearance has a big crack in it which is the reason for the low score. Slightly covered in particles too. and not as shiny. But over all the molding is great. Simple monogram pattern, and smooth fill on the back.
It's times like this where I say skip the appearance and the small details of a review because it's not a typical thing to have happen and really the taste of this bar is phenomenal. I really enjoyed this and think any chocolate purist will enjoy this. It was really great chocolate. Ignore the technical score and go right for the taste of this chocolate. 
Total score: 87.6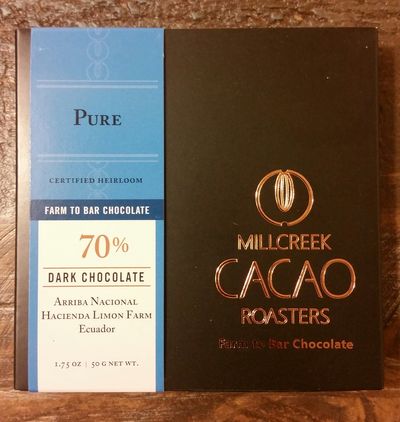 Type: Bittersweet, dark chocolate.
Bean Varietal: Arriba Nacional
Ingredients: Cacao beans, cane sugar, cocoa butter.  
Sample size: 50g
Appearance: Deep Dark brown color, single large square tablet, monogrammed, smooth back fill surface, particles, very minor bubbles on the monogram, slightly shiny surface. 
Score: 88
Snap: Light but firm crisp snap. Good snapping sound. Clean break lines. 
Score: 91
Aroma: Very fruity, complex aroma with a light tangy aroma, sugary notes, berries, soft wood, light tar undertones, and some smokiness and soft vanilla.
Score: 92
Taste: Nice deep full flavors of wood and berries, big flowery perfume tastes, tangy and little sharp with acidity right up front but mellows out very quickly, a pop of bright green unripened fruits. Good inky bitterness, and more cereal grains.
Score: 95
Texture: Nice and creamy, smooth texture, a tiny bit of grit in there but very slight. Medium melt time.
Score: 91
Really great flavors on this bar too. Cereal grains are present here as well, signs of the fermentation. But big classic Ecuador bean flavors of jasmine, woods, and tangy berries. A little hint of some green, unripened fruits. 
This smells nice and full with really great aromas. Lots of details in the aroma. It tastes amazing. Nice and robust flavors. And the texture comes a long nicely. Good creamy melt time. No need for a lot of descriptions here other than it's classic or what I have have come to know as classic flavors of Ecuador beans and super delicious. Really liked this chocolate. 
Final Score: 91.4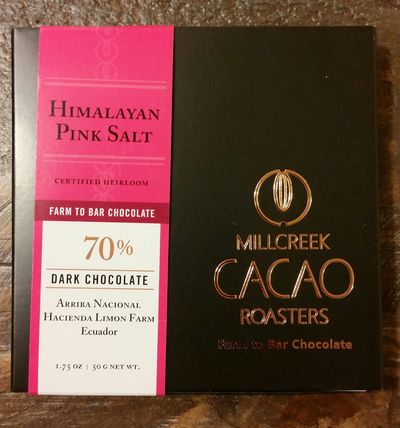 Himalayan Pink Salt 70%
Type: Flavored bittersweet, dark chocolate.
Bean Varietal: Arriba Nacional
Ingredients: Cacao beans, cane sugar, cocoa butter, Himalayan pink salt.
Sample Size: 50g
Appearance: Dark Brown square monogrammed tablet, smooth slightly shiny surface, flat and smooth back fill, coarse salt crystals.
Score: 92
Snap: Good and hard snap. Clean break lines with nice good snap sound.
Score: 93
Aroma: Big robust aroma with fruits and dry roasted aromas, nutty, sweet sugars, inky tar notes, soft vanilla, slight smokiness. 
Score: 92
Taste: Nice salt balance, big sweet tangy flavors of berries, tart acidic notes, bright green unripened fruit undertones, woody, earthy, nutty flavors. 
Score: 96
Texture: Medium hard, medium fast melt time. Creamy texture, very slight graininess, and coarse grain salt crystals.
Score: 90
Same aroma as the Pure 70% but dryer with a more pronounced nutty aroma. 
The salt brings out a few more flavors than the Pure 70%. A more pronounced nutty flavor same with the aroma. But the same flavors of the unripened fruit, berries, and tangy citrus flavors almost like pineapple, are all there with the earthiness and cereal grains. The salt also brings out a nice leathery flavor during retro-olfaction. Not as pronounced are the flowery jasmine flavors. But more straight up inky bitter flavors with earthy wood and berries. It's funny how a little pinch of salt will change the game of a chocolate. 
The texture is similar to the Pure, but a little harder and a little more coarse with the salt grains. Still that same medium melt and hardness and a touch of graininess. 
The salt is quite strong too. I love sweet and salty combos. But on the surface it doesn't look like it's enough salt. But it is. It balances well and is strong enough for the bold chocolate flavors.
Final Score: 92.6
Really minor details noted here, but over all this is superior chocolate. A few textural issues, and minor surface issues really shouldn't be taken into account compared to the flavors of these chocolates. The taste is there and completely bold and delicious. I am very happy with them and I would definitely recommend these bars. I especially recommend that Chuno bar because the flavors are awesome. So big and so bold.