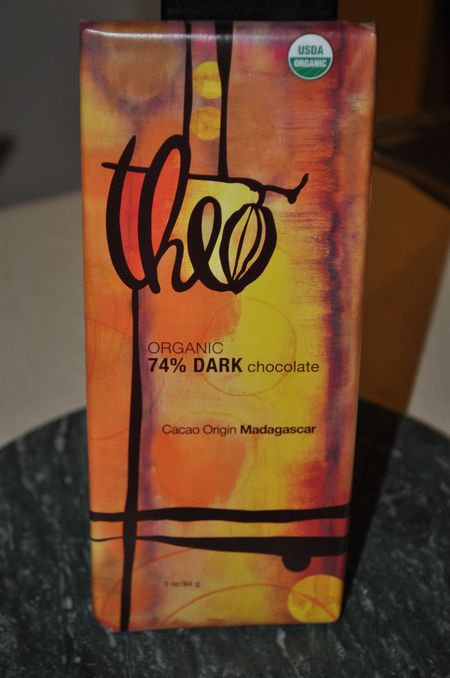 Origin: Seattle, Washington
Bean Origin: Madagascar
Type: Bittersweet, 74%
Bean Varietal: Trinitario/hybrid
Single Origin, Bean-to-bar, Organic, Fair Trade cacao.
Appearance: Lighter brown color, simple non-monogrammed molding, nicked, *factory lines, matted. Very sloppy.
Score: 71
Snap: Light, airy crisp snap. Not too firm, but decent snapping sound, clean break lines.
Score: 90
Aroma: Nice robust aroma. Acidic, dry roasted, coffee, slight hints of tar, deep fruits.
Score: 93
Taste: Extremely bitter, tart, acidic, fruit, berries, inky, bold wood flavors, floral notes, lingering bitter flavors on the aftertaste.
Score: 84
Texture: Slightly waxy, a little drying on the palate, but over all smooth and creamy finish.
Score: 90
Very disappointed with how the appearance came out. It should be a lovely glossy finish but instead it's matted and nicked.
*It has the factory lines from the machinery it the chocolate was dispensed from. Click to enlarge image.
Rather dull and boring molding. If you are going to use a simple mold, then it should be flawlessly executed with seamless chocolate and a glossy finish. I will say that I love the color. It's a light brown color. Almost like milk chocolate. It's pretty light for a high cocoa percentage bar. Lovely color.
The snap was a nice light and airy crisp snap. Nothing too overly exciting there, but not bad.
Big full aroma. I love that the most about Madagascar bars. The fulness and richness of the beans. Despite loving the aroma, there isn't a whole lot of depth to it. It's very full and roasted, slight acidic, and coffee and tar notes. There is a deep fruit aroma hiding underneath the roasted aromas. It's there and adds complexity, but is completely dominated.
I like that there is a nice complex flavor to this chocolate, but the lingering bitterness is too much making it taste a bit unbalanced. It's acid and tart, boldly roasted with deep flavors of tar and coffee, There is a bright inky flavor with fruits, floral, but dominated by a huge wood flavor.
I think they do okay with the flavor, it's bit overly roasted, but still presents the wonderful hallmarks of Madagascar cacao. The only issue I have with it overall is the bitterness. It's too much, and lingers too long on the palate. I am not left with a pleasant aftertaste because of the bitterness. Too much acidity too. It's simply not balanced well enough.
The texture is a bit of a mixed bag. It has a slight waxy quality to it, and it dry the palate a little bit but over all was smooth and finished creamy. A half and half texture.
Overall this was pretty underwhelming. Overly bitter, unbalanced flavors, sloppy appearance. Not a horrible bar of chocolate, but certainly not a shining example of America's bean-to-bar producers.
Final Score: 85.6