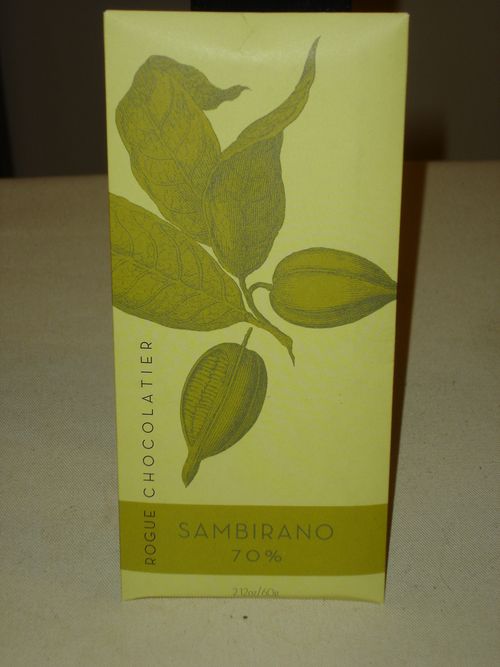 Rogue Chocolatier from Minneapolis, MN.

Bean Varietal: A blend of single origin Venezuelan Beans Criollo, Trinitario, and Forastero cultivated in the Sambirano Valley, Madagascar.

Type: Bittersweet 70%

Ingredients: Cocoa beans, Sugar, cocoa butter, Tahitian vanilla

Sample size: 60g or 2.12oz

The Sambirano Valley is located north of the island facing Mozambique.



Madagascar falls perfectly within the 20°N and 20°S parallel. The optimal region around the equator in which cocoa beans are produced.


[Image via Guittard]

This was given to me in a trade. Thanks once again to my source Emily Shartin of Formaggio Kitchen. We trade chocolate for beer festival tickets. (In my other life, I manage and organize the BeerAdvocate.com beer festivals.) I think it's a great trade off for the both of us.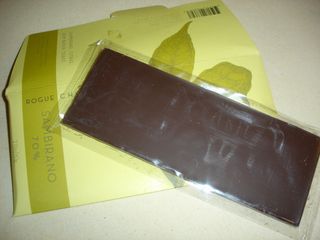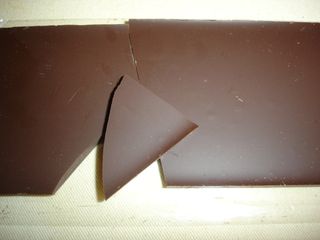 Appearance: Flat bar with no molding or any significant patterns. Shiny, smooth, and dark brown in color. Not black-brown, but more a rich deep brown. I am giving this a bit of a high mark for it's simplicity.

Score: 96

Snap: For such a thin bar, I expected more a decent snapping sound. It produced more of a thud or a pop than a good snapping sound. It did snap clean however, and not crumbly.

Score: 89

Aroma: Soft roasted cocoa beans, a tiny, teeniest hint of mint, a slight hint of nuts. Very subtle aroma. Rubbing the bar between my fingers to open up more of an aroma releases a big of a tangy aroma.

Score: 94

Taste: Acidic, bright, citrus, grapefruit, wood, vodka esters through retro-olfaction (breathing back into the mouth), low bitterness, and bright berry fruit such as blackberries cherries.

Score: 99

Texture: Smooth, creamy, short melt time in the mouth.

Score: 98


I have never had anything quite like this before. Vodka esters? And bright acidity, but no sharp reactions in the neck. This is incredible chocolate. I enjoyed this a lot. Based on this one bar, I will be doing a lot more research into Madagascar chocolate.

Upon further reading of what is typical for Madagascar cacao, this bar has all the classic hallmarks including vodka, citrus acids, and wood. I picked up big wood on this bar but couldn't recognize which kind of wood. Cedar is what is classic about Madagascar chocolate, though I didn't recognize the wood to be cedar. I am completely hooked and hope to explorer more Simbirano bars. In doing research on the region I saw that a ton of chocolate makers have a Simbirano bar.
Final Score: 95.2