And so the British Chocolate Invasion continues. This time with Paul A. Young. A celebrated chocolatier and patissier from the London who works with fine chocolates such as Valrhona, Amedei, and Michel Cluizel.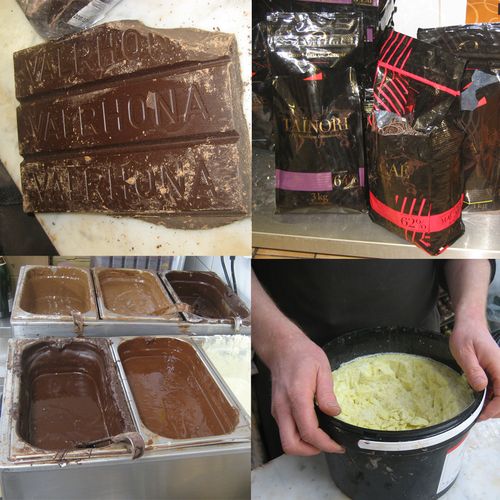 Based on this article, it appears he largely uses Valrhona Cocoa for a lot of his creations. This is a fun article about a private chocolate lesson with Paul Young himself.

A Night With Paul A Young: Chocolate Artisan

Check out the brownies in that article. The writer talks about Sea Salt Caramel brownies. Someone would get hurt if they stood in my way for some of those!
About Paul Young via his website:


Paul Young is a Chocolatier/Patissiere born in Yorkshire and raised in the small mining town of Trimdon Station, Co. Durham.
After studying hotel catering and management at New College, Durham and Leeds Metropolitan University, Paul worked through the ranks in some of Yorkshire's finest restaurants. Next came an offer from Marco Pierre White, which took Paul to The Criterion Brasserie, London where he worked as Pastry chef in this most demanding of roles. After working through the ranks and establishments of Marco Pierre White, Paul gained the high profile role of Head Pastry chef at Quo Vadis, Soho.
With a change in direction Paul then worked with Marks and Spencer and Sainsbury's to develop some of today's best selling products, with two nominations for The Award of Excellence for his development work.
Paul has appeared on BBC2's Food and Drink, ITV's This Morning, Sky One's Taste and Carlton Food Network. He is a regular guest chef on UK-TV Food's Great Food Live, and gives live demonstrations at various events, including Henrietta Green's food lovers fairs, Covent Garden.
In 2006 Paul was invited to be an honorary member of the Academy of Chocolate.



One thing I am getting miffed about is the lack of information on some of these chocolate websites. What kind of chocolate are they using? And what are the bean varietals they are using? Even if they only say hybrid or blend of beans, I still want to know. That doesn't mean I can't email them for the information, but I believe it should be posted on their websites. If you mean business, put up all the information you can about your products. Especially since this chocolatier uses different chocolates from around the world. I don't know much about the chocolate is being used for this bar accept that it's from Venezuela. Using Amedei would be a world of difference from Valrhona.

At least there was the article highlighted at the beginning of this post which clues us in that this is more than likely a Venezuelan bar using Valrhona cocoa. That article makes me want to visit the shop and try some of the pastries. I too would like a private chocolate making lesson!

Venezuela 72%
Type: Bittersweet, 72%
Bean Varietal: Unknown
Ingredients: Cocoa beans, cocoa butter, sugar, soya lecithin, natural vanilla extract.

Sample Size: 50g or about 2 oz
Appearance: Smooth bar, simple molding, square shape, shiny, deep dark color, but some odd streaking on the top of the bar.

Score: 89

Snap: Firm, crisp snap, deep snap sound with clean break lines.

Score: 96

Aroma: Berries, smoke, tobacco, a light perfume-y aroma like lilacs, and roasted cocoa. Very soft aroma.

Score: 92

Taste: Starts off sweet and soft, then opens into deep roasted cocoa, big and bold, lightly acidic, big berry taste, very slight hints of citrus, wood on the finish. Finishes sweet like it started.

Score: 97

Texture: Very smooth, medium melt time.
Score: 96

Starts off sweet like a lot of British chocolate seems to do, but then finishes quite differently. Not too much sugar that seems to tone down the big roasted flavors and other subtleties the chocolate may have. This has the big roasted cocoa flavors, berries, and a touch of flowers as indicated on the aroma.
It tastes very different than some of the British chocolates I have tasted so far.

It has all the classic hallmarks of South American cacao, but if I were a better taster i would be able to pin point the exact region in Venezuela this comes from. There are 8 distinctive regions chocolate is grown in Venezuela. I am just not there yet. But I will be.

Final Score: 94