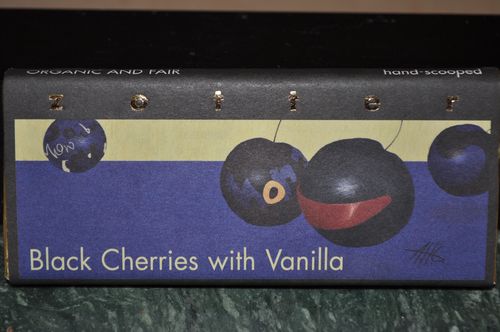 Zotter "Hand-Scooped" Black Cherries with Vanilla. Artwork by Andreas H. Gratze.
Fine Bitter Couverture 60%
A fine dark chocolate that has the air of a chartbreaker. A black-cherry fruit puree and its layer of vanilla-almond nougat are determined to make it to the top.
Type: Filled bar, Semisweet 60%
Infredients: Raw cane sugar, almonds, cocoa butter, cocoa mass, fructose-glucose syrup, dried sweet cherries, full cream milk powder, cherry brandy, sweet whey powder, whole cane sugar, vanilla, salt, soy lecithin.
**Fair trade and organic ingredients.
Sample Size: 70g or 2.47oz
Major bloom on this bar. I like these Hand-scooped bars, but the chocolate coatings are very temperamental and finicky. This bar was the most bloomed out the three I have tried so far. And they are not past expiration or close to it. I can go as far as to say there may have been a big shift in temperature from transport or where they were bought in London. But I doubt that's the case. I think these bars are just delicate and temperamental.
Smells like cherries and a bit sweet like the kirsch brandy. Just a tad hint of that boozy character, but sweet overall with cherries, sugar, and vanilla.
Very sweet taste. Rich, sweet and slightly tart cherries, sweet vanilla filling, and semisweet chocolate rounding out the flavor. It's nice that the chocolate is at least present for this bar. On the other bars it was there but the fillings in the bar over took the chocolate. Then again, the chocolate is supposed to be an accent and not the main focus. But nice that you can taste it.
There is a bit if a funky taste on the finish though that I do not like. I am left with a funky milk taste and milk breath. Something is artificial about it. The entire bar tasted good up until the finish. It's a leftover by-product of either too much milk powder in this bar or too much sugar and milk combined. It kind of ruins it for me.
I feel like this could have scored higher despite the bloom and overly sweet content of this bar because it tasted good, but it's the aftertaste that I can't get behind. The cherries were good, the vanilla was strong but good, the chocolate taste on the end was nice, but that finish kills it. It's not often I give something a score like this.