I support my local. If given a chance to order chocolate from far away or support the local makers in my community, obviously I am going to support the local makers. With more and more people venturing in to making their own chocolate or making their own truffles and confections, the choice is pretty easy these days. I count my blessings for all the new shops and new makers in the Boston area opening up.
Over Thanksgiving, I decided I was already baking and making enough food to feed a small army. I didn't want to spend that much time baking more desserts. I had already made my own fig jam and port wine truffles and chocolate cake, not to mention several other things. I remembered a great local truffle maker in my area, Valerie Conyngham of Vianne Chocolat. I had tasted some of her treats before, but she now has several new truffles. She tweeted out that she had some Mulled Cider Caramels. That's what I had to have. That's what I wanted on Thanksgiving Day. It just sounds like the holidays. It was cold that day too. They worked like a charm. Plus I love her packaging. It's so cute and makes for great little gifts to pass around with the family and taste all the yummy goodness.
Luckily for me, she came and met me for a drink and delivered me a nice big order of fun things. I ordered Mulled Cider Caramel Cups, Peanut Butter Hives with a Kick, Irish Whiskey Truffles, and Pumpkin Cups.
The Peanut Hives with a Kick were my favorite. Lovely peanut butter truffles with a touch of honey and a really nice kick of heat from cayenne pepper that does exactly what I want, slowly build on the palate. I am a wuss about hot and spicy food. So if it's not a slow builder, then I don't want it. These were great. I don't have pictures of them because they were very popular at Thanksgiving. But they come in cute hive-shaped truffle molds.
This wasn't supposed to happen. They are pretty popular and she said didn't have any left, but fortunately one box did make it into my bag. Thank you Valerie!
These are my kind of caramels. Belgian chocolate shells, boozy aroma straight away, as soon as you open the box as a matter of fact. A little green shimmer hand painted on each one. Soft, runny burnt caramel center with a nice boozy kick of whiskey. What's not to love? Butter, caramel, nutty chocolate, and whiskey. Good stuff.
Pumpkin Cups
Dark chocolate shell with pumpkin seeds on the top and real pumpkin puree in the center. So many times things that say pumpkin are usually about the pie spices and not actually about the squash itself. This is largely the case with many pumpkin ales, but that's a story for another blog. This has the puree in it and you can taste it. The spices were great too because the truffles were lightly spiced. Pumpkin pie spices tend to be over done and end up cloying. Add a little but of nuttiness from the pumpkin seed and we got a winner here. Perfect holiday truffle.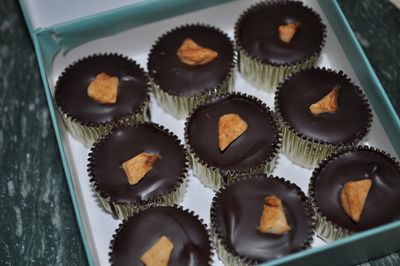 The reason I'm here with this post today. Dark chocolate cups filled with mulled cider caramel and dried apple bits on the top. Very sweet and buttery. Spiced just right like the Pumpkin Cups, soft and runny, buttery burnt caramel center flavored with mulled cider. The dark chocolate leaves a nice lingering coffee-like flavor. Perfect after dinner caramel.
Valerie is really nailing it with these wonderful caramel cups and truffles. I recommend sneaking in a last minute order for your holiday gatherings. A box of one of these these flavors would make for a really nice gift for someone at work too. The packaging is so cute and chic.