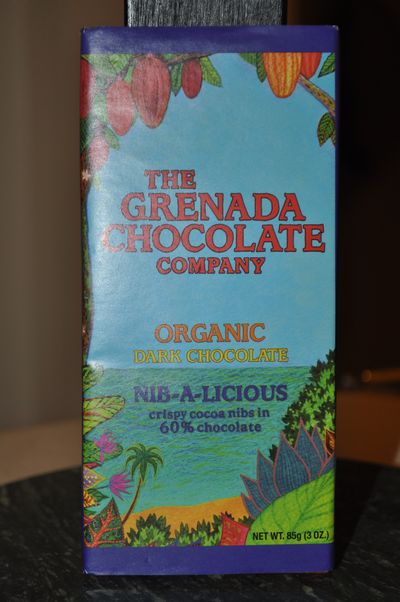 **Archived Notes
The Grenada Chocolate Company Ltd. was founded in 1999 with the idea of creating an Organic Cocoa Farmers' and Chocolate-Makers' Cooperative. We produce high quality Organic dark chocolate in Grenada with our world famous cocoa beans. Our factory is nestled in lush cocoa groves in Grenada's pristine rainforest.
Our award-winning organic dark chocolate has the wonderful complex flavor of Grenada's fine-flavored organic cocoa beans, processed carefully in small batches. Producing chocolate right where the cocoa grows allows us to do our own fermenting which gives us a real advantage in creating the finest, most complex taste from the beans. We use our own extracted cocoa butter in our chocolate also from Grenada's fine-flavored cocoa. This brings in a luxurious extra richness and chocolaty flavor. Our chocolate has a truly deep and rich flavor.
We now have over 150 acres of organic cocoa farms in our cooperative and operate our own cocoa fermentry, located one mile from our little factory. This assures that we perform every activity involved in the production of our chocolate, from the planting and growing of the cocoa trees to the fermenting of the fresh cocoa beans to the processing of our fine dark chocolate. We grow our cocoa totally naturally without the use of any chemical pesticides, herbicides or fertilizers and have been Certified Organic.
Our sugar is a fine organic raw sugar produced and milled by an organic growers' cooperative in Paraguy.
Whole organic vanilla beans grown biodynamically in Costa Rica provide our "dash" of vanilla.
Organic soy lecithin is used as emulsifier in extremely small amounts.
We are one of the only small-scale chocolate-makers producing fine chocolate where the cocoa grows. Because small batch chocolate-making is very rare, we had to create our own processing methods, desigining our own machines and refurbishing antique equipment to meet the requirements of our unique situation. Most of our machines are based in design on those of the early 1900's, a time when quality had precedence over quantity in chocolate-making. Because we care about our environment, we use solar-electric energy to power our machines.
The original impetus and principle of our cooperative company is to revolutionize the cocoa-chocolate system that typically keeps cocoa production separate from chocolate-making and therefore takes advantage of cocoa farmers.We believe that the cocoa farmers should benefit as much as the chocolate-makers.
Type: Filled Semisweet
Bean Varietal: Trinitario
Ingredients: Cocoa beans, cane sugar, cocoa butter, cocoa nibs, soy lecithin, vanilla beans. All Organic.
Sample Size: 85g or 3oz
Appearance: Nice shiny surface, deep dark chocolate color, pretty cocoa nibs sprinkled on top and through out the bar, signature molding with air bubbles on the top of the molded surface.
Score: 92
Snap: Good, deep firm snap, light crisp snapping sound, clean break lines.
Score: 93
Aroma: All tar and rubber. very robust and charred smelling. Big pen ink aroma right out of the package, smoky, tobacco, and a little funky.
Score: 78
Taste: Sweet and sugary, very slightly astringent, berries, inky, tar, hints of melon, wood, complex fruits.
Score: 90
Texture: Good cripsy and crunchy nibs. Not ovelry dried and not soft and limp. Perfectly crunchy, Smooth creamy chocolate texture with a medium melt-time.
Score: 95
I didn't get a picture of the top surface of this bar. I thought I had but it was only the underside with the nibs. It had a nice glossy finish on the bar but there were a lot of air bubbles on the top surface of the molded side. The nibs were not just sprinkled on top, they were mixed through out. So the top surface does appear skimpy on the nibs, but it wasn't. It was better the top wasn't fully coated so you can see the nice shiny surface.
This was very different from the first bar of Grenada I had. I remember that bar being super bright, and green tasting like fresh cut or new wood. But this bar was charred to hell on it's aroma. It was all tar and rubber. I didn't find that pleasing at all. But it's taste was complex and fun. This was due to a lot of sugars helping tone down that roasted char taste. There was an awesome fruity character underneath the sugars and pen ink flavors. I had a hard time telling exactly what it was though. It wasn't the sweet berries originally detected but something deeper. The cocoa nibs were awesome. Nice and crunchy and a good dried wood flavor. That added some depth to this chocolate.
I am on the fence about this bar. I hated the aroma, but I liked the way it tasted. It's pretty funky chocolate with the huge tar and burnt characters, but those sugars really help keep this in check.
This is one of those moments where I am saying that even though I didn't like the aroma and it's not scoring as high as some would like or expect, I think this is still good chocolate. This is for funk lovers. I mention this all the time about chocolate and remind people that certain funky beers don't always have the most pleasant sounding descriptors. But once you understand those beers there becomes a developed palate and love for the not so pleasant. What I am basically saying is that this wasn't my favorite but it's still pretty worthy and I think there is a niche out there for people who like these funky things.
Final Score: 89.6