Very small batch, Limited Edition bar from Rogue. This is beyond Single Origin. This is a single plantation bar with a very limited quantity of only four bags of cocoa beans.
Colin Gasko explains it best in his words from his packaging and website.
For a year we have been working to bring in this very special cacao from an isolated population of trees in Northern Peru. We have finally managed to bring in a "nano-lot" of only four bags of cacao from Juan Tirado's 7.5 acre organic cacao farm in Morropon Province in Piura, Peru. This is the smallest micro-lot ever made into a bar. All four bags of this storied "white-bean" cacao come from a single fermentation and drying cycle, giving us the rare opportunity to create a chocolate that will give new meaning to the term "single origin." More importantly, Juan's farm produces the finest cacao that we have tasted. This is a result of genetics, but also of excellent post-harvest handling, leading to a distinct floral aroma with an extremely mild, buttery flavor of nuts, cocoa, and raspberries. Each of the fewer than 4,000 bars produced is wrapped in a beautiful limited edition letterpress printed packaging.
The Piura Region of Peru is located in the northern region of Peru. The Morropon Province is located in the center of this region.
Via Wikipedia and the image:
This province is located in the center of the Piura Region, being a land of contrast and climatic fusion. It is dotted by tropical forests of the dry-equatorial style in its flat areas were the carob tree predominates. In high areas of an elevation 1,500 to 2,000 metres (4,900–6,600 ft) the landscape changes to smooth high jungle and a lack of varied hilly valleys.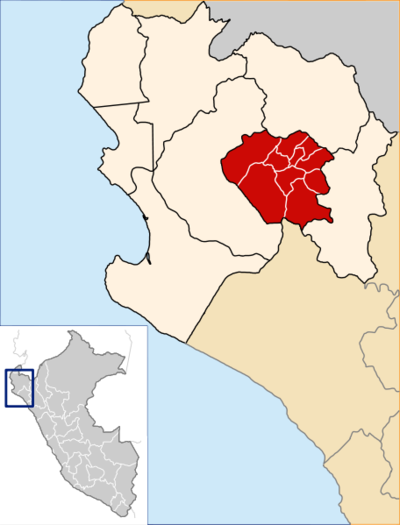 Click to enlarge images.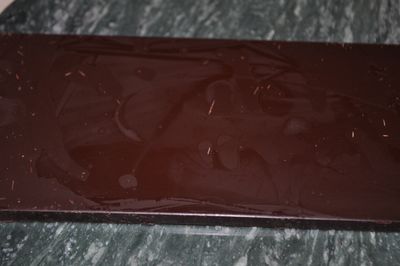 Type: Bittersweet, 75%
Varietal: Unknown. I will have to ask Colin if he is aware of what the bean varietal is on this bar of chocolate. Peru has all the classic bean varietals plus hybrids and even some unknown or new varietals. Peru a chocolate geeks paradise for discoveries.
Ingredients: Cocoa beans and cane sugar.
Sample Size: 2.12oz or 60g
Bag #: 2
Batch #: 2
Date: 07/05/2010
Appearance: Smooth, sleek, un-molded bar. Thin and shiny, completely unblemished... on one side, the other side matted heavily from plastic wrapper.
Score: 85
Snap: Light crisp sound, asymmetrical break lines due to no molding lines. But still firm for a thinner bar of chocolate.
Score: 87
Aroma: Tangy aroma, floral, raspberries, tobacco, slightly nutty aroma, and dry.
Score: 92
Taste: Tangy, lightly acidic, astringent, big wood, big raspberries, inky, a bit of toasted malts. An interesting burst of sugar right after the initial taste, but it is quickly overtaken by astringency.
Score: 91
Texture: Smooth and creamy with a slightly drying finish, medium fast melt time.
Score: 98
The appearance score was tough to give. On one side it was pure perfection for an un-molded bar of chocolate. Completely unblemished except for my finger prints when pulling it out of it's wrapper. On the other side it's the prime example of the some of the unwanted effects from wrapping your chocolate in plastic. However, the plastic allows for the aroma to stay intact and allows for a much longer shelf life. I will always be in favor of this no mater what happens to the appearance.
It's aroma was quite tangy and floral. Normally I don't like to be influenced by what the package descriptions say you should smell or taste on a bar, but sometimes it's just unavoidable and completely not up for debate. The aroma and taste are there through and through. It smelled like big bright raspberries and tasted like it too.
As I mentioned it's highly fruity with raspberries and it's very tangy A little too tangy for my liking, but it had what is becoming a classic Rogue hallmark of cedar woods. I got a lot of raspberries and wood and it didn't allow for some of it's subtleties to come through. A little bit with some toasted malt flavors. The astringency leaves a slightly bitter lingering taste on the palate, but not offensively. Also some lingering coffee notes.
I am in love with the texture. It is a little bit drying on the finish, but the creaminess of it and how it softly melts away is truly amazing. I didn't get a nutty buttery taste on this chocolate like the package suggests, I did get a lovely buttery soft texture.
Final Score: 90.6