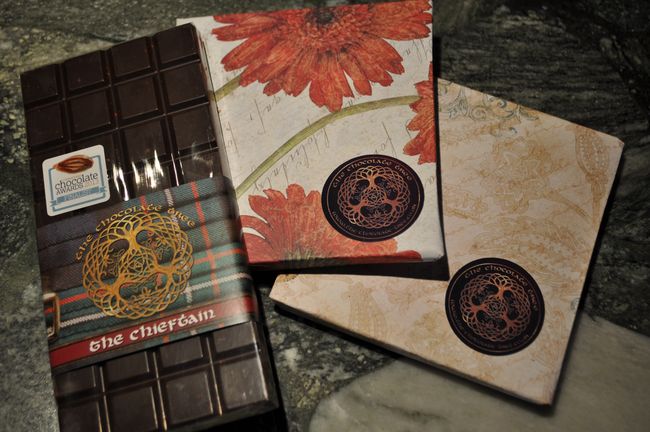 In the name of all things generous, the fine folks at The Chocolate Tree in Edinburgh, Scotland are right up there. In announcing the end of my writing hiatus, The Chocolate Tree reached out to me about sampling their products. They managed to ship me some products all the way from Scotland to Denver, Colorado. I am floored anytime this happens. Not only am I grateful but I truly thank them for sending products all the way out here. Thank you, Ali! Thank you forever.
The Chocolate Tree are small-batch Bean-to-Bar chocolate makers, Alastair Gower and Friederike Matthis, in Edinburgh, Scotland. They specialize in organic bars and handmade bean-to-bar chocolate bars. As well as hot chocolates, spreads, truffles, and macaroons. They also retail Marou Chocolate. Fantastic Vietnam bean-to-bar artisanal chocolate. I personally love Marou and love their packaging. Good company to keep.
The package that arrived to me contained 3 products. Two bean-to-bar chocolate bars and an organic signature bar.
Via their website:
We are proud to be one of the first UK chocolatiers to not only produce fine chocolate work, but also make chocolate from bean. We work directly with growers of cacao to encourage growing of heirloom cacao which will sustain biodiversity and fine flavour chocolate into the future, as well as providing the growers with the best possible deal; cutting out the middle men.
In December 2009 we opened a classical yet contemporary chocolaterie at 123 Bruntsfield Place, in the boutique shopping district and much loved residential area of Edinburgh. We aim to provide a unique and comfortable atmosphere for you to explore the delights of fine flavour chocolate.
Organic farming on small plantations is in fact the best way to grow the cacao plants. The pesticide free farming allows midges to thrive and fertilize the cacao flowers, thus helping the plants to create the cacao beans from which the chocolate is made. Not only is this organic technique the best way to farm cacao, it is the only good use for a midge we have ever heard of!
Read about their trip to Peru sourcing cacao. Trip To Peru 2013
And here is a good interview with Ali Gower for Ragged Online. This deals with fair trade, organic and coops. It's long but well worth listening to.
Nibs & Salt Peru 70%
Type: Filled and flavored dark.
Bean Varietal: Nacional
Ingredients: Cacao beans, cane sugar, nacional nibs, sea salt.
Sample Size: 90g
60 hour Conch.
Appearance: Two textured bars with raised tiles and signature patterned molding. A few surface nicks, but nothing major, smooth surface, muted matte surface not ultra shiny, a lighter brown color, and larger nibs leaving a larger raised surface on the backside.
Score: 89
Snap: Clean crisp snap, light snapping sound, slightly crumbly in it's break.
Score: 90
Aroma: Roasted cacao, citrus, inky, dried wood.
Score: 92
Taste: Bold, bitter, inky, fairly tangy, slightly acidic, berries, roasted nibs, good balance of sugars, then a later salt hit in the taste.
Score: 94
Texture: Good crunchy nibs, smooth creamy chocolate texture, medium-fast melt time.
Score: 94
Just a couple of surface marks, I judged it accordingly but it must be noted that this chocolate traveled all the way from Scotland to Denver. I don't expect perfect condition considering any number of factors that may have contributed to surface issues. Really it's a small detail but one that must be counted.
I like the molding and raised tiles. It' gives a nice unique look. And it's signature is cacao leaves and flowers. It's snap was good because of the thickness of the bar but a little crumbly. That could be because it's filled. But big lovely pieces of nibs. I really hate it when bars give very fine chopped up nibs. I like bigger pieces for a fuller crunch and better nib flavor.
It's aroma is very straight forward. Sometimes you get lots of descriptors on chocolate and sometimes it's fairly basic. But that doesn't mean it isn't good. It's a nice strong aroma of wood and citrus and big inky notes. Simple but good.
The flavor bounces all over the place but in a good way. Each taste presents itself individually and then lets the other tastes come through. It opens up very bold and bitter. Nice for 70%. And then it's sharp and tangy and very fruity with good berry flavors. Then the crunchy roasted nibs come out with full roasted and dried woody flavors. Then it's finished with the salt. Really good bar. It's the full real flavor of the Peruvian cacao and then playful with nibs and salt. Nothing is really dominating except it's natural flavor. Even though it's technically a flavored bar because of it's salt, the salt is not on the main stage. Very good balance. Great flavors.
A few minor surface issues gives it this score, but I say ignore the technical part of the score and go for how it tastes which is great.
Final Score: 91.8
Bergamot & Raspberry Ecuador 55%
Type: Flavored Milk
Bean Varietal: Arriba Nacional
Ingredients: Cacao beans, cane sugar, milk powder, cacao butter, bergamot and raspberry oils.
Sample Size: 90g
Appearance: Same patterned molding and raised tiles, muted matte surface, lighter brown color in a darker chestnut color, no real major surface nicks or matted marks, slight damage with a broken piece, but surface appearance still intact.
Score: 91
Snap: Good hard snap, nice snapping sound, and clean break lines.
Score: 94
Aroma: A full savory aroma. Tart, buttery milk notes, black pepper, orange-y bergamot notes, and a subdued raspberry aroma.
Score: 93
Taste: Spicy, peppery and orange bergamot right up front, creamy buttery flavor, the raspberry is not very apparent. Dominating bergamot. Lingering cacao flavors with milky finish.
Score: 90
Texture: Smooth, creamy, medium-fast melt time.
Score: 94
Again with the traveling, I am not taking major points off here for a slightly broken bar. Just one piece broke and it's really no big deal considering how far it came. I have been known in the past to be tough about this sort of thing but the surface of this bar held up better than the unbroken Nib & Salt bar. I think that's more important. It is an issue if you get it broken from the store. But in this case, I am not reviewing that aspect harshly.
Great snap. Very full and strong with a nice popping sound and no crumbles.
Interesting aroma. You expect a bigger Earl Grey tea smell but it's toned down and not too big. Neither is the raspberry. There is a tartness on the aroma but the raspberries are subdued. It's interesting because it's a savory kind of smell. It has orange notes and bergamot but also a buttery milky aroma.
The bergamot dominates the flavor of this bar. It's primarily a milky, buttery, creamy bar with orange and peppery bergamot flavors. The raspberry is completely lost. There are some remnants of it's presence in the finish but it's muddled with the milky after taste. It leaves a milky aftertaste similar to eating white chocolate. The cacao flavors are present at the finish. Slightly rich and bitter and also savory on the flavor as well as the aroma. It does have those drying qualities that Arriba Nacional beans tend to have but it's not as noticeable with the lingering milky finish.
The texture is fantastic. Soft, good melt time and smooth and creamy.
It's very good if you like spicy bergamot. It's very strong and flavorful chocolate. But my biggest issue with it is the milky aftertaste. It's a little cloying at the end. But it is a higher percentage milk chocolate with makes it richer than a typical 45%.
Final Score: 92.4
The Chieftain
Type: Flavored bar 55%
Bean Varietal: Unknown, blend
Ingredients: Dark chocolate (sugar, cocoa mass, cocoa butter, vanilla powder), Pinhead oats, Haggis Spice (sea salt, coriander seed, mace, thyme).
Sample Size: 100g
Appearance: Smooth shiny surface with some plastic matted marks on the top surface, Deep dark brown color, standard small tabs tablet,
Score: 87
Snap: Good firm snap. Nice thickness on the bar and a good crisp snapping sound. Clean break lines.
Score: 94
Aroma: Huge spicy aroma. All mace. A little savory and herbal with thyme, oranges, black pepper aroma.
Score: 93
Taste: Big spicy taste, mace and herbal flavors. The thyme is bigger on the flavor and gives fairly big green  herbal taste, a little like pine tree sap, peppery, oranges, and red fruits from the cacao, cereal grains from the oats. Very slight spicy heat kick as well. Fruity lingering aftertaste of big rich raisins. Small pops of salt intermingled.
Score: 95
Texture: Medium hard with a slower melt time. Not as creamy as the others, but still smooth with a little crunch from the oats.
Score: 91
This bar is super fun. Love the tartan plaid wrapper and the very idea of a signature Scottish bar of chocolate with Haggis spice. While Haggis may not sound/be very appealing to the masses, the spices and aroma of this bar are awesome.
A matted surface. This is the only negative side effect from plastic packaging. I prefer plastic to hold the aromas and flavors on the bar longer. But it can lead to this kind of surface appearance. This could be from the traveling too. You never know what kind of temperature issues may affect the contents of a package in shipping. But you can see the integrity because it's still fairly shiny.
Nice thick bar with a standard mold. Clean but very film snap.
The aroma is huge. It's all mace which has a clove like aroma, oranges, black pepper, slightly herbal with the thyme. I didn't know what classic Haggis spice was, but this blend here makes for a good rich aroma on chocolate. I like it. It is really strong though. I could leave this bar out like a reed diffuser for the house.
It's pretty funky chocolate. I liked this a lot. It's interesting, it's different, and it actually works really well with the oats. It probably could have used more oats mixed in it. It has an awesome fruity aftertaste mingled with mace and spices. Not being that familiar with Haggis, I don't know how true to form it is in terms of taste, but what I get out of it is a huge holiday bar. This is something you want to pass around with friends and family.
As spicy as this chocolate is, it's still pretty balanced. You get a little bit of everything coming out. It's rich and deep for only a 55% too. But lower percentages and more sugars lend to a bigger fruity taste in chocolate. The lingering raisins and rich cacao flavors sort of halt a cloying aftereffect from something this heavily spiced. It's really wonderfully balanced and big at the same time.
It's score is another victim of technicalities. While important as a whole, I say ignore them and definitely try this bar. I loved it. It has so much going on and it was truly unique and fun. Plus you get to tell people you are eating Haggis chocolate. This is probably one of the most fun bars I have had in a while. I am so into the plain dark origin bars that I forget how fun and interesting good spice blends can be in chocolate when done properly.
Final Score: 92
Thank you again, Ali. I appreciate the shipping and the skill shown in these bars. Deeply impressed with the Chieftain. The richness in the Nibs and Salt bar were great too. Keep up the good work and thanks for sharing your chocolate passion with me.