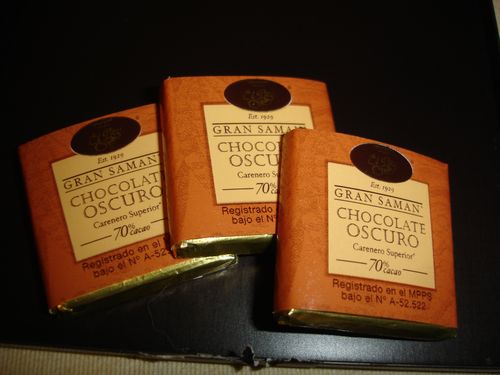 Chocolate Oscuro translates simply to dark chocolate. This is a bittersweet chocolate from El Rey at 70% using Carenero Superior beans from Venezuela. El Rey uses 100% single origin Venezuelan beans.

El Rey only uses two kinds of beans. The Carenero Superior or Rio Caribe. Here are some quick blurbs about Carenero Superior form some trusted chocolate sources.

Via The Nibble:



•Trinitario (mostly)
•Caramel, citrus, vanilla, berries, honey
•Chocolate undertone
•Light acidity

Carenero Superior. Mostly Trinitario. Carenero refers to the port from which the cacao was once shipped, and "Superior" is a reference to higher quality beans. Typically, Carenero has a strong underlying chocolaty presence that hides underneath a myriad of flavors, such as spice, caramel, citrus, vanilla, berries, and honey. A light acidity also adds further depth to the profile.



Also via The Nibble:


El Rey's Carenero Superior line was launched in 1994. Each bar is made exclusively from one type of bean: the highly acclaimed Carenero Superior. Carenero grows in the fertile and humid region of Barlovento, just northeast of Caracas. The well-fermented and better quality beans get deemed "superior"—hence the Carenero Superior designation. The beans are prized for yielding a complexity of spicy and fruity flavors and aromas.

Via Chocolate Alchemy:


Carenero refers to the port from which this cocoa used to ship out of. Superior of course is a reference to the higher than average quality of this Trinatario. It is a solid Trinatario, with a medium break. This has a bit more body to it (compared to Ocumare), a bit more brightness and acidity, but also a deeper chocolate flavor. From the very diverse nature of the region, the preparation is often quite varied, but that also leads to a complexity and flavor profile unique to Carenero Superior. There is a clean earthiness and rum like flavor that I have always enjoyed in this variety.

Simple ingredients on this chocolate using only cocoa butter and cocoa solids with some sugar. I have been really coming to appreciate the more natural bars of chocolate. I still don't think using soy lecithin or vanilla is a deal breaker or bad for chocolate as some over the top purists would say. But straight up chocolate that can stand up on it's own

One thing that is good to know is that the El Rey website gives a detailed list of what is in their chocolates. Every person who sells chocolate, uses chocolate, or makes chocolate in some way should list where the chocolate comes from and what exactly is in it. The more technical the better.

El Rey Technical Data.


This was a tasting box I received from Aroa Fine in Boston who works exclusively with El Rey chocolates.

Type: Bittersweet, 70%
Bean Varietal: Trinitario

Ingredients: Cocoa, Cocoa Butter, Sugar.

Sample Size: 27 5g Bite size bits.
Appearance: Deep dark brown color, single bit size pieces with monogrammed molding, shiny, and smooth.

Score: 94

Snap: Yes even these squares gave good snap. Light and crisp yet still fairly firm.

Score: 92

Aroma: Lightly smokey, subdued red wine aromas, subtle dried fruits and soft roasted cocoa.

Score: 92

Taste: Sweet, fruity, sugary, deep dried fruits, slight tangy notes.

Score: 93

Texture: Soft, smooth, and creamy with a fast melt time.

Score: 96
The aromas give almost no clues to the flavor of this chocolate. It's so subtle and soft you would have no idea how big this chocolate is based on the aroma.

This is very tasty chocolate and it hits all the right marks technically, but overall I find this chocolate okay for eating but probably a better fit for baking with. The recommendations on the website call for mousse, ganache, and fillings. Rich things. That I can see.
The issue with this chocolate is too much sugar. Though it is very bold on the flavors and deeply rich, I feel like it would have been better if it were more raw and less tamed with sugar.
There is a very interesting fruity/flowery taste the dominates the chocolate and opens up right in the middle of the tasting. It was hard to pin point what it was. It was like flowers mixed with pen ink, and dried fruits mixed with slight hints of medicinal herbs. Think Fernet-Branca on the medicinal herbs. An interesting flavor to say the least.

It finishes fairly clean with with soft hints of roasted cocoa and it drys up pretty quickly. It does have larger cocoa particles that can leave for a slight gritty texture, but still very smooth over all due to the initial creaminess. The larger particles are meant for a more robust flavor. It's certainly a deep flavor, but I feel like this chocolate will be best for baking. Or served to those who love dank, earthy, medicinal, herb flavors like Fernet-Branca.

Final Score: 93.4