Amedei, Pontedera, Italy (Tuscany).

I had been waiting to get my hands on anything from Amedei for a while. My friend Emily Shartin, the hero of my blog so far for all the glorious trades we have done, casually slipped this bar to me. I knew how much of a buzz was generating around Amedei, but I didn't know she handed me the 2009 Golden Bean award winning chocolate. Even with the tag right on the front of this bar, I completely disregarded or glanced over it. I was more curious about the nine different plantations the beans come from and the ingredients. I barely even looked at the front of the package because I was scouring the back for information.

These two articles will explain Amedei better than I can. They tell a much more detailed story of the brother and sister duo at the helm of Amedei. I simply cannot do that yet, as I haven't met them or have traveled to Italy to see their production in action. I simply haven't investigated them enough to do a full comprehensive write up of their whole company and history.

Amedei, The Italian Chocolate That Seduces The World.

Sublime, rich, dark -- the world's best chocolate. Michèle Shah

Ever since I started exploring chocolate, and learning more about single origin, bean-to-bar producers, and Italian chocolatiers, there has been some mentioning of this grand Italian producer called Amedei. Their bar Porcelana has made a lot of news about being the worlds most expensive chocolate. Food & Wine wrote this about Amedei Chuao.


In November, a competition in London awarded a gold prize to one of Cecilia's handiworks, a single-plantation chocolate called Chuao. Two other Amedei products tied for silver.
Both the visionary French pâtissier Pierre Hermé and the visionary Spanish chef Ferran Adrià have said that Chuao might, in fact, be the world's greatest chocolate.

Porcelana and Chuao are constant award winners. Amedei 9 has it's own significance and it's own accolades. Especially since Amedei 9 was blended with beans from nine different plantations. I had no idea what to expect when reviewing it.

It's been no secret based on some of my write up's thus far on chocolate (see the Maglio Origine post) that I am completely smitten, if not a little biased (maybe a lot biased) towards Italian chocolate producers. There is a fine tuned touch that most producers from Italy have mastered with their chocolate making skills. They have managed to make the most delectable bean-to-bar, single origin, or blended bars. They have this signature mark of being the smoothest tasting chocolates. Rounded edges on even the most bitter of chocolate. The care they put into each step in the chocolate making process is world renowned. You wouldn't even know you were eating an 85% bitter chocolate bar if someone didn't tell you it was that high in cocoa percentages.

So, now that you know where I stand when it comes to Italian chocolate, I promise that I was fair as possible with my assessment of Amedei. Once you understand that I didn't know what I had when I reviewed it, you will see why my passion for Italian chocolate remains.

Amedei is located in Pontedera, Italy. It's in the northern region of Tuscany, close to the water near Pisa.




The abridged version of their story is the brother and sister duo Alessio and Cecilia Tessieri, had no prior experience when starting out. They made praline fillings and remolded wholesale chocolate. Cecilia began to fine tune her craft while Alessio began to travel and investigate the various regions of chocolate through out the world. Read the Journey To The Country Of Origin from their website. Finding beans from the greatest chocolate producing regions of the world, they transformed themselves and are now regarded as one of the best chocolate producers in the world. Again, read the articles from the beginning of this post to gain a deeper prospective of Alessio and Cecilia and their efforts with cocoa plantations.


[Image via Transfinito]

Alessio and Cecilia Tessieri.


Taken straight from the package of the "9" bar:


The "family treasure". This blend fully expresses the Amedei philosphy. Combined here are cacaos from 9 plantations which, over the years, have been discovered, restored, and rendered productive again by Alessio Tessieri: an exceptional raw material. From this, Cecilia created a powerful and balanced dark chocolate, in which the aromas of the plantations persist in the unmistakeable flavour of this chocolate.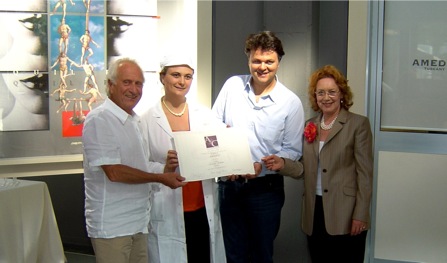 In 2007 Amedei 9, won the silver in the dark chocolate category from the Academy Of Chocolate in London.


2. Best bean to bar:
Gold – Amedei, Chuao - (top marks)
Gold – Amedei Porcelana
Gold – Amedei, Toscano Black 70%
Gold – Michel Cluizel, Maralumi
Gold – Valrhona, Araguani
Silver – Malagasy, Mora Mora
Silver – Amedei '9'
Silver – Michel Cluizel, Mangaro
Silver – Domori, Puertomar
In 2009, Amedei 9 took the top honor and won the Golden Bean Award from the Academy of Chocolate.


The Golden Bean. Best bean to bar dark
THE GOLDEN BEAN Amedei - No 9

Gold Amedei - Porcelana

Gold Amano - Madagascar

Gold Amedei - Toscano Black 70%

Gold Valrhona - Manjari

Silver Domori - Il Blend

Silver Domori - Teyuna

Silver Amano - Montanya

Silver Amedei - Toscano Black 63%

Silver Amano - Ocumare

Bronze Domori - Puertofino

Bronze Valrhona - Caraïbe

Bronze Amano - Jembrana

Bronze Amedei - Toscano Black 66%
I reviewed last year, one the top Chocolates in the world and didn't know it was awarded one of the best chocolates in the world until I began to recap my notes now. I am the dolt who totally disregarded the winners tag right on the front of the package. Even though Chuao and Porcelana were/are the most coveted, I had the big winner in my hands. Well, let's see what I had to say about this apparent masterpiece.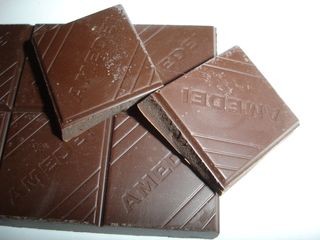 Amedei 9

Bean Varietal: Blended bar with beans from 9 different plantations.

Type: 75% Bittersweet

Sample Size: 1.75oz or 50g

Ingredients: cocoa mass, cane sugar, cocoa butter, vanilla.

Appearance: Silky, smooth bar, shiny, deep rich dark brown color, simple monogrammed molding.

Score: 93

Snap: Good clean snap, medium audible snapping sound, clean break lines.

Score: 94

Aroma: The first thing I noticed was mint. Fresh minty nose followed by the classic roasted cocoa notes. Light floweriness before inundated with tobacco smokiness, and a faint aroma of grapes.

Score: 96

Taste: Interesting grape and melon taste in the initial staged of the chocolate opening, extremely low bitterness, but a tartness keeps trying to get through. It ends up being subdued, but still lets you know it was there. Mint from aroma appears next, followed by berries. There are definitely Madagascar beans in this bar that make their presence known at the end. Same citric brightness that was trying to get through initially comes through at the end, followed by woody notes, and creamy finish. Finishes dry and not cloying.

Score: 98

Texture: Hard and smooth, slow melt melt at first, but once it opened up it finished like a soft, creamy Madagascar bar.

Score: 95

This is a hallmark Italian chocolate bar. It takes you on a journey. More like a flavor roller coaster. It's unbelievable that you get distinctive varietal hallmarks in stages. It's everything that I want in a chocolate bar. All the classic berry notes, fresh tobacco aroma, new characters like melon and mint, and finishes clean like a Madagascar bar, my newly favorite region. If it didn't have that creamy finish on the end I would have scored the texture lower for sure.

Trademark Italian rounded edges like I talked about before in this post, meaning extremely light bitterness, but citric acid that cleaned the palate at the end.

I really didn't know when I reviewed this that it was voted one of the best dark chocolate bars in the world. My notes agreed. It certainly makes me feel confident in my new chocolate reviewing abilities.

Final Score: 95.2