Angelo comes through for me once again. I asked specifically for some more Melange Chocolate tasting samples, or as I call them, chocolate straps. Thin tasting bars of flavored chocolate. Last time the flavor pack was all dark chocolate. This time I thought it was an all-milk tasting. To my surprise, it was a mix pack of white, milk, and dark.
Unless things have changed at Melange, the chocolate base used for these chocolates is from Belcolade, Belgian chocolate couverture.
I don't review these particular tasting straps the same way I normally review chocolate. They are too thin for a snap quality, they have been damaged by travel from the UK to the US (Not anyone's fault, they are just very fragile.) Some people have more of a weighted system towards their review marks, but I do not. I take the time to explain in full detail what each score means and why it received the mark that it got. With these kinds of tastings, I will just explain the taste, texture, and aroma and give a general score based on my own personal tastes.
Matcha & Strawberry (White Chocolate)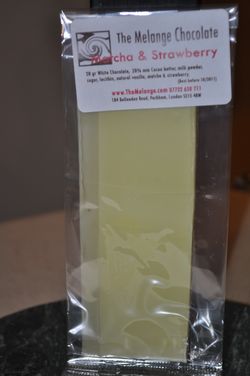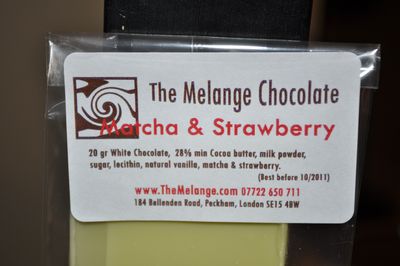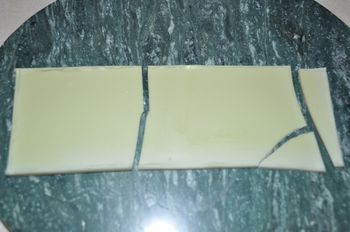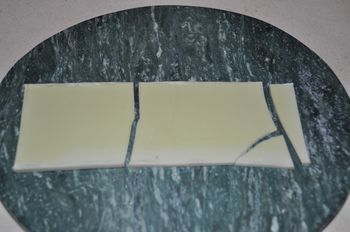 Ingredients: 28% cocoa butter, milk powder, sugar, lecithin, natural vanilla, matcha, and strawberry.
Type: Flavored White Chocolate, 28% cocoa butter
It's appearance doesn't quite show up the way I wanted it to in these pictures. It looks more yellowish based on the photos, but really it's more of a soft lime green color.
It smells like classic white chocolate, creamy, fatty, buttery, and soft. It has more of a lime aroma than a strawberry aroma. More citrus and fatty cream notes. Classic white chocolate aroma is dominating over everything else. I don't smell the matcha which hardly has an aroma anyway unless it's wet leaves or it's flavored, and the strawberry is barely there leaving a tart aroma that is more like limes.
Tastes like very rich and creamy white chocolate, buttery, rich creamy texture, virtually no strawberry taste at all, it's a little fruity, but mostly it's rich, and milky, has a bit of a grassy lingering flavor from the matcha. The last flavors on this chocolate are the strawberries. I'm a little disappointed that it's that faint or subtle. At least it presents itself though, but not until the very end through retro-olfaction.
I think this is actually fairly nice for white chocolate. I am not a big fan of it in general, but this was very nice. I only wish the flavors were a bit bigger. More of that grassy, green, matcha flavor, and bolder strawberries. The white chocolate flavors dominate so much that you are only left with lingering tastes of the matcha and strawberries. It could be so much better.
Coriander & Grapefruit (Milk Chocolate)
Ingredients: 33% cocoa mass, cocoa and cocoa butter, milk powder, sugar, lecithin, natural vanilla, coriander and grapefruit.
Type: Flavored milk chocolate, 33%.
Light creamy milk chocolate color, lightly citrus-y on the nose and soft and subtle coriander. Creamy milk qualities with a very slight smoky aroma. They coriander was big right out of the package as was the lightly smoky aroma, but then it tames itself down for a nice creamy soft milk chocolate aroma with light hints of the citrus grapefruit and the spicy coriander. Soft and creamy texture, but a little bit of grit from the coriander spice.
Coriander right up front, very soft grapefruit, more like sweeter red or pink grapefruit, less tart and bitter citrus notes. Very soft and gorgeous flowery taste on the finish. Very slight though. Creamy milk taste on the chocolate with a few peanut notes. Sweet milk chocolate. The coriander and grapefruit are toned down quite a bit on the second and third tastes of this chocolate. The first taste the spice and the fruit are very present, the rest of the time it's all about the creamy milk chocolate and that lovely aftertaste.
Coffee and Aniseed (Milk Chocolate)
Ingredients: 33% cocoa mass, cocoa butter and cocoa solids, milk powder, lecithin, natural vanilla, coffee and aniseed.
Type: Flavored milk chocolate, 33%
Black licorice. That is the dominating aroma. Not even subtle aniseed aromas but straight-up black licorice. Creamy milk chocolate aromas with a subtle smoky hint. No coffee on the aroma at all. Light brown color with black flecks pepper through out the strap.
Sweet milk chocolate, excellent balance of coffee and aniseed up front. The coffee makes the peanut-y taste on the milk chocolate present itself more. Coffee is more roasted at first taste and then has more of a grind flavor. Despite the black flecks in the chocolate, it's not gritty. Coffee ends up the dominating flavors int he end. The aniseed was very much up front on the first taste of this chocolate and then takes a back seat. Creamy, soft texture.
I only wish the licorice hung around longer and interacted more on this chocolate. It dominates the aroma and then plays nicely with the coffee but then never comes back through the rest of the tasting. Overall though it was good tasting milk chocolate with a good blend of flavors.
Raspberry & Rosemary (Dark Chocolate)

Ingredients: 72% cocoa solids, Cocoa butter and cocoa solids, sugar, lecithin, natural vanilla, raspberry and rosemary.
Type: Flavored bittersweet, 72%
This one had an interesting nose right out of the package. It had tart raspberries, a little smoky chocolate, and a strange aroma that reminded me of yellow mustard and ketchup mixed together. The rosemary on the aroma wasn't as dominating as you might think which left a strange interaction between the cocoa and the raspberry. Deep dark chocolate color.
Nice rich dark chocolate flavor, lightly sweet, light raspberry, and lovely rosemary. Despite the strange aroma, the flavors are really nice. The texture is a little chalky and dry, but it's not overbearing. Deep dark chocolate, roasted cocoa interacts nicely with the rosemary, raspberry flavors are very soft, and hard to find in the middle of the bold and rich chocolate and dominating rosemary flavors. The rosemary is strong but not overpowering. There is a little bit of raspberry at the end of the tasting. It lingers on the palate and you can taste it through retro-olfaction.
Very nice chocolate. It is getting the score it's getting for that initial strange aroma, and being a bit drying and chalky on the texture. But the flavors are awesome with the deep rich chocolate. I just wish the raspberry stood up more in this chocolate. It's there but kind of hiding in the background to the rosemary.
Cardamom & Cloves (Dark Chocolate)

Ingredients: 72% cocoa mass, cocoa butter and cocoa solids, sugar, lecithin, natural vanilla, cardamom and cloves.
Type: Flavored Bittersweet, 72%
All cloves on the nose. A slight undertone of green cardamom, but the predominate aroma was cloves. Some roasted cocoa on the surface of the aroma, but it's dominated by the spice. Deep, dark chocolate color.
All cardamom on the taste. Bright green, fresh cardamom and deep roasted chocolate. No real hints of the cloves like the aroma suggests, a little spicy kick to the chocolate too. A nice roast-y, deep cocoa flavor lingering on the palate.
A nice play of flavors depsite only smelling one, and tasting the other. But the cardamom and dark chocolate together were very nice. And not all was lost for the cloves on the taste. I got a little tiny spice nugget later on that finally impacted the flavor.
The biggest theme with these chocolates was a sort of bait-and-switch with the flavor profiles. The nose has one strong aroma, and the flavor dictates another taste all together. Both of the dark chocolates were the best example of this. They were also the most surprising to me. Despite it's score, the Milk Chocolate Coffee and Aniseed was my favorite. The white chocolate had a lot of potential but I needed the flavors to be a lot stronger. The classic flavors of white chocolate just dominated the palate. It's one of the reasons white chocolate is not my favorite.
Once again, a very nice collection.