Virginia chocolate from some Virginia pals for a Virginia girl. Thanks to Jeff Evans who sent this to me. I may be a Masshole now, but I never forgot where I came from.
Jeff was nice enough to send up Fleurir bars in a big shipment of beer that was sent to us by Chuck Triplett. They had a good time at our Extreme Beer festival, and this was a very generous thank you. I have followed Fleurir on twitter checking out some of their truffle flavors like peanut butter and banana. They have been on my radar for a little while.
They are actually pretty funny too. Check out their "About Us" page.
Their blends and flavors on these regional inspired bars, in a way, remind of Chocolat Moderne. Different concepts as Chocolat Moderne is into art and art history, but the flavor blends with dried fruits and Valrhona chocolate blended bases is more what I was thinking. Although Fleurir is more artful in their packaging and their splatter painted molded bars.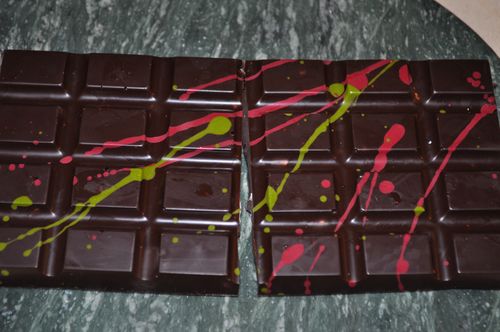 Type: Filled, blended bar.
Bean Varietal: N/A
Ingredients: Dark chocolate (cocoa bean, sugar, cocoa butter, soya lecithin), Milk chocolate (sugar, cocoa butter, whole milk powder, cocoa beans, soya lecithin), Michigan cherries, and black walnuts.
Sample Size: 75g or 2.7oz
Appearance: Deep dark brown color, standard non-monogrammed molding, very shiny, artful splatter paint design on the top surface of the bar, large visible walnuts and cherry fillings on the back side, Some drying by the walnuts, and some plastic matting marks on the top surface.
Score: 92
Snap: Good snap, mildly audible but firm, crumbly break lines.
Score: 90
Aroma: Soft aroma with mild smoky notes and nuts.
Score: 85
Taste: Sweet, a little tangy right up front, inky, and bitter cacao flavors, nutty, wood flavors, tart and tangy dried cherries, dry walnuts. Straight forward.
Score: 93
Texture: Smooth and hard up front, medium melt-time, nice chewy dried cherries, and crunchy walnuts.
Score: 91
I love the way this bar looks. Simple molding, even some pretty big plastic matting marks, but that could not detract from the brightness of the spattered paint design on top contrasting the dark brown color. Super shiny too.
Very straight forward bar. Bold Valrhona cacao with big woody flavors, mixed with nutty flavors and ink. I would be really awesome if I could identify the Valrhona in this bar. I am good, but not that good. Not yet anyway. And not with the fillings adding their own flavors.
The natural wood and nut flavors on the cacao are very different than the walnuts. The walnuts give added depth. They also do not dominate the bar because the cacao is so rich. I recently had a discussion about whether a chocolate maker should add more nuts to their candy bars. He said he was worried about the pecan flavor dominating the bar. I disagreed because it was the one flavor you were looking for and was sort of lacking. Also for textural reasons. But in this case, the walnuts, although they can be a more subtle flavored nut, prove me right. More is always better. The cherries don't even dominate this bar. It's all a nice harmony. The cherries give a nice tart bite, and then a textural change with chewy on top of the crunchy nuts. But they are present themselves and still leave the chocolate flavors as the dominant feature of the bar.
I find the walnut flavors and the difference in the nuttiness on the chocolate fun to taste and the best part as far as thinking in depth about this bar. They are so different. There were some lingering inky flavors and bitterness, but the sugars balanced this bar nicely as well as the dry nuts, and the tangy and tart cherries.
I hope the Midwest is happy with this bar because it tastes good. There is not a lot of guff with with bar. Just a pretty looking bar and a nice balance of flavors. Full flavors, but straight forward. The only thing weak about this was the aroma. Virtually nothing there but a little smokiness, and walnuts. Not very strong or dynamic.
Final Score: 90.2