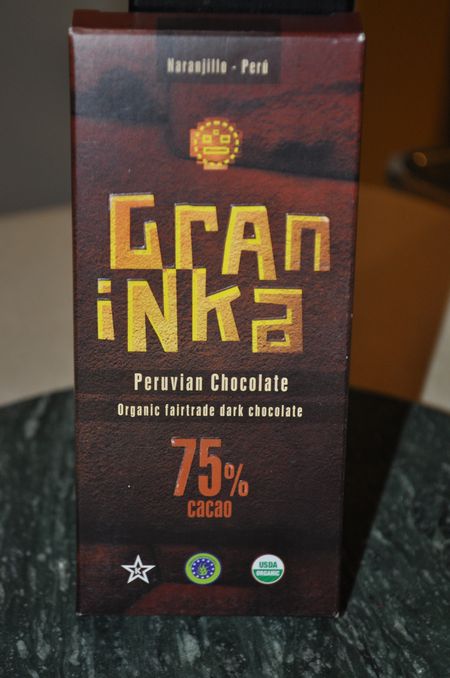 Organic chocolate from Cooperative Narajillo in Peru. They focus on cacao and coffee production with sustainable efforts and fair trade ethics.
I picked this up in Canada. It unfortunately has zero shelf life. There was no "best before" date on the bar, so I have no idea how old it is. I did pick this up over Christmas in Quebec City. I have to be fair in my reviews about that. But most chocolate has a very long shelf life. All the chocolate I bought was new and had a more than a year on their "best before" dates which is why I took my time reviewing all the bars I bought. I had some time with with them and time to whittle down the rest of my library. On the Narajillo website, it says this bar has a 2 year shelf life. That's a pretty long time. I don't usually like things going past 6 months. This bar was also sealed in plastic. It should have held on longer than it did. At least in terms of it's appearance.
Type: Bittersweet, 75%
Bean Varietal: Unknown
Ingredients: Cocoa paste, cocoa powder, cane sugar, cocoa butter.
Sample Size: 32g
Appearance: Small, thin bar with simple non-monogrammed molding, dull brown, very dry and ashy bloom, some splotching on the bar or matting marks from the plastic seal, and nicked up at the ends of the bar with some particle matter.
Score: 45
Snap: Decent snap for a small and thin bar. Very firm and crisp snap with clean break lines. Nice and audible too.
Score: 92
Aroma: Soft aroma of roasted cacao and coffee grinds, some smokiness, and nuttiness. Dissipates very quickly though.
Score: 83
Taste: Coffee grinds, roasted cacao, sugars, bitter, very fruity, woody, nutty, lingering drying bitters on the palate with woody flavors hanging on.
Score: 91
Texture: Hard, slow melt-time, a little grainy and drying texture, but not gritty. No creaminess at all.
Score: 73
It has a really good taste on this bar, but I have to say overall this isn't that special. Worst dried up appearance I have seen on a bar in a long time and I have scraps (for face masks) longer than 3 years old. This bar should have been better than that.
It had a really soft aroma. It's muddled with coffee grinds on it's nose and taste. Since this coop also produces coffee, I am wondering if they are processed in the same place giving it some cross contamination. It reminds me a lot of Santander in Colombia. Same thing with the coffee flavors and they process coffee too.
It's flavors were quite pronounced though. They were good. Coffee grinds (which may or may not be a natural flavor profile), sweet sugars for a 75% that really turned out those big fruity flavors, woody, nutty, roasted cacao, and some nice bitters on it. But even though it did taste pretty good, there wasn't anything particularly fascinating about it. Just an average tasting bar of chocolate. But again the sugars were good. I prefer a little more since I happen to think it draws out more of the natural fruity flavors. The best way to test that is to try a 70% to 75% bar of chocolate, a bittersweet bar, versus a 60% to 65% semisweet. The difference is noticeable. Not just because of the cacao percentage but the sweeter sugars. It really makes it more fruity. It's not scientific, just something I have observed. So, something like this with a nice kick of sugar, helped it in my opinion.
Weak aroma, and hard, dry texture round out this less than stellar review.
Final Score: 76.8