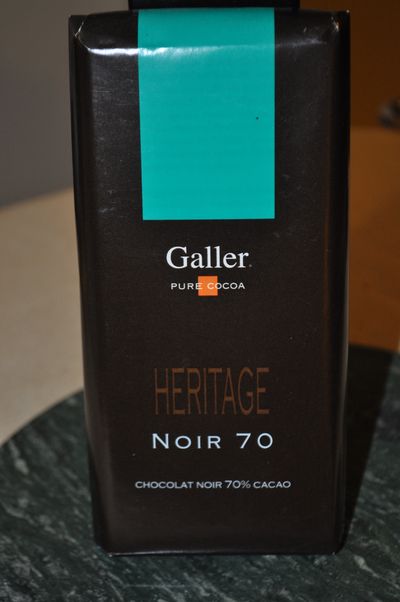 Galler fine Belgian chocolate. Like a breath of fresh air in Brussels. La Grand Place is loaded with bad tourist chocolate and kitschy shops. Galler is a small gem among the waxy, milky, tourist chocolate pandered in in every shop other. Belgium is so proud of their chocolate status, but they ought to be ashamed of themselves for what they pander to tourists. Then again if I lived there, I wouldn't want every single tourist flooding my favorite places either. Thankfully there is Galler. There is a Tasse and a Valrhona (French) available too.
Beautiful and simple packaging and colorful at the same time. Nice neat shop, very pristine albeit a tiny shop.
About Jean Galler via their website:
Jean Galler was born into a luxury dessert environment. He liked working in the family con¬fectioner's shop founded by his grandfather in 1930 and he has kept this passion since then.
At 16 years old, inspired by chocolate, he experiments this living material that fascinates him. To develop his knowledge and discover new savours, he studied in Basel (Switzerland), then with Gaston Lenôtre in Paris.
At 21 years old, he launched his own enterprise. 30 years later, the foundations of the company remain the same :
passion for chocolate ;
pride in perfection;
constant creativity.

Today, the team of more than 100 employees design, produce and market pralines, ice-creams, chocolate pâtisseries, filled chocolate bars, as well as chocolate tablets, Cat's tongues (cartoon cats moulded from chocolate), spreads, bite-sized chocolates,…

After having built up its reputation in its region, Galler is now found throughout the Belgian market in more than 2,000 sales outlets. Galler owns currently a network of stores in Belgium, France, Luxemburg, Japan, the Lebanon, the United States, United Arab Emirates, England...

Frequently our company has been honoured with official recognitions. The most prestigious is undeniably the appointment as « Belgian Royal Warrant Holder », awarded in 1994. In 2002, Galler receives the « Innovation Prize » for the concept of "CHOCOLAT-THE©" at the Fran¬chise Fair of Brussels.

Also, be sure to click on their website link to view videos about their philosophies, and chocolate making, and family history. I liked the video called "Our Know How." Corny Euro music though. And not the first Euro chocolate maker to have that.
Heritage is part of the classic collection from Galler. According to their packaging, "Created in 1993, this was the first chocolate with 70% cocoa on the market. This trail-blazer has lost none of the flavor to which it owes it's success."
Type: Bittersweet, 70%
Bean Varietal: Unknown, blended cacaos
Ingredients: Cocoa mass, sugar, cocoa butter, soy lecithin, natural vanilla.
Sample Size: 100g or 3.5oz
Lot #: L1611008
Appearance: Thick-squared, monogrammed tablet, slight beginnings of bloom, lightly ashy and dusty in the molding lines, smooth unblemished surface, deep dark chocolate brown color.
Score: 89
Snap: Fairly weak snap. The mold lines were thin so it gave way to a light crisp snap despite how thick the squares are. Clean break lines.
Score: 87
Aroma: Lovely soft roasted cacao, lightly smoky, marshmallows, and butter. Very soft and subtle.
Score: 93
Taste: Lightly sweet up front, good balance of sweet and bitter, nutty, buttery, lightly fruity, toasted, marshmallows,
Score: 95
Texture: Hard, slightly waxy up front, then opens up to a creamier texture. Medium melt time, smooth texture.
Score: 87
This is a very "up and down" bar of chocolate for me. Very smooth and unblemished surface yet slight bloom, big thick squares and a puny snap, soft aroma but fully flavor, sweet but bitter, hard and waxy then a creamy, smooth texture, and lastly a sweet fruity character with buttery marshmallow tastes. Up and down, up and down.
This chocolate doesn't expire until Dec. '11, but slight dusty sugar bloom was beginning to present itself on an otherwise unblemished surface. Nice and neat molding. Large squares on this tablet.
The aroma was very soft and subtle. Marhsmallows, butter, soft roasted cacao and smoky characters. This tells me it's a South American blend of some kind, but I don't know what this particular blend is.
A good balance of bitter and sweet with the sugars. It tasted like butter, toasted characters, and marshmallows, with a soft underlying fruity character. The texture was the weird part. Hard and waxy at first, and then it finally softens and opens up into a creamy and smooth texture. Again, with that up and down quality.
I really enjoyed the up and down qualities on the taste. It really did taste great. But all the other ups and downs give this a very low scoring B+. A B+ none the less. It's taste saves this. But I am not going to lie, I expected more.
Final Score: 90.2