I had an idea for a blended coffee drink with melted down chocolate and lots of booze. I decided to test it out this afternoon.

This is came out more like a Brandy Alexander Coolatta. Technically a Brandy Alexander is roughly brandy, creme de cacao, cream, and nutmeg. This is kind of like that only with real chocolate and lot's of booze.








4 oz Brandy
12 oz strong roast coffee (or sweet flavored coffee)
2 oz Kahlua
2 oz Starbucks Coffee Liqueur
1 bar of chocolate, 70% to 85% (no higher) melted
2 oz give or take of Half and Half
Ice
Nutmeg (optional)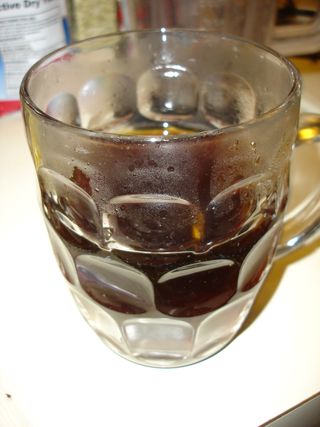 Brew coffee and set in an ice bath to cool quickly.

Once coffee is thoroughly cooled, break or chop chocolate bar down into small bits and microwave until it's softly melted and blended. You can use double boiler, to melt chocolate, but the microwave is quicker and less of a mess.

Add ice to blender about half way full and pour in all liquid ingredients in adding the melted chocolate last. Cover wit lid and blended until nice and smooth.

Pour into glass and lightly sprinkle the top with a small pinch of nutmeg, serve immediately.

Makes about 3 to 4 servings.

A couple of things to point out. I should have rimmed the glass with the melted chocolate but the top layer of the drink will be a frothy layer of chocolate soilds foam. An added chocolate rim would have made for a messy face drink, but super tasty.

I used left over chocolate I had previously reviewed from CocoMaya in London. The chocolate I used was a sweeter bar of chocolate called Guanaja 70%. I figured it would be good to use since I wasn't adding sugar to the recipe. It's an overly sweet bar of chocolate from London. I have come to know the chocolate scene in London quite well Thanks to my British Chocolate Invasion collection. They like their chocolate on the sweeter side.
If you don't want to melt chocolate down to blend into the drink, use Meletti Cioccolato. It will make for a boozier drink and you may have to adjust the recipe a bit.

The Armagnac I used is something I have had in my house for more than 10 years. I tried looking it up, I have found slight references to it. I don't know if it's a super expensive Armagnac or not, but I did find one blurb online that indicated it's fairly cheap. Around €15 or so. It blended great with the chocolate. Big oak-y tastes with the rich nutty chocolate. Also added was the nutty coffee. This is just about what you want to use for a funky mixed blender drink. It tasted fantastic with the chocolate.

Speaking of coffee, I used a light roasted flavored coffee. It's for my Keurig coffee maker. I used a Mocha Nut Fudge. I figured it would be fairly sweet and bump up the chocolate and nutty coffee flavors. But any robust strong roasted coffee would probably be a better fit. Especially if you don't have a super sweet tooth.
Up next for a trial and error session with melted chocolate drinks will be testing with Courvoisier.