Yep, my husband knows what I like. I had been recommending L.A. Burdick's all week on Twitter as a great recommendation for others on Valentine's Day. My Husband followed my advice. I got a nice full package of goodies.
L.A. Burdick's makes handmade truffles and chocolates. They have three cafes with an actual restaurant located in Walpole, New Hampshire. The other two cafes are in the Flatiron district of New York City, and Harvard Sq. in Cambridge, Ma. At the Harvard Sq. location, you can get a beautiful cup of hot tea, coffee drinks, or one of their fabulous hot chocolates. They also have small pastries. The Harvard Sq. pastry comes highly recommended by me personally.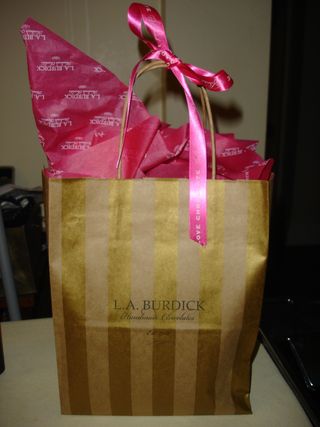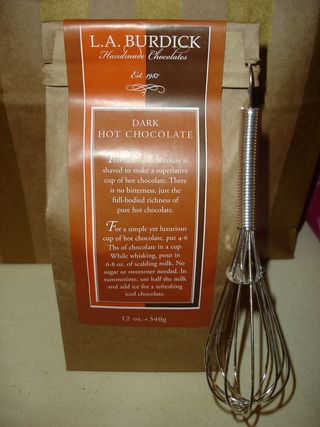 First thing I pulled out was a bag of chocolate intended for hot chocolate. It came with a whisk too. If anyone is familiar with L.A. Burdick's, they make simply the best cup of hot chocolate. It's so rich and delicious. So to have the ability to make my own at home is a great gift.





I pulled these out of the bag next. A collection of single origin dark chocolate bars Burdick's is making now. I am very happy to see these bars, but I am thinking about all the chocolate I have to review. Over 25 bars in the queue, with more on the way from London, England, and Brooklyn, New York.

Venezuela 72%
Grenada 75%
Madagascar 64%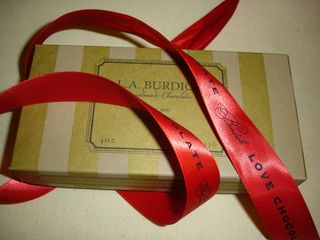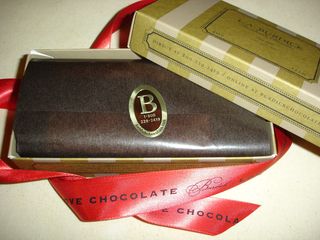 An assortment of chocolates. The picky side of me wishes they came in the wooden box collection they have for truffles, but what I am going to do, complain that I got truffles anyway? Pfft.
These are Burdick's famous Mice and Penguin Truffles. Delicious and cute. They also have other specialty truffles they offer through out the holidays. Like ghosts for Halloween and bunnies for Easter.

And finally, one last little assortment of chocolates.

Now that Valentine's Day is over, that doesn't mean you can't still go over there and pick up a nice steaming hot chocolate. Don't miss their Lunar New Year collection as well. It's the Chinese New Year, Year of the Tiger. They ship for those not lucky enough to live close to one of their locations.

Burdick's also offers a 4 day, in-depth Chocolate Cooking School at their facilities in Walpole.
Burdick Chocolate offers a four day, hands-on workshop teaching the basics of fine chocolate making. This is a rare opportunity to build a familiarity with the ins and outs of preparing chocolate bonbons and confections and to gain a basic command of this complex food. We cover the practical arts of cooking ganache fillings, tempering chocolate, hand-cutting and dipping of bonbons, truffle making, the creation of distinctive chocolate confections, and more. The workshop offers an all-round education into the connoisseurship of high quality chocolate – from its history, to the sourcing, preparation and preservation of it in the home kitchen.

Each participant will go home with a course handbook covering what they learned in the class; plus all of your "kitchen" results will be packed up at the end of the work week and shipped home for your family to enjoy!