Mast Brothers

Back to Brooklyn, NY. The last time I had Mast Brothers chocolate I was given a good size collection of their bars from my good friend Shane Welch, founder and Brewmaster of Sixpoint Craft Ales. He uses Mast Brothers cocoa nibs for making beer.

I reviewed the Dark Chocolate + Fleur de Sel, but the others I wasn't able to review because one broke in to a million pieces, I ate one and the others I sat on too long to review and they bloomed. Remember bloom on chocolate does not effect it's taste, just it's appearance. I didn't think it was fair to review them after I let them sit too long. So I asked my homie Shane, to bring me some more if he wouldn't mind. He didn't mind at all because he brought me a ton more of their bars.

The older bars were a big hit with some of my friends I tasted chocolate with. I needed to get rid of the chocolate I had been stock piling after all the reviewing. I did a beer and chocolate tasting and was able to teach them chocolate has a long shelf life and that it was still edible despite the bloom. They all loved it. The Salt + Pepper bar was voted the best of the night based on taste. Those bars however were made with Venezuelan chocolate. It looks like the Mast Brothers have switched the majority of their products to Madagascar cacao and cacao from the Dominican Republic.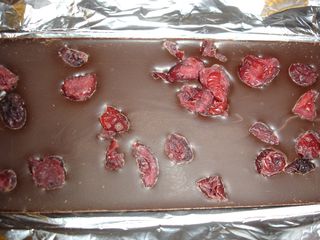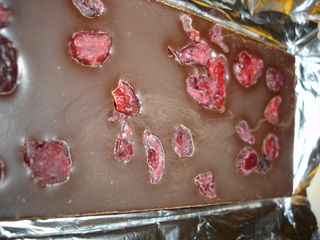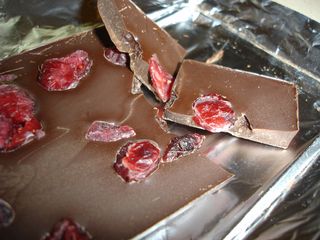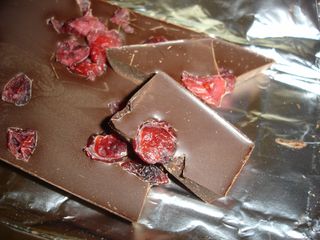 Dark Chocolate + Dried Cranberries Madagascar 72% Limited Edition

Type: Flavored Bittersweet, 72%

Bean Varietal: Unknown

Ingredients: Cocoa, cane sugar, dried cranberries.

Sample Size: 2.5oz or 71g



Appearance: Smooth, shiny bar, basic molding, soft, dark brown color, beautiful red dried cranberries on the underside of the bar. It did have an interesting swirl pattern on the backside with the dried cranberries. Looks like it's how it settled after being poured into a the mold.

Score: 95

Snap: Thin snap sound, but strong snap. Clean break lines.

Score: 92

Aroma: This aroma is not as robust as you would think. It's kind of robust at first, right out of the package, but dissipates fairly quickly. But it's smokey, red berries (on the cocoa), citrus, bright dried cranberries, tar, and rubber.

Score: 91

Taste: Sharp, citrus, very acidic, big cedar wood taste, bitter, tar, tart red fruits on just the chocolate, with the dried cranberries it's all most too sharp on the acid content, but they add a nice fruity taste to tone down some of the harshness of the cocoa. Lingering rubber notes.

Score: 87

Texture: Smooth, medium soft, but long melt time.

Score: 93
I wasn't as happy with this bar as I thought I would be. It looks very pretty, but it's too tart based on the cocoa content. The cocoa is not balanced at all and too acidic. The pretty dried cranberries only added to the tartness. They did give a bit of a good fruity kick but then the bitterness and lingering tar and rubber notes took over for the finish. It just didn't finish very pleasant. Now if you are a person who likes coffee, no sugar, no cream, you might enjoy this.

I usually love Madagascar beans. I wasn't a fan of this. The bitterness and acidity was too much. You couldn't enjoy the nuances of Madagascar cocoa beans. It had all the classic hallmarks, but they were hard to focus on.
They need to work on smoothing out that Madagascar cocoa a bit more or make the dried cranberry bar with the Venezuelan cocoa again.
They still have the most gorgeous packaging paper in the business!


Final Score: 91.6