Taza Chocolate

The premier bean-to-bar chocolate maker hailing from my very own neck of the woods. Sort of. I am in Cambridge, Ma. and they are in Somerville, Ma. Let's just call it my backyard.

What can't Taza be listed under? They are bean-to-bar, organic, 100% stone ground, small batch, direct-trade, artisan chocolate producers. These are all the things I love about Taza.

I say love however, with one thing in mind. Those who know me and my love for chocolate know that I am not particularly in love with their chocolate. It's a love/hate sort of relationship. I love their company, their positive attitudes, their ethics involved with chocolate making, and the fact that they are always down to come to our (BeerAdvocate.com) beer festivals and throw down chocolate for a room full of 1000 plus people any time we ask them to be apart of our festivals.

I will get the haterade part a bit later because most of what I will be talking about is involved with taste and the actual review of their chocolate.

First thing to talk about is their amazing Batch code search feature on their website. On each bar of chocolate, there is a Batch number on the backside of the bar. You go to their website and type that number in, and every single bit of information about the bar is provided.

Every single chocolate company out there should adopt this model and do the same for their products. I can't tell you how basic and boring half of the reviews I do on this site are because there is little or no information about the product in my hand. It's aggravating as someone such as myself who is a novice to chocolate and actually wants to learn something about chocolate. I get roadblocks with no information provided.

Here is all of the information about this bar of chocolate.


Batch #237 - 60% Dark Bar - Taza Chocolate
Batch Information
Variety: 60% Stone Ground Dark Bar
Made On: October 26 2009
Ingredients: Organic roasted cacao, cane sugar, cocoa butter, vanilla bean.
Last Made: October 7 2009
Cacao Origin:
Country of Origin: Dominican Republic
Provincia: María Trinidad Sánchez
Municipality: El Factor (El Pozo)
Area: Reserva Científica Loma Guacanejo
Fermentery Location: Lat. 19.293363, Long. -69.904128
Varietal: Mostly Trinitario; Some Criollo.
Growers & Farm:
Cooperative: Red de Comercializacion Loma Guacanejo
Grower: Leocadio Rosario
Farm: El Higuero
Additional Ingredients:
Pure Cane Sugar - The Green Cane Project
Origin: Sertãozinho (São Paulo), Brazil
Whole Biodynamic Vanilla Bean - Villa Vanilla
Origin: Villanueva (Puntarenas), Costa Rica
Organic Cocoa Butter, Natural
Origin: La Red Guacanejo, Dominican Republic
Roast Profile:
Lot Received On: July 7 2009
Lot #: LR17
Bean Bill: Single Origin Hispaniola Cacao
Roast Date: October 26 2009
Roaster Model: Barth Scirocco 200
Max Temp: 238° F
Roasted For: 45 minutes
Production Info:
Grind Date: October 26 2009
Made By: Mike Schechter & Kellie Silsby
Total # of Bars Made: 1,473 Bars
Wrapped On: October 28 2009
A member farmer of Cooperativo La Red Guacanejo


The best detailed information about a chocolate bar ever!!

What makes Taza unique?


Taza is a small bean-to-bar chocolate maker, and the only producer in the US of 100% stone ground, organic chocolate. We roast, winnow, grind, temper, and mold our chocolate in house and by hand. We use exclusively organic and sustainable ingredients to craft our chocolate.
Taza's cacao comes from a small cooperative in the Dominican Republic with a hearty and diverse tree stock called La Red Guacanejo. Our sugar is sourced from an innovative company in Brazil called the Green Cane Project. Aside from making remarkable organic cane sugar, they process the spent cane fiber to power their factory and the nearby town. We use true cinnamon (not cascia) and whole vanilla pods, both organic and biodynamically grown, from a tiny plantation in Costa Rica called Villa Vanilla. The same care and attention to detail goes into the procurement of all our ingredients.
Direct relationships with our growers bring us the highest quality ingredients while ensuring fair wages and work practices on the farm.
Our chocolate making process is unique. Taza chocolate is stone ground and minimally processed, and we do not conch. We use authentic Oaxacan stone mills instead of steel refiners to grind our cacao. Due to the imperfect surface of a granite millstone, unrefined cacao particles and sugar granules remain in the finished chocolate. These pop with explosive flavor on the palette, lending our bars their distinctive granular texture.

Basically, this is what all chocolate would have tasted like before the invention of the conching machines by Lindt in 1879 that further refined chocolate. This means it will have a higher acidic content and a very gritty texture, but a bolder more raw cocoa flavor.

This is one of the reasons I am not a big fan of their chocolate though. Romantically speaking, this is beautiful old school chocolate. Actual old-world-style chocolate. However, the conching process helps tones down the level of acidity through aeration. Without finer conching, you get jab-you-in-the-neck sharpness from the cocoa.

Furthermore, their talking points are getting ahead of them. Whenever someone asks me whether or not I like Taza chocolate, no matter what I say the first thing they ask me is if it has to do with the texture of the chocolate. It's always the same question, always. I don't even know if they know why they are asking that question either. They have either toured the factory or met a rep. at a tasting and this is the one talking point they have walked away with.

I don't mind a gritty texture on a chocolate bar. I eat cocoa nibs, and beans by themselves all the time. This grittiness is a bit different though. It's like sand paper and it's not pleasing when you are trying to let it melt slowly on the tongue to taste it. This chocolate is too unrefined for me. I don't want to be jabbed in the neck with acid or astringency. Also when you taste this chocolate side by side to a more refined chocolate, Taza chocolates just don't taste very good after that.

I find that this process is original and interesting, but for me there are too many distractions involved with simply trying to taste the product. It would be better if I could compare it to other stone ground products, but I haven't come across to many of those. I believe the Mast Brothers do a stone ground technique as well, It mentions it on the back of their Dominican Republic 81% bar, but I don't think it's quite as unrefined as Taza which is sort of their intentions.

On their website you can learn more about their harvesting, fermentation, do virtual tours of their factory and learn about chocolate and health as well as follow their blog.

Our Process

Read about the history of Alex Whitmore and Larry Slotnick, the founders of Taza.

Taza: About Us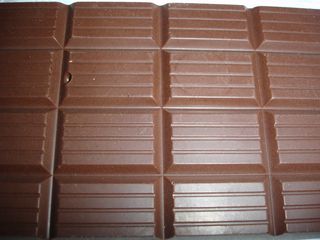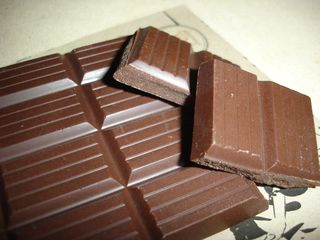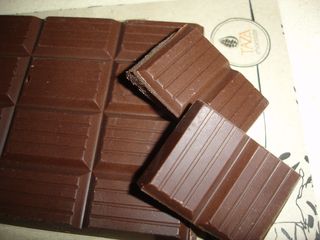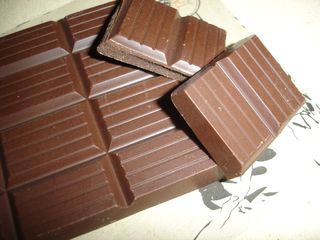 Disclaimer: I am sort of pushing it with the bar of chocolate I am about to review. Chocolate has a very long shelf life. Usually up to a year for some chocolates. This chocolate I am tasting was sent to my husband as a Christmas present from Taza. It's not old in terms of chocolate and its long shelf life, but it's certainly not the freshest daisy in the patch either.


Taza 60% Dark


Type: Semisweet, 60%

Bean Varietal: Trinitario, with some Criollo

Ingredients: Cocoa beans, cane sugar, cocoa butter, whole vanilla beans. All ingredients certified organic.

Sample Size: 85g or 3oz



Appearance: Smooth, not shiny, muted, soft brown color, simple lined molding, a few air bubbles on the surface.

Score: 92

Snap: Great deep and hearty snap, with loud audible, crisp snap sound. Clean break lines.

Score: 96

Aroma: Big bright berries up front, a bit of smokiness and roasted cocoa, very spicy nose, but a dreadful pen ink aroma dominates. Mixed with the berries, it makes it a bit unpleasant. There is an underlying floral aroma that would be beautiful with the big red berry aroma, but the pen ink smell is weird and dominating.

Score: 88

Taste: Sweet, big bold berries, acidic, astringent, too sugary and sweet at the finish.

Score: 85

Texture: Rough and gritty like sand paper, medium melt time.

Score: 72

Despite the pen ink on the aroma, there were huge aromas of berries and hints of floral aromas and smokiness just wanting to be more apparent. But sadly that pen ink was too dominating over all. I found it weird.

The texture was too gritty for me. When you let the chocolate melt on the tongue, the gritty texture is like sand paper and rubs the tongue raw making it too distracting to try and taste individual notes in the chocolate.

They are right when they say that less refining brings out much bolder flavors in the chocolate. It is a lot more flavorful than any other 60% bar I have ever had. Huge berry notes dominate this bar, but the rough sugar granules make this bar too sweet, and once again too distracting.

The only thing good about this chocolate was it's simple molding and appearance and its snap quality.

It's a great pity to me to have to write so harshly about what would seem to be a great company. Their ethics are remarkable, and their willingness to share all information about their products is something all chocolate companies should be like. But their quest to be original and authentic has left a mediocre product in my honest opinion.

But my opinions are only that. Just one persons opinions. Their products are in every single store or market you can find around here and they are expanding their facilities. They are showing no signs of slowing down anytime soon.

Somerville chocolate company has recipe for success.


Final Score: 86.6

EDIT: I want to add that after this very robust chocolate sat out for more than 3 hours, the nose did tone down a lot. It's much more fragrant and pleasant. It becomes a bit perfume-y rather than inky. Still has a bit of an astringent aroma, but much nicer over all. However, I am leaving the aroma score as is because who has time to leave chocolate out for 3 hours just to soften the harshness?