My third bar from Marou, Faiseurs de Chocolat. French chocolatiers whom uprooted their lives and moved to Ho Chi Minh City and became chocolatiers using cacao beans directly from their source.
Bển Tre province of Vietnam. Situated on the Mekong Delta just below Tiền Giang in southern Vietnam. Rich crop producing area known for coconuts as well as durians, and mangoes.
Hot and tropical, a natural fit for cacao production.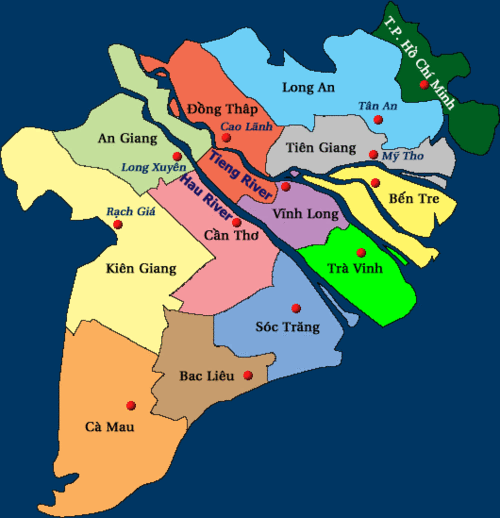 [Image via: Traveling Vietnam Tours]
In the last two reviews, molding and appearance were the subject of some of the lower marks received on the bars. After talking to Samuel about it I learned a bit more about the molding of their bars. As Samuel noted, one of the reasons for the thick molded bars is due to the heat in Vietnam. You can get by with regular molding or they would melt too quickly. I should have probably made that connection myself, but it is an interesting approach.
Just today they blogged about the evolution of their molding from metal baking pans to custom moldings.
The shipping is one of the reasons for some of the more superficial appearance issues. This bar unfortunately, took more of the brunt than the others. It's not easy getting bars from Vietnam to Michigan and then off to Cambridge. I take those factors into accountability when reviewing the bars. Ultimately it's about the taste.
Bển Tre 78%
Type: Bittersweet, 78%
Bean Varietal: Trinitario
Ingredients: Cocoa, cane sugar, cocoa butter.
Sample Size: 100g
Appearance: Deep dark brown color, monogrammed molding, broken in two pieces with lot's of particle matter on the bar and some scuffing. Couple of air bubbles in the chocolate once snapped open.
Score: 87
Snap: Very hard snap, loud audible snap sound, crumbly break lines.
Score: 89
Aroma: Big aroma of roasted cacao, a little sweet smelling, fruits, inky, tar, brewed coffee, mild floral aromas, and a spicy character than almost comes off like a faint cinnamon aroma.
Score: 94
Taste: A mild hint of cinnamon right up front coupled with a bit of mustiness. Bold, very bitter, lot's of big fruit, charred cacao, inky with deep wood flavors, a little acidic, toasted biscuit flavors, very subtle floral flavors towards the finish. Lingering toast flavors on the finish.
Score: 92
Texture: A little hard, medium melt-time, a little chalky and slightly drying on the palate, but it does have a medium balance with the creaminess and rawness of the chalky texture.
Score: 89
I realize the transport issues took the worst toll on this bar in particular so I didn't take too much off for that in rating it as I mentioned before, but the effects were undeniable and it lost it's luster and some shine from all the particles and forced ashy appearance from those particles. There was some scuffing but it was very minor. Again, this is a tough call on rating when external issues are the problem and not the skills of the chocolate makers. I have to give it a grade but I always let my readers know if there are caviats to consider.
Again with the hard snap. It makes sense now that I understand the heat issues in the region they are at, but still makes it hard to break up. Although this one wasn't as hard biting into as the previous bars had been. Still, too thick for this climate.
The aroma was quite big with a lot of individual nuances. Sometimes the smells sort of blend together and that's when I get generic descriptors like pen ink. But this aroma had a lot going on and presented themselves separately. An interesting cinnamon-like aroma on this bar after all the big char and fruity aromas made it interesting.
The flavor was big. It's 78% so it warns you about how bold it's going to be but the flavor isn't as dynamic as it's aroma. And by dymanic, I just mean it's not as nuanced. It's very straight forward. Very bitter, a little bit acidic, but it had a huge fruity flavor. I wish it carried the coconut flavors the cacao trees grow next to in this region. That would have been awesome. Natural coconut without vanillas forcing it out. Like the Bali bar from Artisan du Chocolat with the natural banana flavors from growing in the same terroir.
It does have that slight hint of cinnamon on the opening taste, but that's quickly overtaken by the bitterness and fruits. Bold wood flavors, a little mustiness. It's such a mixed bag of dank rawness and big fruity complexity. Very big flavored chocolate. This is for the fans who like their palates aggressively inundated. The fruit in it made me want to bake with it. I think this would be some of the worlds best baking chocolate. It's also making me think about wine pairings. I am wondering which way is the right way to go with something like this. Sweeter ports or muscats to address the bold and deep bitters? Or pair a dry red with similar deep bitter flavors essentially canceling each other out to bring out even more of the fruits? I will have to take what's left of this bar and test it out at one of my local watering holes.
The texture had a confusing blend of chalkiness and creaminess. Good melt-time, but a little drying on the palate. It roughed up my palate a bit. A combination of the bitters and the texture.
This bar is for the hardcore bitter fans. It's so robust and bitter yet holds it's own with a big fruit taste and even some faint traces of a floral aspect to it. If you like your coffee black and heavily roasted, you will love this.
Final Score: 90.2