The other half of my Swiss chocolate collection brought back to me from my husband after a stop over in Geneva. The first two reviews were of Villars, another large named, good reputation Swiss chocolate company.

I don't have a grade scale set up for flavored chocolates like this. Each one will get a grade based on what I think it should get.
From the Karger Gazette:


F
rom Bern to Courtelary: on the winding road to success
Camille Bloch, the firm's founder, moved his small enterprise into an empty paper factory in Courtelary in 1935. He had become a chocolate manufacturer in 1929 when, after selling chocolate for Tobler, he bought up machinery from A.W. Lindt in Bern, who were closing down. But rents in Bern were high, and so, with his son Rolf – the future director – in the back seat, he drove up into the countryside looking for new premises. His choice also fell on Courtelary because the Swiss watch industry, which is largely based in the canton Jura, had been strongly hit by the Depression, and many of the region's inhabitants were out of work. A chocolate factory was a welcome, if not quite usual, source of employment.
In 1935, the firm had a turnover of about CHF 0.5 million. Seventy-five years later, the annual turnover is CHF 50 million (USD 40 million). The company today employs 150 people and annually produces 2700 tonnes of chocolate.
Read more about Camile Bloch from the Karger Gazette here.
Chocolat Mousse Noir 60%
Swiss dark chocolate with a chocolate mousse filling.
100g or 3.5oz.
Ingredients: Cocoa mass, sugar, hazelnuts, vegetable fat, cocoa butter, almonds, soya flour, whole milk powder, low fat cocoa powder (2%), melted butter, skimmed milk powder, soy lecithin, vanilla, vanillin.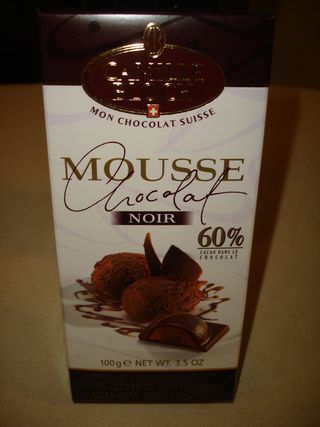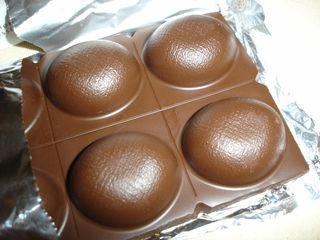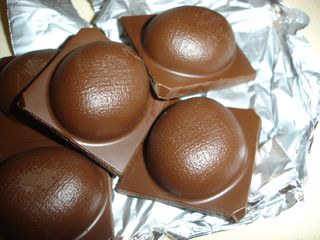 Shiny, soft chocolate pod squares filled with what is supposed to be a soft mousse filling. Instead it was dried up and powdery. It as a milky taste at first but the dark chocolate is rich, sweet, and lingers on the palate. Very European with the milky quality.
The mousse filling has hazelnuts and almonds listed in the ingredients, but is no overwhelming in flavor. A beginning pop of hazelnuts, but the dark chocolate quickly covers it.
I like the dark chocolate, even if it is milky and sweeter then what I am used to, but the mousse filling was a real let down being completely dried out. Perhaps if I had this right from the factory it might be a different story. But who knows how long it takes to get powdery. It had an expiration date set for August, 2010. Maybe it leaves the factory that way.
Cognac Noir 60%
Swiss dark chocolate with cognac filling.
100g or 3.5oz

Ingredients: Cocoa mass, sugar, glucose syrup, Cognac (10%), cocoa butter, dextrose, water, soy lecithin, vanilla, vanillin.
The filling was disappointing. It tasted fantastic with rich chocolate and cognac flavors, a little ester-y heat from the cognac too. But the filling was weak as all of the pods were warped and poorly filled up.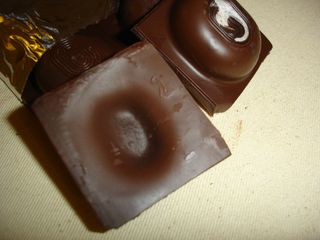 The chocolate also has a very generic quality to it. Not as milky or creamy as the Mousse Noir, but this chocolate doesn't have the milk powders in the ingredients. Even if they had to use syrup to help sustain the liquor center, there should have been enough to have an ample filling. None of the pods were full. Again it makes me wonder, what were these like right from the production line?
Ragusa Noir 60%
Dark Chocolate confectionery with truffle filling and whole hazelnuts.
100g or 3.5oz
Ingredients: Sugar, hazelnuts, cocoa mass, vegetable fat, whole milk powder, low fat cocoa powder, soya flour, cocoa butter, melted butter, soy lecithin, vanilla, vanillin.
Via their website:

Ragusa is the undisputed leader product from the house of Camille Bloch. A bar of the finest chocolate with praline filling and whole hazelnuts. Originally born from an emergency situation – the admixture of hazelnuts came about because of the shortage of raw materials in Switzerland during the Second World War – Ragusa is our supreme, classic product.
People just love Ragusa NOIR. With its unmistakable taste. And with its strong flavour of cocoa (60%) – Ragusa NOIR is manufactured according to the original recipe but contains 20% more cocoa beans than the classic Ragusa.

This is much better than the previous tasted chocolates. It's a kind of gianduja filling, or a hazelnut filling and it has a nice flavor. The filling would be bland without the hazelnuts. However, the actual hazelnuts are skimpy and sparse. They are more for decorating the sides than they are for actual texture in the chocolate.

The texture is soft and creamy and melts fabulously in your mouth. The texture and hazelnuts really save this from being dismal.

score
C+
One disappointment I have, is all the crap that gets put into mass produced chocolate. Unfortunately Camille Bloch is no different. Powdered milks, and vanilla flavorings. At least as far as these three go, they don't have added chemical emulsifiers aside from soy lecithin. Soy Lecithin runs the risk of being genetically modified, and some people may be allergic, but over all it is a harmless emulsifier.
It has fancy box packaging, but the product itself just doesn't do this company any favors. It would be interesting with the sort of history Camille Bloch, has to taste the old recipes before any chemical additives were invented.


I have to say that over all, these were not very good chocolates. Poor quality with the fillings, mass produced, generic tastes on the chocolate. Such a shame for a company with a long standing history and reputation. This is chocolate you would send to someone who doesn't know any better about chocolate.