I met Carrie Cole, the bar manager at one of my favorite restaurants in Cambridge, Ma. called Craigie on Main, at a charity food event a couple of months ago. We talked about Meletti Ciccolato. A new-to-me Italian chocolate liqueur that is pretty much my whole world right now by being serious chocolate lover and lover of fine cocktails.
I stopped by on Friday with my husband and some friends to try out a few cocktails made with the Meletti and got a few snacks in the process.

The story of Meletti:

The Meletti Anisette was invented and produced for the first time in 1870 by Silvio Meletti, who perfected and improved an aniseed-based liquor produced by hand in his mother's small shop. Silvio Meletti had the idea of offering the country a product of an ever higher quality to stand up to the competion of the extremely expensive foreign anisettes, and threw himself into the study of Italian and French manuals on the distillation and production of liquors until he was able to design and supervise the production of a bain-marie still, with very slow evaporation in order to obtain an alcoholate as aromatic as possible. It was found that the very delicate taste and special aroma of the Meletti anisette came from the quality of the aniseed (Pimpinella Anisum) carefully cultivated in certain areas of clay soil around Ascoli Piceno, favoured by the very special conditions of the land and the climate.
In 1904 the distillery was built near the railway station in Ascoli Piceno. The anisette produced was aged in iron casks in the large cellars, of which there were many at the distillery. Now, more than 120 years since it was first produced, Meletti anisette is still made with the systems developed and established by our founder. The aniseed is produced in the province of Ascoli Piceno. The central aspect of the production is the distillation of alcohol in the presence of aniseed. With suitable stills the alcohol absorbs the aromatic part of the aniseed. The result is a liquor with a high alcoholic content known as "aniciato", which is the raw material for subsequent processing.
The production of anisette involves the addition of a special "aroma" which is also produced through the distillation of various spices. The resulting anisette is then transferred into special tanks of more than 10,000 lt. for the ageing process. The ageing is necessary because in this stage the anisette clears, forming a deposit on the walls of the recipient, and amalgamates the various components which give it that unmistakable flavour.

Today they offer many products Along with their classic aniseed flavored liqueurs including lemon liqueurs and the ciccolato. The also have Caffe Meletti in the Piazza del Popolo in Ascoli Piceno since 1907 which includes a cafe, a restaurant, and a pastry shop.

Situated in the renaissance style Piazza del Popolo heart of the city, Caffè Meletti has always been part of the piazza and vice versa. This close tie with Piazza del Popolo (which was used as a forum in roman times has always been very important for the city) has transformed the café, since its opening, in a meeting place for both the people of the city and its numerous tourists.
The building and its portico were built between 1881 and 1884 inspiring itself to the style of the 16th century piazza. Initially the building was used as the head office of the post office, then in 1903 Silvio Meletti (an Italian businessman who owned a distillery that produced a famous aniseed liquor) bought and transformed the building into a luxurious café.
The building was cleverly modified in liberty style inspired by other historical café.
The new café Meletti was opened on Saturday the 18th of May 1906. It soon became very popular, famous in all of Italy thanks to its elegance, its excellent products and its refined services. It was sold by Meletti's heirs in March 1990, to every ones surprise the new owner closed the historical café in June of the same year.
The "Foundation of Cassa di Risparmio" bought the building in 1996.
Caffè Meletti was elegantly restored and opened to the public as it was on the 19th of December 1996. The tie between the city of Ascoli Piceno and Caffè Meletti has become more important. The Café has become a valuable meeting place not only for its excellent products but because it also allows all its clients to be spectators and protagonist of the city life.
Caffé Meletti has hosted in its years many famous people (from Vittorio Emanuele II in 1927 to Mascagni, Piovene, Sartre, Del Monaco, Gigli, Guttuso, Soldati, Licini, Gronchi, Saragat,
and the De Filippo family), it was used for film sets ( "I delfini" by Maselli in 1960 and "Alfredo,Alfredo" with Dustin Hoffman by Germi in 1972) and also as setting for commercials and photo shoots.
Meletti is located in Italy in the Marche region on the Adriatic sea. Located at the very bottom of the region in a town called Ascoli Piceno.
Vintage artwork featuring Meletti Anisetta:
Meletti Ciccolato:
The Meletti family, through skillful blending, has created a delicious cocoa based liqueur. Meletti Cioccolato was created by Silvio Meletti as a winter drink, intended to be served warm. However, fans of Meletti cordials soon discovered its versatility. It can be used in a variety of drink and food recipes and is delicious cold as well as warm. As with all Meletti products, only the best ingredients are used and personal attention is afforded to every phase of production.

.
Meletti has been described as "adult fun", "chocolate pudding," "uncooked brownie mix," or as I describe it, "like a super rich chocolate syrup with alcohol," or simply "pure awesomeness."
The best thing about it is the price. It's fairly cheap at around $19 to $25 a bottle. That means there should be no excuse to run out and get a bottle right now and keep for your collections or begin mixing up your own cocktails with it right now.
.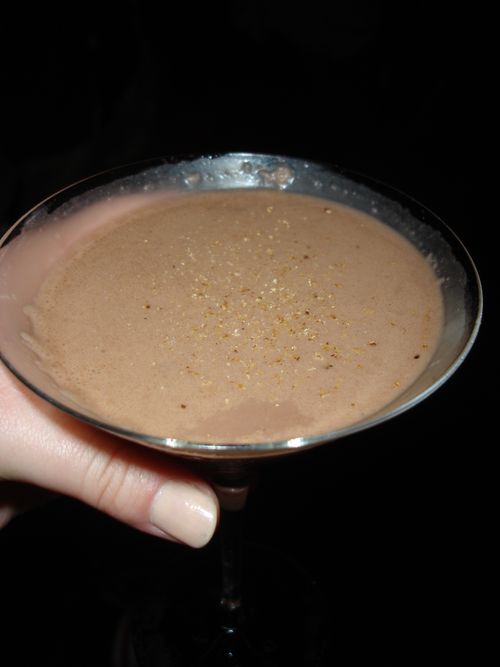 The first drink I asked for at Craigie was a Brandy Alexander made with the Meletti Ciccolato instead of dark creme de cacao. It was very rich and thick, but not cloyingly sweet as one might think thanks to a nice brandy the drink was made with. Nice and rich and boozy. Just the way I like it. And the classic spicy kick of nutmeg sprinkled on top.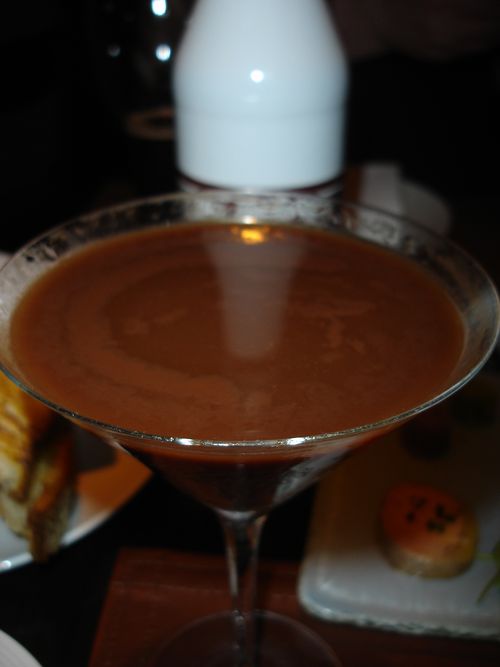 This next drink was something Carrie created using the ciccolato, bitters, and bourbon. I liked this drink quite a bit, but it was fairly stiff, and not too sweet. I think most people wouldn't expect this drink to be as dry and robust as it is.

Unfortunately I didn't catch that this picture was a bit blurry until the next day. However, it was the best drinks of the night. Made with Meletti Ciccolato, Nux Alpina Walnut Liqueur, Luxardo, and Rum. Smooth, nutty, and creamy. And once again not as sweet as it might seem with the ciccolato.

I also asked for a little tasting glass for the Meletti so that others at my table might try it on it's own. It's something that has to be seen and tasted on it's own to be fully appreciated. Most people who have probably had Meletti have had it in a cocktail of some sort. Most likely a chocolate martini. While, it's certainly ideal for a chocolate martini, it should be tasted as it is first.
I think the viscosity of this drink is gorgeous. It makes you want to lick the glass.

As for the food, well we ordered a few fun things from the bar menu to be shared around the table and it was all fantastic. Craigie on Main is hands down one of the best restaurants in the Boston/Cambridge area.

Chef Tony Maws has incredible culinary skills. I still marvel to this day about the time I had dinner there and tried one of their tasting menus. One of the courses had squid pasta. Not squid ink, but actual squid in the pasta. So flavorful and unbelievably good.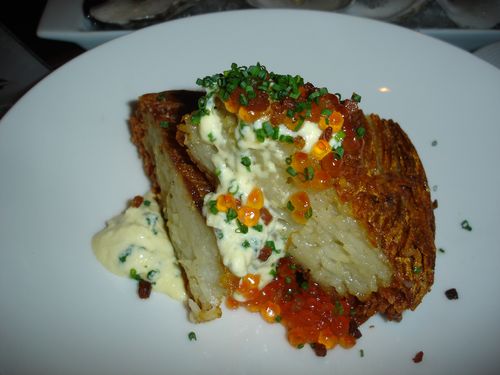 Crispy Potato Galette with salmon roe, bacon bits, and horseradish cream sauce.
Oysters on the Half Shell.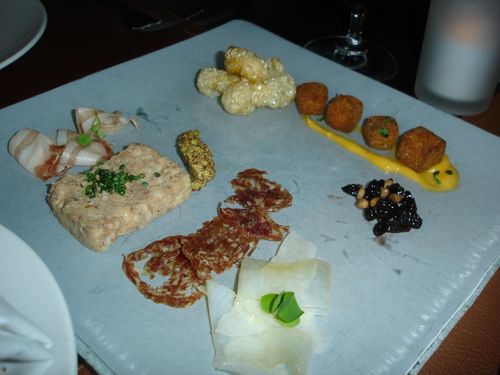 "Les Cochanailles" Many tastings of Pork.
Assiette of house-made charcuterie: Duck rillettes, Pate de Campagne, Foie Gras au Torchon.
.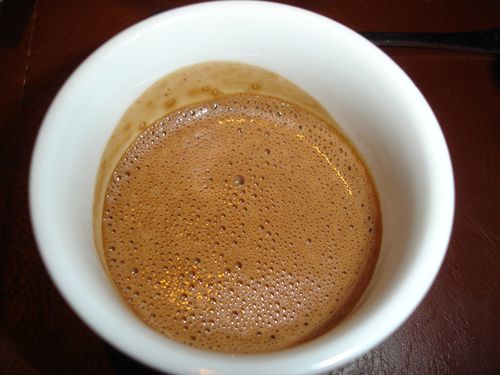 Valrhona Chocolate Soup with ancho chili and cardamom.
.
We were treated to a selection of cheeses and were serves these little chocolate and nut treats with the check. They look a little bit like Preacher Cookies.
.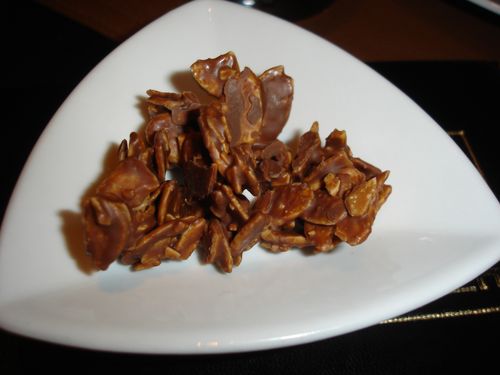 We managed to make an entire evening out of chocolate at Craigie. If you are going to go all out on rich and fabulous foods and drinks I can't imagine a better place than Craigie on Main. I am so grateful that this place is only a two minute walk from my door to their door.
Thank you Carrie, for having me in and testing cocktail creations with me. I will gladly be your guinea pig any day.