Mast Brothers Chocolate Brooklyn, New York.

Take a second to marvel at their gorgeous packaging. Each bar has a different and eccentric package pattern. I love the way they look.

Lovely Package has good collection of images with their various products and packaging. They also have way better photography than I do giving much better justice to these special chocolate wrappers.

A collection of Mast Brothers Bars were sent to me from my good friend Shane Welch, brewer and owner of Sixpoint Craft Ales. Shane has used Mast Brothers cocoa in his beers before and raves about their chocolate. Shane and I also talk a lot of shit to one and other be it politically or in general. That's what home slice's do. He demanded that I try the Mast Brothers chocolate after I proclaimed my love for Italian Chocolatiers. Then one day in the mail, a wonderful package of beer and chocolate was delivered to my door.

From their website:


The Brothers
Rick Mast culled his culinary craft in heralded New York City kitchens such as Gramercy Tavern, Soho House, and the Outermost Inn on Martha's Vineyard, and under Jacques Torres at his Manhattan chocolate factory. A classically trained musician, Rick plays piano and is an amateur banjo player.
Michael Mast, prior to handcrafting chocolate, spent many years in finance for independent film and television in New York. Making chocolate was a disciplined an studious hobby. In recent years, her has combined his love for cocoa, travel, and photography with trips to Central America and Africa.

The Mast Brothers are located in Brooklyn, New York making artisanal chocolate bars. These are hand made bars with cocoa from Madagascar, Venezuela, Dominican Republic, and Ecuador.

Upon receiving their bars, I immediately sent a request for information. How much cocoa butter, why soy lecithin? I indicated my connection with Shane Welch, hoping that would lend some credibility. I heard nothing back. That only means I have minimal information to go on as far as where the beans come from for each particular bar. I know they use single origin beans, but I am not sure of the varietals. Each bar lists ingredients, but not cocoa origin or varietals.




They do have a blog and a Facebook page, but I didn't know that they had those pages when I reviewed this chocolate.

Upon reading their Facebook notes, they seem to do a lot of beer and chocolate tastings. Men after my own heart due to the nature of my beer background. Not to mention when I used to teach beer and chocolate tastings when I worked at Formaggio Kitchen in Cambridge, Ma. That's where my chocolate journey began.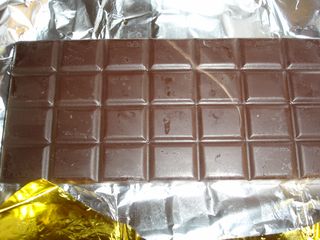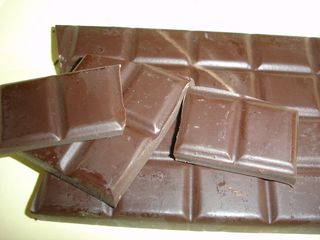 Mast Brothers Dark Chocolate 75% + Fleur de Sel

Bean Varietal: Unknown

Sample size: 2.5 oz
Type: Flavored Bittersweet 75%

Ingredients: Cocoa, cane sugar, cocoa butter, sea salt, soy lecithin, vanilla beans.

Appearance: Slightly knicked up, but that won't reflect on the score. I believe that came from shipping. Shiny, and simple molding. Slight streak through the bar as if blooming may have begun to occur.

Score: 87

Snap: Clean snap with clean break lines, good snapping sound.

Score: 94

Aroma: Smokey, tobacco, slight roasted cocoa, a little earthy, fruity, berries.

Score: 95

Taste: Salt is the first thing that comes through, but then dissipates as it is not blended through the bar. It's actually quite soft and not overbearing. Adds a nice balance to the bar.

Cocoa has big berry taste, low acidity, no sharp pangs in the neck. Takes a while for the flavors to open up due to slow melting. Smokey tobacco notes, flowery lavender and ginger notes mixed in with berry and smoke notes. Lingering tartness and bitterness at the end when the chocolate has completely melted.

Score: 97

Texture: Dry, hard texture, extremely slow melt, but opens and becomes creamy as it softens though the melt. The salt is delicate and not coarse, it is not gritty, and smooths itself away quickly.

Score: 92

I am guessing that this particular bar was made with the Venezuelan beans. The big berries and smokey nose indicate that that may be where the beans came from. Probably Forastero bean varietal.

The sea salt was excellent for this bar. A nice balance to the sweet berry flavors. The sea salt was sprinkled on lightly, and was not overdone and not too coarse to interfere with the texture.

Very pretty chocolate.

Final Score: 93