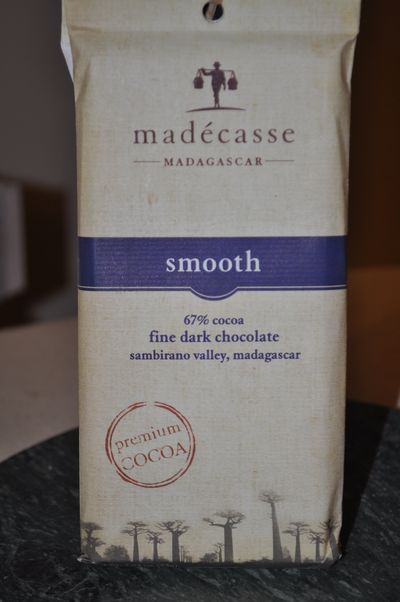 Mellow & Subtle Sambirano Valley
Type: Semisweet, 67%
Bean Varietal: Probably Trinitario hybrids
Ingredients: Cocoa beans, sugar, cocoa butter, soy lecithin, natural vanilla.
Sample Size: 2.64oz or 75g
Appearance: Monogrammed tablet with cocoa pods, simple square bite size squares, A bit ashy, and broken and nicked up, soft brown color.
Score: 83
Snap: Fairly decent snap. Firm with a mildly audible snap sound. Crumbly break lines.
Score: 91
Aroma: Wood, soft, sweet, mild pen ink aromas, slightly acidic, soft roasted cocoa, soft floral aroma, peppers and berries almost like a pepper jam.
Score: 94
Taste: Berries right up front, a bit of tar and acidity, mellow sweet sugars, then it opens up into bright cherries and huge cedar wood, a bit drying on the finish and soft a wood and cacao finish.
Score: 95
Texture: Medium melt time and medium hard, a bit chalky, but overall smooth.
Score: 92
Slightly harsh on that appearance, but I can't be soft on them with a broken up bar. I am pushing it a bit however, with this bar, and I want to be completely honest and fully disclose that I have been sitting on this bar for a while. While it has a 6/11 expiration date on it, I have had this bar since last fall. I am not deducting point on it's slightly ashy appearance. Just for being destroyed in it's package.
That aroma has a lot going on. This is supposed to be smooth and mellow, and while it is a softer chocolate, it has a lot of characteristics on the aroma. More fascinating was this aroma of pepper jam. It was slightly acidic on the aroma which I think lends credence to this idea of pepper jam.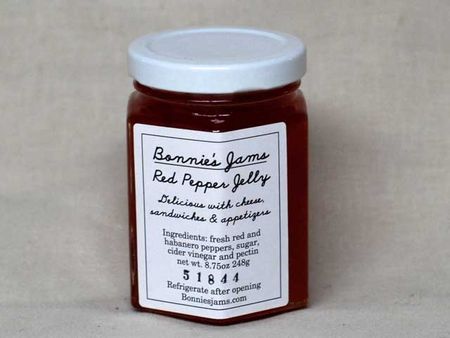 Image via Formaggio Kitchen
Not sure what pepper jam is? Here is one example from Formaggio Kitchen. It's a condiment jam for cheeses and cured meats. Hungry Mother in Cambridge is famous for their small plates of homemade biscuits with ham and pepper jam. It's amazing.
But, there are still the light flowery aromas, bright and full berries, a mild hint of pen ink, soft roasted cacao, and cedar wood. This is quite a complicated aroma for something that is supposed to be soft and mild. One thing to note though, the aromas didn't hang around for long. Some chocolate opens up and gets bolder the more it breathes, this aroma popped out and then checked out, leaving the berries and and pen ink aromas to hang around.
The taste is what I have come to know as very classic Madagascar flavors of bright cherries and big cedar wood. It's a bit inky at first but opens up sweet and mellow. A bit tangy and astringent, but not over the top by any means. It's fully flavored of these deep and complex berries, but it's definitely rounded out and smoothed out. Full flavors, but not kick you in the face with flavor. I like that the berries present themselves, dominate, take over the palate and then slip away as the cedar woods finish up and dry out the palate leaving a nice soft aftertaste without being cloying.
The texture could have been a little bit better than what it was. A bit hard, medium melt time, and a bit chalky. Not too bad though. Still, it was over all smooth, but if this was a tad creamier and a tad softer, this could be brilliant mellow semisweet chocolate. The flavors more than make up for it's texture though. Just a good tasting Madagascar chocolate.
Final Score: 91