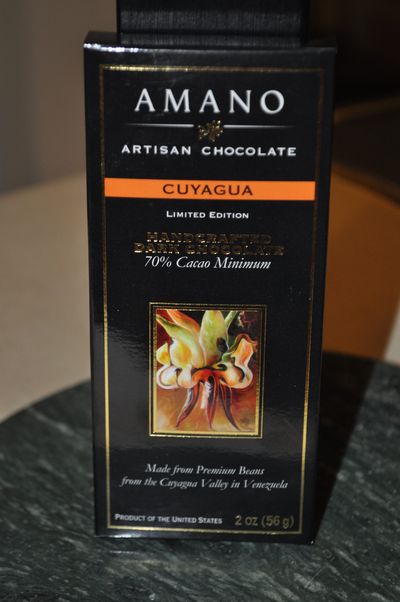 A limited edition bar of chocolate with beans from the northern coastal region of Venezuela. There has been quite a bit of buzz from the "chocolate elite" or the reviewing community about this particular bar. This bar and Amano's Chuao.
It's to be expected though, it's Amano. They are one of the world's best chocolate makers. Their skills in making cocoa beans show their true potential via aroma and taste is simply unrivaled. The dedication and commitment to the farmers and regions where they source their beans is admirable.
I hate to cut and paste everything from their website, but this is a very good description as well as personal insights from Art Pollard himself. I find all of it fascinating and want to highlight it here.
Nestled in a little valley on the Caribbean coast the small village of Cuyagua is home to some of Venezuela's most highly prized cacao. Cuyagua's plantation is old -- tracing its history back to the 1600's. Its trees are tall — many twice the height of that found on other plantations. We buy this special cocoa from Cuyagua's farmers, import it, and using our proprietary and labor intensive techniques transform them into a truly remarkable chocolate. The flavor can be described as being deep and hauntingly rich with wonderful fruit notes of melon and spice. This is an incredible chocolate — one you will treasure and share with your friends and loved ones (if you don't eat it first).
The Chocolate Maker's Notes:
For me, Cuyagua is a very special village and is home to one of my most precious chocolate memories. Not long after we launched, I went to visit Cuyagua's farmers. Cuyagua is very remote and difficult to get to. I arrived at sunrise and spent the cool morning working with the farmers until their day was done. We crossed the Cuyagua river to a small clearing where they gathered round. I gave each farmer a chocolate bar that we made with their cocoa. They were so proud to see their village's name on each of the bars.
We passed around one additional bar for each to sample. One old farmer came approached me and said: "This chocolate is like a river." I thought this a very strange comment and so I asked him what he meant. He looked at me and said: "This chocolate takes you on a journey of flavor to all these wild wondrous places; the flavor goes on and on like a river."
To this day, I get emotional when I think about this simple farmer. Here in this remote village was a simple farmer who in his heart was a poet. Somehow, our chocolate spoke to his soul and left a profound impression on him. This experience made me realize that we were making something truly special and caused me to redouble my efforts to respect each farmer's hard work by making the best chocolate possible. It is my hope that this chocolate speaks to your soul in the same way that it spoke to the soul of this humble farmer.
Art Pollard
Founder / Head Chocolate Maker
"This chocolate is like a river." This is a very true statement and I could tell immediately upon opening it and inhaling the aroma. Very complex, so many details and layers.
Each one of their bars has specific art work as well. This is an oil painting "Cocoa Flower" by Marcia Baldwin.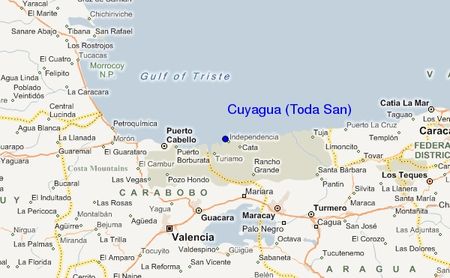 [Image via Surf-Forecast.com]
Coastal Venezuelan regions are world renowned for having some of the best cacao. But this chocolate is very different for anything else I have had to date from Venezuela. As far as the aroma goes anyway. I have come to recognize key hallmarks of certain regions where cocoa comes from. Coastal Venezuela generally has deep, robust characteristics and more funky, tar, toasted bread, earthy, and sometimes bright green or new wood characters, deeply roasted or char characters, with deep berries. This of course, is a generalization and is highly subjective. But it's what I have personally come to recognize from chocolate bars being produced with beans from these coastal areas. Rio Caribe being the most intense region. And while this bar certainly has these hallmark tastes, the aroma masked all of that and allowed a nice "otherness" to be presented about this chocolate.
This chocolate however, is like a delicate flower in the middle of all that chaos of palate inundating flavor profiles. Like the pretty cactus flower that grows a brillaint pink on top of harsh cactus needles. More complicated and softer forcing you to find out it's secrets instead of being hit over the head with it's unique profile. Both on the taste and the aroma.
Click to enlarge images.
Type: Bittersweet, 70%
Bean Varietal: Criollo,Trinitario, hybrid blends.
Ingredients: Cocoa beans, pure cane sugar, cocoa butter, whole vanilla beans.
Sample Size: 2oz or 56g
Lot #: 3/4/85C
Appearance: Square tablet, small squares, monogrammed molding, a bit dusty on the surface, not so much bloom, but more like a mix of sugar dust and chocolate particles all over the surface. A few nicks as well. A medium dark brown chocolate color.
Score: 89
Snap: Excellent snap. Firm, crisp, clean break lines, and nice audible snap sound.
Score: 95
Aroma: Very complex. Slightly roasted aroma, sweet candy, tobacco leaves, mild smoky hints, oak wood, berries, mild hints of pen ink, light almonds.
Score: 97
Taste: Sweet sugars up front, deep and bold bitter cacao, tar, wood, mild coffee notes, complex berries, pen ink, soft and subtle flowery notes, and buttery toast notes on the finish with retro-olfaction.
Score: 96
Texture: Medium hard, medium melt time, and a creamy texture once it gets opened up.
Score: 91
I think it's become a running joke now with Amano bars on appearance. I never seem to get the immaculately pretty bars as far as surface issues goes. But I will hold on to the dream of getting a pristine bar. Kidding aside, it's not a big a deal these minor surface issues, but it does prevent a high score on Amano reviews. I have decided against weighted individual scores.
The aroma was a bit of surprise. As mentioned above, it had virtually no characteristics of what I have come to expect from coastal Venezuela beans. So much going on too. I truly believe Amano are masters at drawing out the true potential in chocolate. It had everything on it from sweet, sugary candy notes, to oak-y woods, and tobacco leaves. A bit of some smoky characteristics and and light, sweet almonds. So much going on. I had to sit with it for a while and really let it all sink in.
The taste had more of what I expect from this region. More tar flavors, toast, pen ink, and deep berries. I am struggling to identify the specific berries. Forgive me for being vague on that. But there were nice mild coffee flavors and wood, but most surprising was a sweet and flowery taste hidden underneath all it's layers.
It's quite intense on the palate, yet the flavors are subtle. Some pop out more than others, but usually from what I have noticed about coastal Venezuelan beans, is that it's robust through and through and there are very specific flavors. Usually they are front and center and all of the nuances are harder to detect. This is however, let's everything come out and play. Delicacies and bold flavors alike all share equal footing.
This is why it's unlike anything I have ever had before. The aroma is soft, and gives off this impression of a delicate chocolate, the flavors are bold and complex yet soft at the same time. They show themselves without kicking you in the face. This is why I compared it to a cactus flower. A pretty little delicacy among giant and not so pretty flavor descriptions. It's as if this is the true nature of these regional beans and it should be kept a secret. Don't let anyone know just how dynamic these beans really are, let them think the region is rustic, bold, and unforgiving on your palate. That this is a region for bitter palate adventurers. Meanwhile, the rest of us will covet these glimpses underneath Venezuela's skirt.
Okay, okay, maybe I am romanticizing this a bit too much, but I am very happy with this chocolate. Not since Rogue Chocolatier's Sambirano, have I been this excited about a flavor experience. And not since Amano's own Dos Rios, have I been this intrigued by an aroma. If this chocolate were just a tad softer, I think it would be a damn near perfect representation of highest quality Venezuelan chocolate.
It's just really nice being reminded just how good chocolate really can be.
Final Score: 93.6