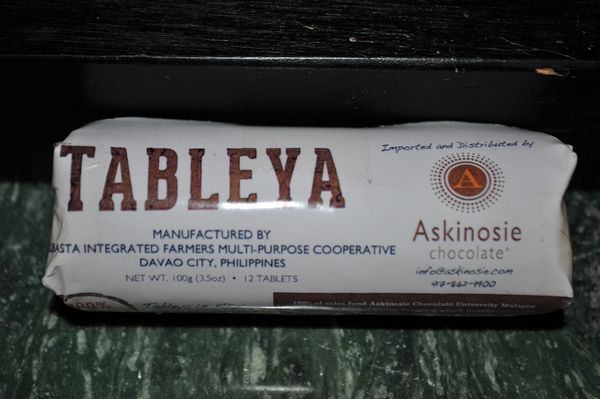 Unsweetened, roasted and milled cacao pressed into tablets and mixed with water and sugar for a Filipino hot chocolate drink.
This is a special novelty product done in good faith and charity from Askinosie that benefits children in the Philippines. Each package sold, provides meals for children.
Via Askinosie's website:
Crafted and packaged by the PTA at the Malagos Elementary School in Davao, Philippines, and shipped to our factory on the same container as our cocoa beans from Davao, this Tableya makes a very deep, rich hot chocolate. But even more importantly, this Tableya has a story.

This is the second year we are selling Tableya and this year, each package purchased will provide enough money for 70 meals. That is a total of 140,000 meals for 700 students-- lunch for every student at Malagos for one school year.

Here's the story: During a visit to Malagos Elementary School in 2011, Shawn Askinosie met with the principal and teachers and asked about their greatest needs-- hunger was the biggest issue. He learned from the school administrators that 20% of the children at Malagos were on the malnourished "watch list." So together, Shawn and the Malagos PTA created the Askinosie Chocolate University Malagos Elementary Lunch Program. The PTA makes the Tableya and ships it to the factory and 100% of the sales of this product fund the program.

We purchase the Tableya for $1 and sell it for $10; the PTA uses the $9 profit to source, purchase, and prepare local food for the students.  In other words, the project is completely sustainable, requiring zero donations. 

We monitor height, weight and arm circumference of every student, along with attendance and graduation rates to measure the success of this program.  We are in constant contact with the school administrators.  Since the program began, with your help, we have provided 185,000 meals. 90% of the students have gained weight and the school attendance rate has increased. 

Convoy of Hope, an international non-profit based in Springfield, Missouri, with children's feeding initiatives around the globe, will continue to assist us with oversight on this project.
Tableya production is a huge part of the Philippines and has it's own legends and myths around it. I found this, the legend of Maria Cacao, while looking into Tableya.
Via Wikipedia.
Maria Cacao is the diwata (fairy) or mountain goddess associated with Mount kanlaon in Argao, Cebu, Philippines, similar to Maria Makiling of Los Baños and Maria Sinukuan of Mount Arayat.
The basic form of the legend is that whenever rains flood the river that comes from Mount Lantoy, or a bridge is broken, this is a sign that Maria Cacao and her husband Mangao have either traveled down the river in their golden ship so that they can export their crops, or traveled up the river on their way back.[1] She is supposed to live inside a cave in the mountain and the Cacao plants outside it are supposed to be her plantation.[2] While the story is obviously mythical in nature, it is cited as evidence of how long the production of tableya, has been going on in the area.[1] Tableya is Cebuano for round, unsweetened chocolate tablets made from cacao beans. It is a crucial ingredient in the Filipino delicacies sikwate (chocolate) and champorado.[3]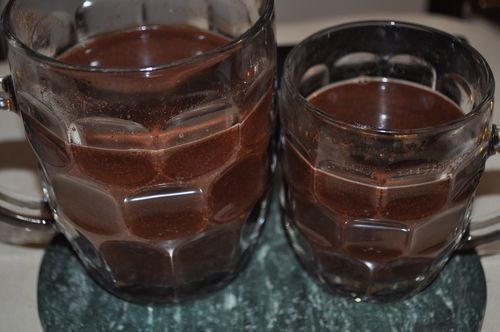 I made two different sizes because while I was in the middle of making a 9oz mug with two tablets, I wasn't sure of the way it looked so I whipped up the recommended 6oz glass with one tablet. I asked the Askinosie team what was recommended. They suggested water 3 different times. You just heat the water, mix the tablet and add sugar if you like. I added a spoonful of cane sugar to the 6oz and 2 to the 9oz mug.
The tablets right out of the package had the most wonderful aroma. Hugely roasted cacao aroma, bold coffee, leather, hints of bananas and other fruits, woody, inky, and a little bit of tar. Loved this aroma.
I found it cool that it is in a tube like Necco Waffers. I live right next to the old Necco Waffer plant in Cambridge so it's a bit nostalgic for me.
As I mentioned before, I was unsure of how it was supposed to look. Thinking perhaps I screwed up and added too much water, I made the smaller one exactly as recommended. They both looked and tasted exactly the same so I assume the ratios were right for the differences.
I wasn't thrilled with how it looked. It looks like muddy water. Not very appealing on first sight. And the  tablet's contact with water destroyed it's beautiful aroma. It became like used coffee grinds and a little burnt smelling.
Surprisingly it tasted much better than I expected. I could go with less sugar next time, but overall it had a nice cocoa-y flavor and the original aromas were back on the taste. A little floral, sweet, roasted, and kind of fruity. It wasn't as full or as rich as I expected though. And I wasn't a fan of it's texture. I do not like it watery like this. I am not sure how traditional Tableya cacao is supposed to taste texturally, but this wasn't up my alley. It's fairly gritty, and too thin from the water. Virtually no viscosity which is what I like about hot chocolate. I prefer sludge-like paste for my hot chocolate.
It's a quite a mixed bag for me. I love it's aroma, hate it's aroma in water. Like it's flavor, hate it's texture. But I have a few more tablets in this roll to play with. I will try it again with milk next time. Maybe almond milk for a thicker version. With vanilla almond milk, I won't need to add sugar. And I have seen some recipes for a traditional Champorado, rice pudding made with Tableya. That needs to happen too. I will update if the results are drastically different.
All in all, it was only okay. Different and interesting, worth buying to try and to make Filipino rice pudding with. But also the charity factor makes it more appealing to give it a try. I scanned some pics of the Tableya on Askinosie's site and it's poured like tea. This could be a good chocolate tea for those who perfer tea over hot chocolate.