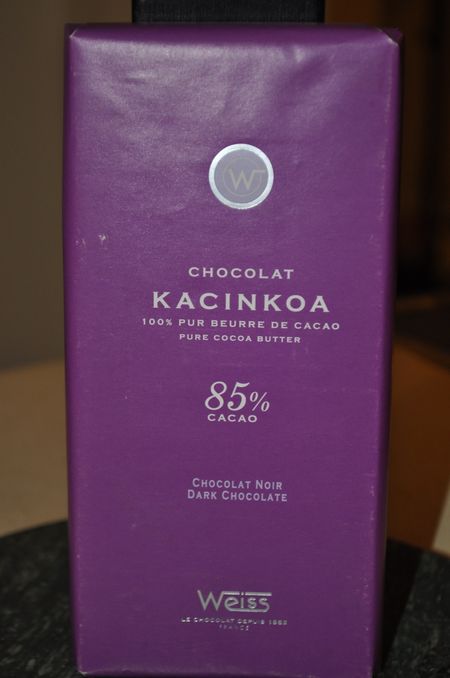 French chocolatiers since 1882.
Via the Weiss website and translated from Google:
The young Alsatian chocolatier confectioner Eugene Weiss founded his chocolate factory in Saint-Etienne in 1882. He is the inventor of the Top Chocolate, or the art of assembling the various soils beans to create a chocolate aroma of great subtlety and rare regularity. He also became a master in the preparation of praline he imagines in his famous Nougastelles always manufactured to the original recipe.
Chocolaterie Weiss is one of the last French chocolate to control the entire manufacturing: selection of beans, assembly, roasting the old to the gas ball, crushing, cocoa grinder, mixer, grinding and conching (the conching is the last essential step that will give the chocolate all its finesse and smoothness).
Complex aromas, slightly sweet, silky and fine quoits, a rare long finish: discover why chocolate lovers recognize Weiss eyes closed.
Weiss provides an authentic chocolate of rare purity, pure cocoa butter, no added vegetable fats, and offers mostly chocolate candy hazoïque without preservatives or coloring.
Weiss uses only beans of noble origins from the best vineyards in the world: Venezuela, Ecuador, Trinidad ...

Weiss chooses the best beans high, knowing the combine, according to the desired mixtures, the Trinitario cocoa from Trinidad & Tobago, the Venezuelan Rio Caribe Forastero or Ivory Coast, whose power is needed to spice up some specialties.

Weiss is as uncompromising in the selection of its raw materials. The ingredients in the composition of confectionery are rigorously selected pod natural vanilla, honey Pilat, almonds of Valencia in Spain and Marconas, Piedmont hazelnuts and Rome, oranges South of the Iberian Peninsula and apricot Luberon , Ceylon tea and jasmine tea, pure Arabica coffee, old kirsch, cognac ... and, the highlight, the 22-carat gold that covers the famous Or Palets
"My passion, my art.
Chocolate as love
Is an eternal source of inspiration
Rich of the noblest emotions. "

Eugene Weiss (1858-1939)
Type: Bittersweet, 85%
Bean Varietal: Blended
Ingredients: Cocoa, sugar, cocoa butter, GMO-Free soy lecithin.
Sample Size: 100g or 3.5oz
Appearance: Patterned molding without monogram, deep dark brown, ashy, a little dusty with light sugar bloom, particle matter all over the bar from rough handling either from store in Quebec City where purchased, or in shipping, lined molding marks on the back surface.
Score: 87
Snap: Excellent snap quality. Firm snap, nice and audible, clean break lines.
Score: 92
Aroma: Big aroma of almonds, vanilla, coconuts, smoke, and aged wood.
Score: 93
Taste: Cocoa-y, almonds, wood, spicy, earthy, *moldy, deeply bitter, cinnamon, tart, some slight hints of grapes. Lingering but very faint hints of tar from retro-olfaction and hints of notebook paper.
Score: 92
Texture: Creamy with a medium melt-time, but drying and a little bit gritty with some large particles, and chalky.
Score: 86
I really liked the molding. Aside from the bloom and particles, the pattern was nice and good size small tablets for tasting.
This was some pretty funky chocolate. I kind of liked it because of that. I don't know for sure if it's flawed chocolate or not, but the taste was very different than what I am used to. Like the so-called flaws of the Papua New Guinea beans at the moment. Some people don't know what to do with the smoked beans, and others handle it just fine. I like it when things taste different. This had big coconut, almonds and dried wood flavors, but more curiously were the earthy moldy flavors with grape and tar flavors on the finish. *I know that sounds bad to say mold flavors, but it didn't find it bad. It wasn't moldy chocolate, it just had very deep rustic earthy flavors. Like the time the Mast Brothers had a bar that smelled exactly like potting soil.
This is very deep chocolate as it's 85%, big strong, musty, and earthy with pleasant almonds and coconuts in it. Very different. I don't know the ratios of this blend, but I'd say African beans give the almonds and coconut flavors. Maybe some hints of Rio Caribe in this but small traces of it for the tar and deep bitter factor. I can't say for sure what makes it so earthy.
Very interesting. I would like to take a bar of this to wine tasting and try and find a good fruity counterpart to offset it's deep bitterness and earthiness. Normally I would suggest a beer, but I want to see what this funky thing would be like with wine.
Final Score: 90