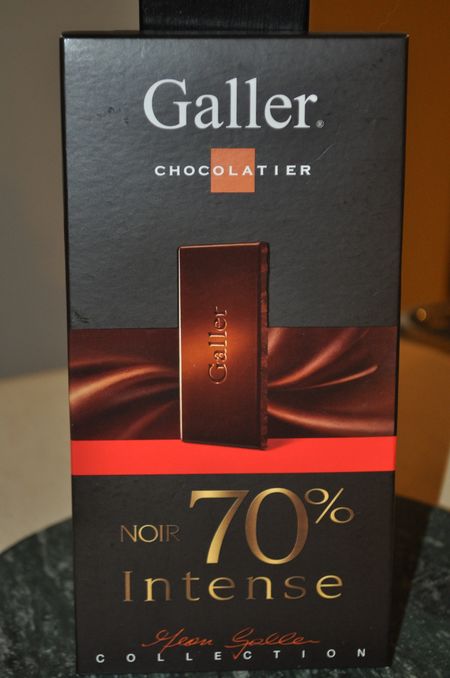 ** Archived notes.
Chocolate I picked up in Bruges while traveling on the Bon Beer Amsterdam/Belgium Beer Boat cruise. I gave Galler a second chance after having a not-so-pleasant visit in their Brussels shop in Central Place in 2010. The customer service in the Bruges shop was phenomenal. Knowledgeable staff, generous with samples, and recommended their dark bars for review. I was so happy to leave their shop with redeemed feelings.
I don't know where the origin of this chocolate comes from but it reminds me of something from Africa. Ghana or Ivory Coast. I don't know for sure but I am guessing that might be where this cacao is from. It's very frustrating with so little information given. There is a lot of detail crammed on the the back of the bar about ingredients and nutrition content in multiple languages, but zero information about the beans. And nothing on the website either.
Type: Bittersweet, 70%
Bean Varietal: Unknown
Ingredients: Cocoa paste, sugar, cocoa butter, soya lecithin, natural vanilla aroma.
Sample Size: 80g or 2.8oz
Lot #: L2661111
Appearance: Long and wide tablet, long rectangle tablets, deep dark color, monogrammed molding, matted surface from signature molding, odd circular pattern on top surface, very shiny bar on the back side.
Score: 90
Snap: Good firm snap, crisp snapping sound, a little crumbly on the break lines, but very decent snap for a thin-ish bar.
Score: 92
Aroma: Very potent aroma. Heavy vanilla, smoke, peanuts, and almonds.
Score: 94
Taste: Rich, bitter, cocoa powder, very bitter, low acids, buttery, peanuts, char, toast.
Score: 83
Texture: A little hard and waxy, but is relatively smooth, has a drying quality to it, medium melt-time.
Score: 87
Odd bar of chocolate. The aroma was very strong and fragrant, but the flavor doesn't quite match it's aroma. The flavor is completely dominated by bitters. It completely coats and dominates the palate. It's starts off with a good balance of sugars and cocoa-y powder flavors, and then the bitter over takes the palate. The only thing really coming through is some peanuts on the finish and roasted cacao flavors like char and toast.
It wasn't a bad bar of chocolate, it was just deceptive and misleading with it's dominate aroma. I wanted the vanilla and sugars to come out more, but the bitters really overtake everything. I think this could have been more more then it was. A better balance of the sweet and floral notes and the rich nutty flavors with the bitters.
What is vanilla aroma anyway? In terms of an ingredient for chocolate.
Final Score: 89.2