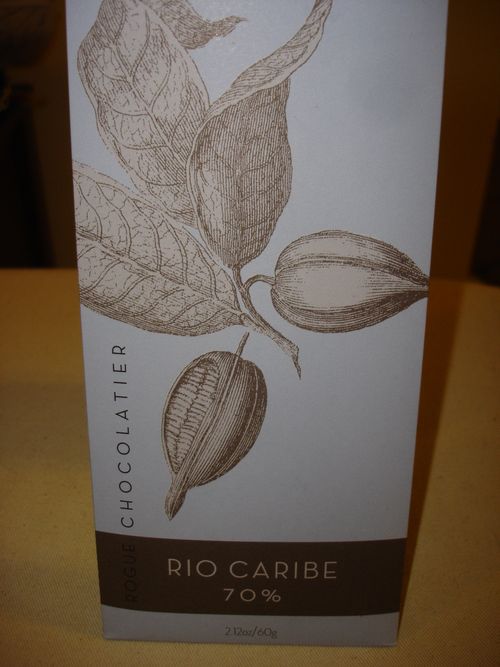 Rogue Chocolatier

Between Angelo Scarnera, the good friend of mine from London, who brought on the British Chocolate Invasion and Emily Shartin, the chocolate buyer from Formaggio Kitchen, the other good friend of mine who trades me chocolate all the time, I don't know who is the bigger hero of my blog so far.

I was reading tweets from Rogue about fresh batches of Rio Caribe being made and a week or two later, Emily came to me at a beer dinner with this bar as a gift. This is the second Rogue bar from Emily. After being in love with Rogue's Sambirano bar from Madagascar, I have been more than ready to try more chocolate from Colin Gasko. The Sambirano is still to this day one of the highest rated chocolates on this blog.

From Formaggio Kitchen:


Colin's chocolates are made in tiny batches where he controls every aspect of production from the roasting of the beans to the winnowing and grinding.
Colin's latest bar is this Rio Caribe - made using a select grade of Trinitario cacao from a single estate on the Paria Peninsula in far eastern Venezuela. The family that runs the estate maintains very high quality standards and Colin has been working closely with them as the first U.S. importer of their beans.



I love this last image of the Paria Peninsula. I get that these images are probably overkill in highlighting where the Paria Peninsula is, but that last image from Nasa is gorgeous.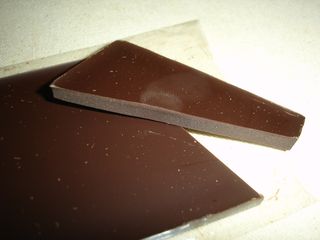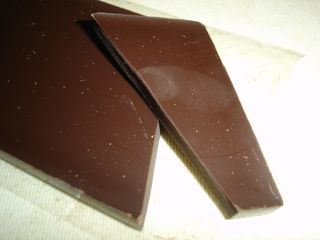 Rio Caribe 70%

Type: Bittersweet, 70%

Bean Varietal: Trinitario

Ingredients: Cocoa beans, cane sugar, cocoa butter, Tahitian Vanilla.

Sample Size: 60g or 2.12oz



Appearance: Smooth, shiny, very simply molding, no lines, a bit of chocolate particles on the bar.

Score: 94

Snap: Firmer than expected snap. It's a thin bar but had a nice crisp snap. Clean break lines.

Score: 93

Aroma: Big roasted cocoa, slightly herbal and medicinal, minty, hints of citrus, soft hints of fruit and a tiny bit floral.

Score: 93

Taste: Bitter, aggressive roasted cocoa, a little astringent, tangy, citrus, cedar wood, and cherries.

Score: 96

Texture: Smooth, creamy, medium melt time.

Score: 94

The nose was aggressive at first but then softened up quite a bit. I didn't think the flavor would be as big as it actually was. The texture is fantastic, smooth and creamy. But the bitterness dries up the palate quickly so you almost forget how creamy it is unless it's melting on your tongue.

This is a very straight forward robust bar of chocolate. The aroma and flavors present themselves in a very matter-of-fact way.

I may have been influenced on the taste after reading this description from Formaggio Kitchen using Colin's tasting notes, but it's pretty accurate in my opinion.



The bar is made with 70% cacao content and Colin adds a touch of cocoa butter for a silkier mouthfeel. As with most of Colin's chocolates, we found his tasting notes to be spot on - look for notes of blood orange, nuts and coffee with a perfect snap and smooth melting texture on the palate.


I liked the cherries and cedar wood the most. It's a fairly robust bar of chocolate and to have such distinctive notes come through all the bitterness was fantastic in my opinion. Colin has really mastered chocolate making.

Final Score: 94