Wild Bar from Melt Chocolates in London. A full service chocolate shop with truffles, caramels, barks, bars, single origin hot chocolates, and seasonal offerings.
You can find Melt all over London with their shop in Nottinghill, at Lidgates, Selfridges, and at Whole Foods in Kensington.

Lovely packaging presented in a square shape and not the traditional bar shape. This bar came to me as part of the British Chocolate Invasion. With this collection also came some the 2 Bar, a Milk-Dark chocolate. Also something I specifically asked for, their single origin hot chocolate stiring cubes. I got one from Columbia and Madagascar.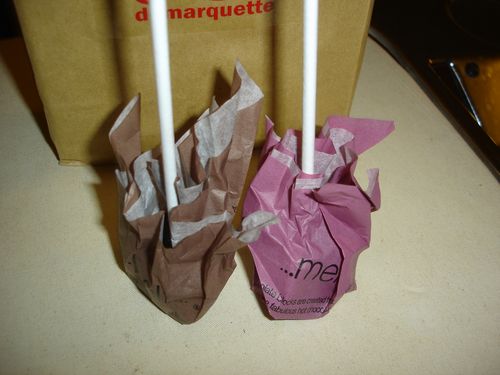 The Wild Bar uses organic beans from Bolivia. As described from their website:


Melt goes wild with this exciting dark chocolate bar. The rare organic beans are harvested from wild
cocoa trees in Bolivia, this chocolate is not rough or untamed, but smooth, sweet and soft.



This will be my first experience with Bolivian beans. I like that this is an entirely wild bar with unknown bean varietals.

From their website:


Our store appeals to all the senses: sight, touch, smell and of course taste. Watching chocolate being made is fascinating and the smell is intoxicating. Our shop is unique – you can see the chocolates being made and you can select the chocolates you like yourself.
Chocolate is the only food that melts at body temperature, hence our name. You can only appreciate chocolate if you let it melt slowly in your mouth – so we encourage you to taste the best chocolate and eat it in a different, rather slower and more seductive way. What we are doing at Melt is creating truly sublime chocolates using the best ingredients in the world. We source our ingredients from the best producers globally. At Melt we work closely with chocolate producers. We will only use chocolate that is sourced from companies with strong credentials for supporting the local community and the environment.
Melt was founded by Louise Nason in 2006 – a mother of four demanding children – who only like to eat the best chocolate. Hence our commitment to the best quality the world has to offer
.
Their head chocolatier is Chikako Watanabe. They work with producers such as Art Pollard of Amano, Mott Green of The Grenada Chocolate Co. and
Santander, a single origin producer from Columbia.
They also work with Britain's top chefs to create special chocolate collections. Sophie Conran, Mark Hix, The river Cafe, and Skye Gyngell.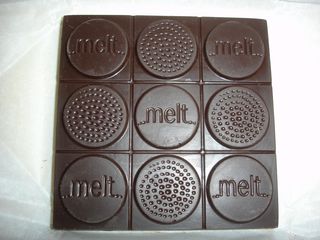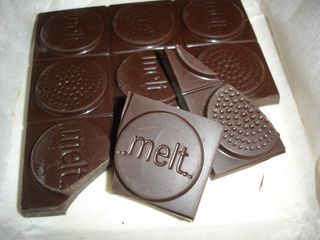 Melt Chocolates ~ Wild Bar 68%

Bean Varietal: Unknown, wild cocoa trees, probably blended hybrids.

Type: Bittersweet, 68%

Ingredients: Cocoa solids 68%, sugar, cocoa butter.

Sample Size: 90g or 3oz



Appearance: Deep, dark brown color, smooth, shiny, cool square shape with monogrammed molding.

Score: 95

Snap: Light crisp sound, but firm snap. Clean break lines.

Score: 93

Aroma: Light nose with hints of peanuts, fruity with cherries and hints of leather and a little smokey.

Score: 93

Taste: Sweet, no bitterness, slightly nutty right in the beginning, roasted cocoa, earthy, a strange spicy note that briefly makes an appearance then quickly goes away almost like a mild curry spice but it doesn't stay long enough for me to be sure, a little soapy tasting, hints of lemon, deep, dark fruits from retro-olfaction. Lingering light bitterness and roasted cocoa.

Score: 95

Texture: Smooth and soft, fast melt time.

Score: 94

The taste is a bit all over the place. The soap characteristic isn't necessarily a bad thing either, but strange in it's presence on a wild bean bar.

This was a very complicated bar for me. It has a lot of the same hallmarks of English chocolate that I have noticed from other bars. These bittersweet bars from the UK have no acidic bitterness or deep bitter cocoa bitterness, but they are very sweet instead. This isn't a bad thing but it doesn't usually leave way for a lot of complexities of the cocoa to come through. That wasn't the case with this bar. There was a lot going on here.

This is a thinking chocolate by trying to pin down these flavors bouncing all over the place. Each piece I tasted new flavors presented themselves. I really enjoyed this.


Final Score: 94