Melt ~ Bar II, from Melt Chocolates in London.

A newer kind of chocolate making the rounds fro some fine chocolate producers, dark-milk. Milk chocolate with higher percentages of cocoa to give a deeper chocolate flavor.

Once again a chocolate that comes to me courtesy of my good friend Angelo from the British Chocolate Invasion. I am in love with Melt's packaging and square shaped bars. It's different and it looks great.
See my other review of their Wild Bar.

There isn't much information about this particular bar so I will proceed right into a review for this bar.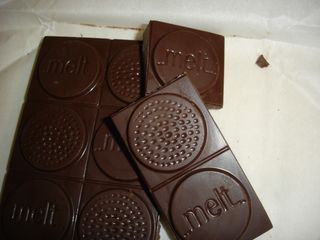 Melt Bar II

Bean Varietal: Unknown, probably a blend.

Type: Dark Milk, 46%

Ingredients: Cocoa solids 46%, sugar, milk powder, cocoa butter, vanilla, soya lecithin.

Sample Size: 90g or 3oz



Appearance: Shiny, square bar, monogrammed molding, soft brown color, but deeper than most milk chocolates.

Score: 95

Snap: Soft, dull snap, clean break lines.

Score: 90

Aroma: Milky, but softer than most milk chocolates, rich buttery caramel nose.

Score: 94

Taste: Soft roasted cocoa, creamy caramel, sweet confection taste almost like handmade marshmallows through retro-olfaction.

Score: 95

Texture: Soft, creamy, fast melt time.

Score: 96

Their description on the package for this chocolate is correct, "Beautiful Dark Milk Chocolate." It really is pretty. It's soft, milky, and lovely with the higher cocoa percentage. It doesn't leave that cloying milk taste on the palate either. That aftertaste is why I tend not to like milk chocolates as much. While this chocolate hangs on to the palate, it's certainly not unpleasant.

This is fantastic chocolate. All milk chocolate should be like this. Creamy soft textures, milky caramel-like taste with more of a roasted cocoa taste, and a cleaner finish without the lingering milk taste.

This would make for an excellent gift to any so-called chocolate expert, snob, or self-proclaimed aficionado. Especially someone who says they only like dark chocolate. If they are not impressed by something like this, they are probably full of shit.

Final Score: 94