This is every junk food-aholics dream. Milk chocolate, premium milk chocolate using Venezuelan beans and potato chips mashed into the chocolate. A sweet/salty lovers dream in one chocolate bar.
A little about Chuao Chocolatiers via their website:
Founded in 2002 by Master Chef Michael Antonorsi and his brother Richard Antonorsi - the company's CEO; Chuao Chocolatier is pioneering "fusion chocolate" through a commitment to creating unusual, unexpected and delicious flavors using their secret blend of premium chocolate and fresh natural ingredients.

The Venezuelan born brothers, now San Diego residents, named the company Chuao Chocolatier after the legendary cacao-producing region of Chuao (pronounced chew-WOW) located in central Venezuela. The Antonorsi's decision was a reflection of their commitment to both high quality and their Venezuelan family heritage. Chocolate is part of their roots, as their ancestors once ran a small family farm that was an important part of the criollo cacao plantation industry.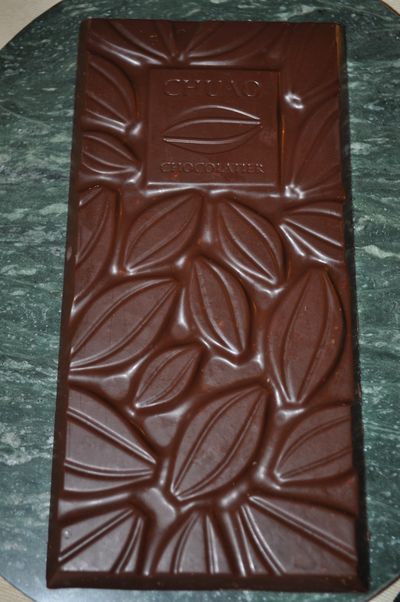 Type: Filled milk chocolate, 41%
Varietal: Hybrid
Ingredients: 41% cacao, cocoa butter, sugar, dehydrated milk, soy lecithin, natural vanilla, potatoes, vegetable oil, sea salt.
Sample Size: 2.8oz or 80g
Nice shiny surface, molded in a signature cocoa pod monogrammed patteren. Lots of crushed chips throughout the bar. Soft milk chocolate which gives way to a light medium snap. Smells like rich milk chocolate. I feel like the milk powder or something in it takes away from some of the more rustic aroma's of Chuao region cocoa, but still smells pretty good.
Smooth chocolate texture, crunchy potato chips. It's not as salty as I would like, but the balance of sweet and and salty is still good. More on the sweet side though. I thought at first, with the way the chips were broken up, that it would be skimpy on the chips. Kind of like Vosges skimps you on the bacon in their famed Bacon bars. There are plenty of chips throughout and it balances really well the insanely rich milk chocolate. Only 41% on the cacao, but still rich and creamy. Excellent smooth melting texture to contrast the crunchy chips. Lingering milky chocolate taste, with potato chips on the finish.
This is a great and super fun bar of chocolate. The potatoes miraculously stayed crunchy and good. And even though I think it could use a pinch more salt because the milk chocolate is super rich and creamy, this is easily one of my new favorite filled bars. I love sweet and salty combos. Calories wise, it's not the greatest move one could make, but that won't stop a glutton like me.