I had a very nice time stopping by this little gem on Charles St. in Boston. I had been meaning to get over there for some time. I finally got my chance and I was very happy with them. The ladies who work there are very attentive and sweet. They are passionate and will engage you in good conversations about chocolate. They will gladly walk you through everything in the store. I haven't run into customer service this good in a while.
This, however, is their evil plan. They are so nice to you that you wind up with the whole store in your hands before you leave. At least I did anyway. I went in for one thing and came out with more bars of chocolate, S'Mores pops, a scoop of mint chocolate gelato, truffles, and hot chocolates. It could have been a lot worse. I already have a ton of bars back logged for review and archived notes to post, but no, I just had to walk out with even more stuff. Their evil plan of "kill with exceptional kindness" completely worked on me.
Today I am going to highlight the S'Mores Pops and the mixed truffle assortment I bought. Click to enlarge pictures.
Handmade S'Mores Pops.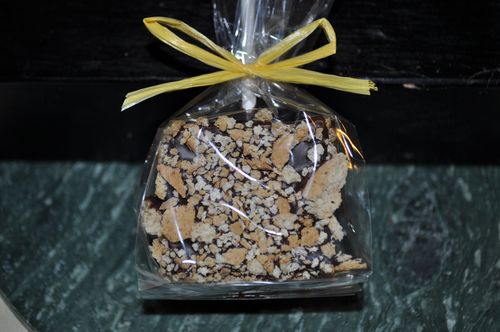 Truffles
Creme Brulee: White chocolate vanilla bean ganache with raspberry Chambord jelly in a white chocolate shell.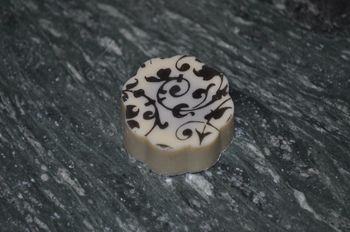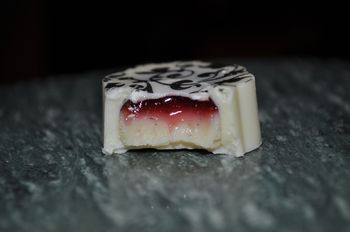 Very pretty truffle. I love the surface design. Very sweet, good creamy white chocolate and white chocolate vanilla bean ganache, with lovely raspberry Chambord filling. But I failto see how this is really like creme brulee except for the vanilla bean. It's very vanilla and lovely raspberry, but no burnt sugar taste. Still a very pretty truffle. I liked this one a lot.
Key Lime: Hand painted white chocolate shell and key lime ganache.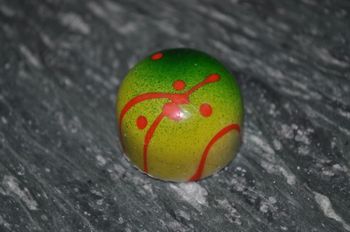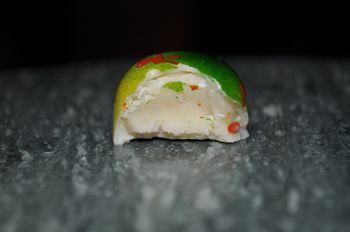 Tangy truffle, buttery white chocolate balance. Lingering flowery key lime taste. Very nice truffle.
Salted Butter Caramel Butterfly: Robust, burnt caramel is enhanced with savory salted butter in a milk chocolate butterfly shell.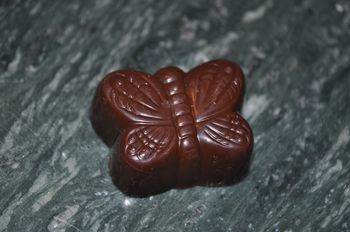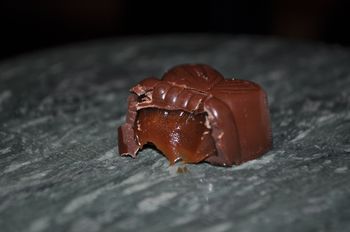 Sweet, buttery, and creamy with very soft and gooey caramel center, nice milk chocolate shell. A little burnt flavors, but not as described and no salty characters. This is a delicious sweet caramel truffle, but the lack of slat was a little disappointing. I can't say it wasn't great though. It was awesome. It just didn't taste like it was described.
Chocolate Martini Truffle: Dark chocolate ganache flavored with Grey Goose Vodka, dipped in a rich dark chocolate shell with a hand painted martini glass.
Deep rich chocolate, robust vodka flavor, no heat or esters, but definitely there on the vodka taste, and almost has a hint of cinnamon to it. Very rich truffle.
Blood Orange Fleur de Lis: Dark chocolate ganache infused with lush blood orange inside a hand painted Fleur de Lis dark chocolate shell.
Deep bitter, but fresh orange taste, deep rich chocolate. The Blood orange balanced sweeter with the chocolate and has very nice lingering orange oils.
Pumpkin Spice: Hand painted milk chocolate ganache with pumpkin pie spices.
This was a mystery truffle at first. I didn't have a list of the truffles I bought. But then I took a bite and was happy to find it was a pumpkin pie spiced truffles. I am not sure if this actually has pumpkin puree in it, but it was creamy, soft, very warming, wonderfully spiced, and buttery. The milk chocolate was the right way to go with this truffle. Loved it!
These next truffles are a little ashy due to me having to wait to eat them. I reviewed half the box because I couldn't sit here and eat 12 truffles in one sitting. Then I had to go to Denver for the Great American Beer Festival. The ashiness is due to me leaving them, and were not the condition I bought them in. See the box of truffles pic above.
Dragonfly: Dark chocolate ganache with essence of Kaffir Lime leaves and silky coconut milk embedded with a piece of candied ginger.
This one wasn't my favorite. This is my problem though. I am not a big fan of candied ginger. This however was very light in flavor. It was pleasant and not overwhelming except for the ginger to me. There was barely a coconut taste, the ginger dominates but is toned down by the chocolate and the Kafir lime leaves were a nice rounding flavor on the truffle. It's actually quite nice. You will just have to forgive me as I can't personally stand candied ginger.
Lavender Truffle: A delicate milk chocolate truffle infused with French lavender blossoms, coated in 64% dark chocolate.
Very robust lavender taste. This was a bit too much for me. It wasn't fresh lavender, it was musky like stinky, French soap. Perhaps milk chocolate was too soft for the lavender. The shell was a lot more illustrious when I first got it. This picture isn't doing it justice on how pretty it was. But frankly speaking, it was too funky for me.
Seduction: Combination of Portuguese Port Wine and chocolate ganache.
This is a really nice truffle. Deeply rich, and fruity. Complex fruits like deep raisins and a bit of a balsamic taste. Very nice.
Chile-Limon Mayan Truffle: A special blend of dark and milk chocolate ganache infused with Southwestern chilies and house-made lime marmalade.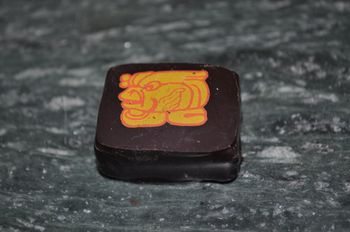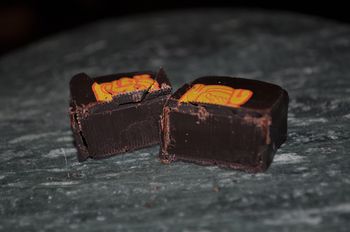 Lightly spicy as far as the heat goes, a little warming, but spicy chili taste, and slightly tangy. Soft smooth texture, but I wish it had more of that lime taste. And as someone who is a total wuss about spicy heat, I felt like it could have been more on the chili's. But the flavor was right. This was a pretty cool truffle over all.
Dark Chocolate Cat: Extra-bittersweet ganache in the shape of a cat with sunflower seeds for ears, enrobed in dark chocolate.
I call this the Bruiser because it looks like one of my wild "chirruns," Miss Bruiser Alstrom. This is a straight up super rich dark chocolate truffle from Moonstruck in Oregon. Cute and fun Halloween truffles. This may be a bit too rich for kids, but still cute none the less. And little sunflower seeds for ears.
Olive Oil and Sea Salt: Dark chocolate ganache infused with a touch of olive oil and topped with sea salt.
Nice savory olive oil taste and good balance of salt with the dark chocolate. I kind of wish this one was a caramel. But the dark chocolate held on to the olive oil taste well. Really nice truffle.