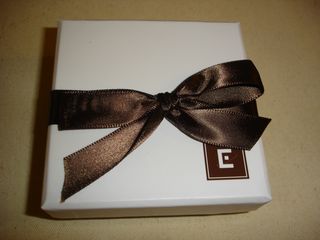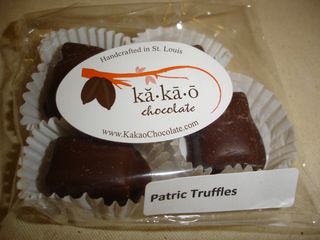 70% Madagascar cacao from Patric Chocolate made in to truffles and bon bon's by Kakao Chocolates and Christopher Elbow, specially released for Valentine's Day.

I ordered these right away when Alan McClure of Patric Tweeted that there were a few orders left. Alan had previously sent me his whole profile of bars and drinking chocolate (reviews still to come), and knowing that these truffles were made with Madagascar beans, I jumped all over it. I have been a major fan of Madagascar beans lately.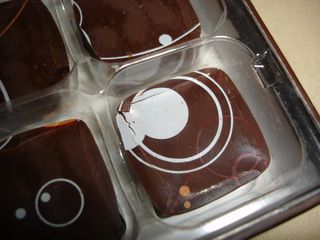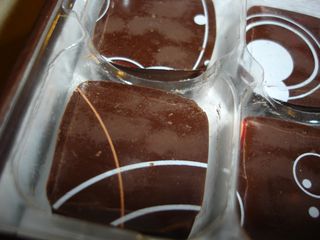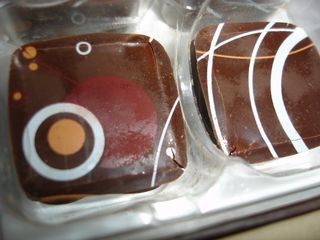 I must say, I was rather disappointed with the condition of the Elbow chocolates. They arrived at my apt. last week. I opened them and that was the condition they came in as pictured above. I am usually less critical of chocolate appearance, but in this case, what a disappointment. They lost their luster, were not shiny, blotchy, sunken in a little bit, and some of them were cracked. And it wasn't just one box of the Elbow. I bought two of each from Elbow and Kakao. Both boxes of Elbow looked like that.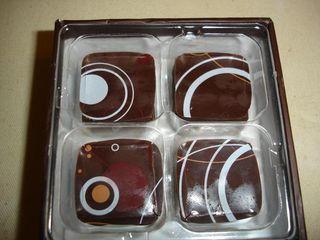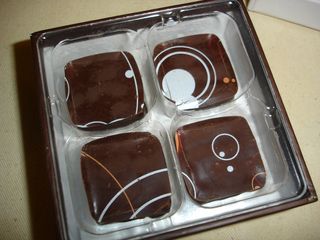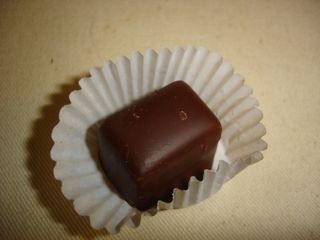 The packaging though for Elbow was fantastic. For the Kakao truffles, it was a little basic in plastic wrap with little to protect the truffles. Interesting that they held up better than the Elbow truffles.

The Kakao truffles smelled like wood and citrus. So much citrus the nose was astringent. The Elbow bon bons smelled more buttery. Softer and more delicate cocoa notes with hints of wood and citrus as well.

The Kakao truffles were soft in texture, tangy with big citrus flavors, slight hints of wood, a bright cherry finish. Lingering spiciness.

Excellent!

The Elbow bon bon's were very soft. Soft texture and taste. Tastes like rich roasted cocoa, wood, cherries, and creamy butter, slightly tangy but not astringent. Very delicate and nuanced.

Excellent again!

Next time Patric, Elbow, or Kakao announce the release of these special truffles and bon bons, make sure you order yours right away. Hopefully they will come in better condition than mine came in, but if it's the taste that is all that matters, then you will be blown away by these rich and decadent offerings. Once again Madagascar beans proving to be my favorite.
Update: I just received an email from Alan McClure of Patric Chocolates with amazing customer service offering to refund me my money for the state of the Elbow truffles. I refused of course because these truffles were simply amazing. I ate them and was happy to have had them. But it was worth noting the level of customer service Patric Chocolates will go to to make sure their customers are happy.