My husband was wrapping up a meeting in Boston yesterday, when he stopped by Au Chocolat and picked up a wine sampler box of mixed truffles from Belgian Chocolatiers Neuhaus.

He found a collection of truffles meant for pairing with wine. The "sommelier" collection. Maxim de Muynck voted Sommelier of the Year in 2009 by Gault & Milau has designed this collection.

There is some good news for beer lovers. Two beer selections made into the booklet for a pairing recommendations.

He chose Lindemans Framboise for the Suzanne. It makes sense being a Belgian beer paired with Belgian chocolate truffles. Also raspberry on raspberry flavor profiles for both the chocolate and the beer.

However, to many beer lovers Lindemans is like "Kool-Aid." While it tastes awesome and is perfect for desserts and is very interesting for what can be done with beer, it tastes nothing like what we would consider traditional beer. However, for chocolate this is not the wrong way to go as it is very much like a dessert on it's own.

Lambics are a style of beer classic to Belgium made by a process called spontaneous open air fermentation. I am sure many beer geeks can break this process down better than I can, so I will spare you all the geek talk, but it's basically beer fermented by wild yeast in the air and other funky bacterias. This particular beer is then dosed with 500 lbs or more of various fruits and sugar. These are known as lambics which are wild ales. Many different styles have similar processes such as geueze, and other Belgian sours or unsweetened lambics. Lindemans happens to be the fruitiest, sweetest, and most palatable to the average person.

The other beer recommendation was Mc Chouffe from Brasserie d' Achouffe in Belgium. This is a spectacular Belgian-style brown ale which is unfiltered and then re-fermented in the bottles or a process known as bottle conditioning. It's an 8% abv beer with big sweet malts, a bit roasted, and fruity. Perfect for desserts and chocolate.

When Maxim chose this beer for the 1875, this made perfect sense with the cinnamon biscuit center of the truffle. The cinnamon and the toasted biscuit flavors.


I chose Heron Pinot Noir Vin de Pays de la Mediteranée to go through the truffles with. Next time I will take a collection like this and take to a wine bar and work out various combinations with wines. Otherwise it's unrealistic to sit here on my own and crack open various wines to fit the suggestions of the sommelier.




The Suzanne; Infused chocolate ganache with raspberries.

Light subtle flavors of raspberries on the soft centered ganache, waxy chocolate shell, dried bits of tart raspberries on top.

Works lovely with the Heron Pinot Noir. Allows some drier woody, and more tart notes to come out on the wine. Tames it makes it a little earthy.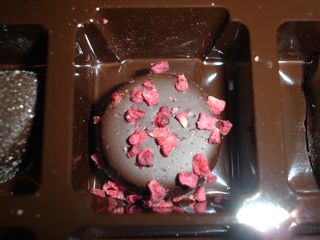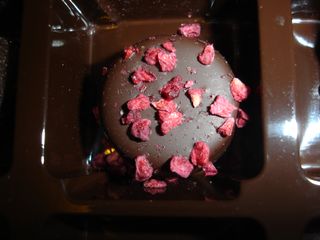 Maxim de Muynck Suggestions:

Cuvee Sakura 2003 raspberry and cherry wines from Roisin, Belgium

Lindemans Framboise Raspberry Lambic, Belgium

Zéro Pointé Rosé, Loire, France

Bugey-Balivery Cerdon Sparkling wine, Bugey, France




Grand Place; Dark chocolate shell coated with sugar with a soft ganached hinted with nigella.


Nigella is a spice that is mainly used when cooking Indian flat breads, such as naan, and vegetarian dishes.
The spice has a strong taste that is similar to oregano.
The Nigella spice is the seeds of the plant called Nigella Sativa. The seeds are tiny and black in colour. The seeds themselves don't have much of an aroma but the oregano aroma is released when the seeds are fried or crushed. The taste is a bit like cracked pepper and is bitter.
Via Curry Focus


Deep rich chocolate shell, once again waxy mass produced taste, but extremely soft ganache center with big sweet caramel notes and a peppery nigella taste, sweet lingering sugar notes from the chocolate.

Works fairly good with the Pinot Noir. A bit borderline meaning there was almost too much alcohol overbearing on the palate. The major indications that you have a wrong pairing with wine and food. Same rules apply for beer. But still fairly good pairing.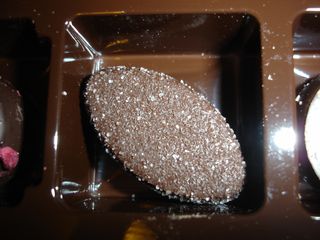 Maxim de Muynck Suggestions:

Ojai Santa Barabra 2006 Syrah California.

5 year old Malmsey Blandy Madeira, Portugal.

Commandaria Ekto or Keo Sweet dessert wines, Cyprus

Marsala Vecchio Samperi de Bartoli, Italy




Criollo; Bitter dark chocolate with a fresh butter cream center.

Bitter, sweet, dry, soft center, still has a waxy taste that so far all of the truffles have had. Roasted cocoa and coffee notes underneath this trademark waxy taste.

Works very well with the Pinot Noir. Enhances the wine to be more earthy, but the bittersweet chocolate lingers on the palate to be fairly dominant.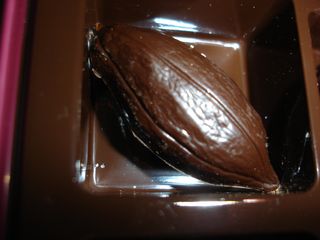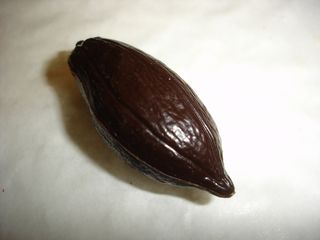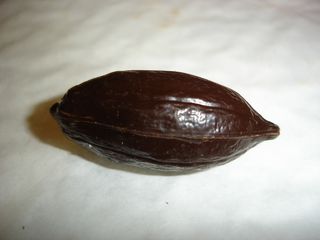 Maxim de Muynck Suggestions:

Darroze Bas Armagnac, France

Ojai Santa Barbra Syrah, California

A generic recommendation of Bordeaux wines from the left bank.



Ganache Amère; "A happy marriage of the sweetness of créme fraîche and the magic power of chocolate, with a sublime, pure bitter flavour."


Sweet, rich, same waxy taste, roasted cocoa, slightly spicy in the beginning.

So far it works the best with the Pinot Noir. They tame each other. The rich sweet chocolate is toned down by the earthy wine, but the creaminess allows them the marry instead of contrast. The earthy notes on the wine tone down and let spicy characters come out.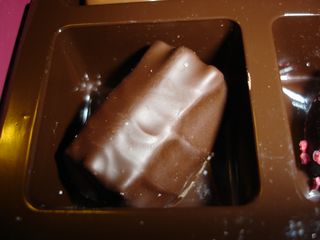 Maxim de Muynck Suggestions:

Monastrell Dulce, Alceno

Pedro Ximénez, Toro Albala, Spain

Monastrell Dulce, Alceno, Spain

Maury Vintage, Dessert wine, France



1857; Milk praline with cinnamon biscuit-y center known as speculoos.

Light, milky creamy taste coupled with the same waxy taste, crunchy center, light cinnamon hints.

Works okay with the wine. It's borderline. The crunchy center wants to clash with the wine, but the creamy, milky chocolate taste recovers it and rounds out the wine stopping it from being a wrong pairing. It's not exact, but it's not bad either.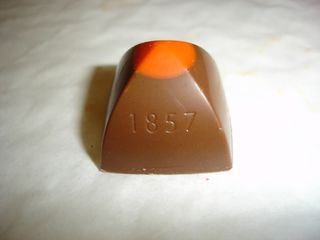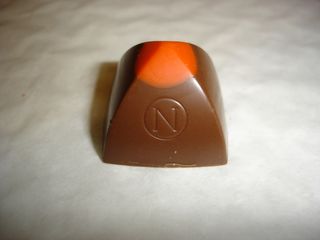 Maxim de Muynck Suggestions:


Mc Chouffe, Brown, strong ale, Belgium

10 year old Grant Burge Tawney, dessert wine, Australia

Domaine des Rosiers, Confidence 2005 vintage, France




Sapho; Milk chocolate with almond praline center.

Basically a milk chocolate shell with a super soft almond-chocolate center. Kind of like giandja made with hazelnuts. Same waxy taste, but a hit of pepper up front. The waxy taste makes it practically no different than gianduja since this waxy hallmarks has hazelnuts. It's just a bit butterier than gianduja.

This works really well with the Pinot Noir. It's all about the nuttiness playing off the earthiness, and creamy texture smoothing out the alcohol edges of the wine. This was pretty good. Not exact, but very close.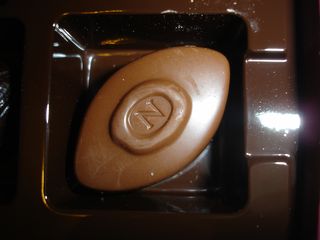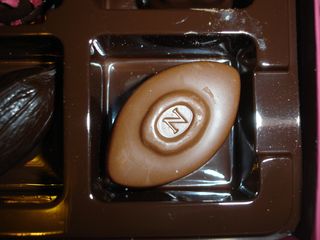 Maxim de Muynck Suggestions:

Neipoort or Burmester tawny port, Both from Portugal.

Chȃteauneuf du Pape or a Domaine Gremenon La Mémé 2006, France




Galerie; Caramel center, with chocolate center in a chocolate shell.


Salty and very gooey caramel with a thin layer of a chocolate ganache in the center gives off sweet and salty contrast, but that same damn waxy chocolate taste overtakes the lingering palate.. This would have been the best balanced truffle if it wasn't coated with this generic chocolate shell. That waxy taste ruins the balance.

The wine works well with the pairing based on all other descriptions from the previous truffles. It's creamy and salty and the butters work well with the earthiness of the wine. The sweet chocolate brings out more of the earthy flavors.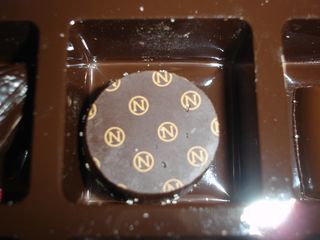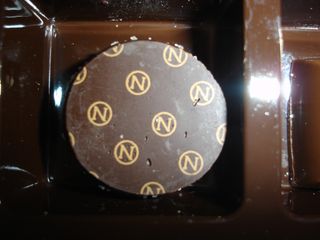 Maxim de Muynck Suggestions:

East India Solera de Lustau, Sherry, Spain

Neisson Rhum Agricole, Rum, Martinque

Rivesaltes Ambré, Domaine de Rancy, France

Domaine des Rosiers, Confidence 2005 Vintage, France

Generic recommendation of Red Bordeaux from the left bank, France

Le Chȃteau La Rame, Cuvee La Charmille, I ères Cȏtes de Bordeaux, France



Passion Amande; White chocolate shell, cocoa butter, sugar, and caramlized salted almonds.

This is basically a white chocolate shell with soft chocolate and minced almond center. Barely salty, barely noticeable almonds, and it tastes like gianduja more than it does almonds.

Having said that, it's creamy, and the white chocolate is not over powering with a dominate milky or cocoa fat taste. It is like all other truffles in the collection, waxy and nutty. I wish the almonds were not minced to a finite crunch. There is no sense of caramelized anything let alone being barely salty enough to handle the chocolate.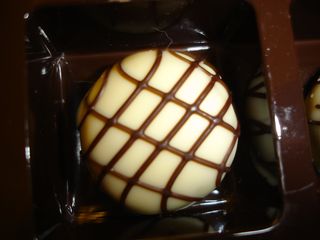 Maxim de Muynck Suggestions:

Bartoli Moscato del panteliria, Italy

Chȃteauneuf du Pape or a Domaine Gremenon La Mémé 2006, France

Le Chȃteau La Rame, appelation Sainte Croix du Mont, France



More specific wine pairings:


Elysium Black Muscat

Suzanne

Grand Place

Criollo

Passion Amère



Oloroso Sherry

Sapho

Passion Amande

1857

Galerie


Overall this is a decent collection to share with friends. But you might have noticed my impatience with this collection. It's all same-y, and mass produced. The trademark waxy quality on these truffles leaves little to be desired. It's an odd milky, waxy, and nutty (hazelnut) flavor that permeated all of the truffles. This is a hallmark I have noticed on other Belgian chocolates as well. I am not sure if it's because it's mass produced with additives and preservatives or if it's just from blending chocolates. The single origin bars from Neuhaus are spared of this effect.

I am wondering if it's just a Belgian hallmark in general. I have been noticing regional hallmarks lately. England chocolate bars tend to be a lot sweeter than the American, French, and Italian versions. European chocolate in general tends to be milky, and creamier Especially with Swiss, German, and Belgian chocolates.

It also could be because these came in a sealed mass produced collection box. I am willing to bet if these truffles were made fresh and bought from a tiny shop in Belgium it would taste worlds different. It's always different when you are traveling and in the moment.

Still fun none the less trying to figure out which one of these truffles would end up clashing with the wine I chose. Interestingly enough none of them did clash, though a few came close to not working.

Get some wine, get some friends and crack open a box of truffles. Even if you don't choose Neuhaus, there are plenty of truffle makers locally you can chose from and go from there.

Tonight's focus was all about wine, and while I will always worship wine and chocolate, I am going to say that beer and chocolate is much cooler to work with and much more interesting finding out why things work and why they may not have worked. I love vino, but I am always going to be a beer girl at heart.