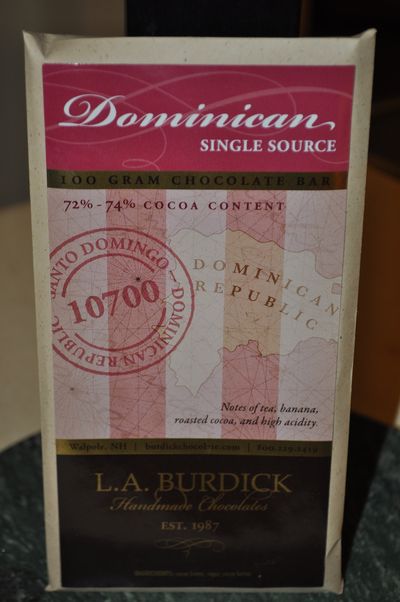 I had always maintained that L.A. Burdick makes exceptionally amazing chocolate bars. I knew that they weren't a bean-to-bar company and that they used Swiss chocolate making techniques and Swiss couverture chocolate as they like to boast on their Facebook page and website. But it wasn't until recently I found out that they sourced their beans from Felchlin and Valrhona. They also source from Venezuela, and more recently Grenada.
Mostly known for having the best cup of hot chocolate in all of New England, their truffles happen to be some of my favorite from the area as well. It wasn't until I started writing this blog, that I got into their bars. Again, it's couverture chocolate, but for cases like this it's how they blend their chocolate and how they tweak the finished product that counts. They continue to be top notch to me.
The only thing frustrating is not knowing exactly where they source their beans from for the bars. They mention Europe for blocks and liquors, but South America for the bars. They are not a bean-to-bar so I don't know if they are doing direct sourcing now or brokering the beans. They are working with Grenada for sourcing directly with farmers, but there is little information about the rest of the South American beans. Their website has little information about the bars.
Designed for true "Chocophiles", Burdick single source bars allow a sampling of six distinctive regional beans. From the fruity acidic notes of Madagascar Beans, to the earthy flavors of the Dominican and the nutty, deep, and spicy tastes of Grenada, Burdick single source bars provide a world tour of regional chocolate tastes; i.e., "terroir" amplified. The single source offerings reflect our recent discoveries. Try all 6 bars with our complete set, a "Burdick Choice" 3-pack, or buy each single source bar individually.
I have one pet peeve about chocolate, and that's not having a more detailed website for information about your products. It might not have always mattered as much as to where companies source their ingredients from, but these days it is important. Fair trading, locally sourced ingredients, child labor issues, and ethical corporate or business practices are extremely important. With just about everyone having access to the web and being more interested in where their food comes from, there should be no reason for sparse information. Also, after recently having a poor customer service issue with Burdick's, I really do not want to call them and speak to them directly about their chocolate details. While that's just me and my own issues with them, it's still a pain in the ass regardless of my own experiences with their company.
Having a website that offers details about chocolate such as how to store it, what kinds of varietals are out there, ect., to having piss poor information about the bars and chocolate being used itself, is rather lame.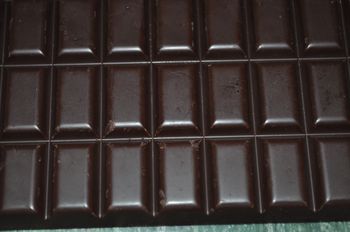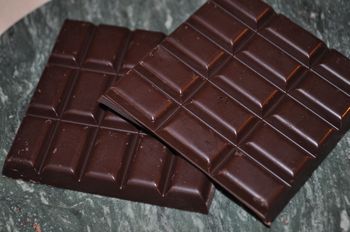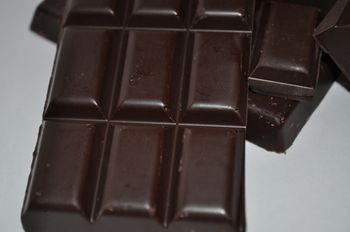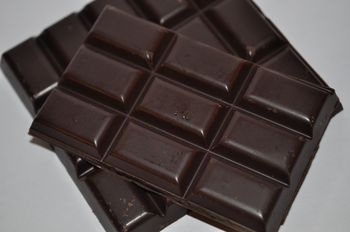 Dominican Single Source 72-74%
Type: Bittersweet, between 72-74%
Bean Varietal: Trinitario
Ingredients: Cocoa beans, sugar, and cocoa butter.
Sample Size: 100g or 3.5oz
Appearance: Simple, non-monogrammed small square molded tablet, shiny, smooth, barely a blemish, deep rich brown color.
Score: 94
Snap: Firm snap, clean break lines, dull thud snapping sound.
Score: 90
Aroma: Wood notes, tobacco, almonds, vanilla, mild cinnamon notes, and lightly smoky.
Score: 93
Taste: Sweet, sugar, acidic, tobacco, rich, bold wood, small hints of tar and pen ink, earthy, unripened bananas and cream, mild cinnamon and toast on the finish.
Score: 95
Texture: Smooth, creamy, medium melt time.
Score: 93
Simple molding, pristine condition, a couple of nicks here and there but in fantastic shape. A medium snap of firmness and dull snapping sound. Still, it was firm and had clean break lines.
The aroma was fairly simple. Big wood, roasted cacao, tobacco, and some slight cinnamon characters. It was pretty straight forward and not overly complicated.
I tried not to let the packaging influence my palate or tastes when reviewing but it did have the notes it mentioned on it's package. "Notes of tea, banana, roasted cocoa, and high acidity." It was sweet upfront with sugar, then it opens with big wood and earthy flavors. Slight hints of tar and pen ink. I tasted more tobacco leaves than tea leaves. There is a banana flavor but it's like green, unripened bananas and cream. And a little bit of buttered cinnamon toast on the finish.
Very bold chocolate, but fairly straight forward on it's taste and aroma. Just nice and rich. This would be great for baking and drinking too. You could make the most decadent chocolate cake with a bar or two of this chocolate.
Final Score: 93