It happened one drunken night at The Hawthorne in Kenmore sq. I demanded to my husband that we go out to Island Creek Oyster Bar for some amazing seafood and oysters. It's one of my favorite restaurants. The customer service cannot be beat there. While waiting for a table, we slipped over to Hawthorne's for a pregame drink before dinner. Our table was called in 5 minutes so we vowed to come back.
When we came back, it was quite packed but we were able to get arm chars in the back room with a private bar. We shared the area with some cool people whom I later found out were the owners of the Cochon 555, Brady Lowe and his awesome girlfriend Heather Craig. Cochon 555 is a traveling circus of pork gluttony and bourbon debauchery. I kid. They are a traveling festival working with premier chefs in various cities around the U.S., hosting competitions and food challenges revolving around pork and educating the public about heritage breed pigs and small local pork farmers. 5 chefs, 5 pigs, and 5 wine makers. We'd love to see 5 beer makers too. One day.....
They liked that we were from BeerAdvocate and that we like a good drink or cocktail aside from beer. Brady introduced Todd to the world of Mezcal and I introduced him to the world of Vieux Carre's. It was then that he asked Todd if he would like to be a judge for the event held in Boston. This was on a Friday night and the event was on Sunday. Score!!! The Boston event featured Tim Cushman of O Ya, Jamie Bissonnette of Toro and Coppa, Barry Maiden of Hungry Mother, Barbra Lynch of Menton, and Nookie Postal from Fenway Park.
Table toppers and O Ya's menu printed on pork skin.
Bourbon, pork, bourbon, pork, wine, pork, lard ice cream, bourbon, and then these chocolate bars handed to me at the post party event.
Whipped lard truffle with Valrhona Milk Chocolate from O Ya.
Jamie Bissonette easily took winner of this event, he is currently hot right now with his impressive James Beard nominations and Chopped victory. He is like Hansel, so hot right now. I personally loved it all but found Hungry Mother to be the best display of the pork but I wasn't judging. The idea of the event is showcasing heritage breed pigs, and head to tail challenges. HM's offerings were not about pizazz but very much about the true flavors of the pork. But in a subjective world and being pitted against some insane culinary heavy weights in this town, it wasn't an easy challenge. Jamie dropped the bomb using Asian street food with pork after recently having been on a trip to Asia and it pretty much slayed everyone.
Hungry Mother plating up for the onslaught of hungry pork lovers. HM's Lard Ice Cream Sundae with smoked chocolate sauce, crispy pork rind, and charred sorghum marshmallow.
So, after all that eating and drinking (Todd judging and my eating the offerings with the farmers of the beloved pigs we noshed on all day), we still had a post party to attend. This is where Heather handed me a shit ton of bars. She said, "Here! I know you like chocolate. Take it." You don't have to twist my arm. And I haven't had anything from Xocolatl before. Score! It's also chocolate with pork in it. Well, one has caviar, but it's a creative play on words. Ham and Eggs.
Xocolatl de David is the brain child of David Briggs, formally the sous chef of Park Kitchen in Portland, Oregon. David has previous judged Cochon 555 and created these bars for the event. And is one of the sponsors of the event. He also has a wonderful collection of pig-infused products.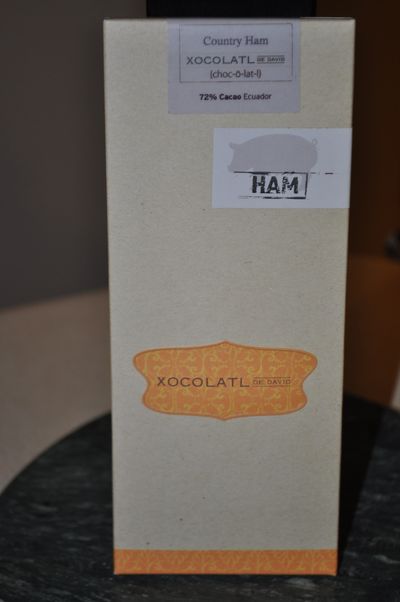 Country Ham
Type: Filled, bittersweet, 72%
Bean Varietal: Nacional
Ingredients: Cocoa mass, sugar, cocoa butter, vanilla, Benton's County Ham, fleur de sel.
Sample Size: 2.2oz or 62g
Appearance: Flat, no pattern, non-monogrammed simple molding, streaking on the back with matting on the front side. Deep dark brown color, a little dry looking, shiny on the top surface despite matting (my camera didn't conveying that), and lumpy with ham bits.
Score: 79
Snap: Firm snap, decent crisp sound, clean break lines.
Score: 91
Aroma: Dried wood, savory, ham, salt cure, dried peanuts.
Score: 92
Taste: Sweet and salty, a little smoky, salty cured ham, tangy acids, robust wood flavors, fruits.
Score: 95
Texture: Very smooth and silky chocolate texture, fast melt-time, crispy bits of ham.
Score: 95
Aside from a boring looking mold and streaky appearance, this bar is anything but that. It has a very straight forward aroma and flavor. Sweet and salty, a pot heads heads dream of a chocolate bar. Sweet up front with sugars in the chocolate, and then salt from the cured ham and fleur de sel. Ecuador cacao with hints of peanuts on the aroma, but hard to notice on the flavor. Some fruits in there too but they are caught in the middle. It's really between two flavors, salty ham and bold wood-flavored cacao. Most nuances present themselves, but really get trounced by the salt. But when the focus is the ham, it balances with the bold cacao very well. There isn't much to dissect with this bar except it tastes awesome. It's part of that every growing throw-bacon/ham/pork-into-everything trend and I do not mind it one bit. This is a perfect creation for something like Cochon 555.
What I really like is how smooth and silky the texture of the chocolate is. Having recently debated the merits and flaws of what is considered to be waxy chocolate, this might fall into that line for some people, the way some have described waxy as super soft and chewy. I don't know if that's a bad thing. And I get a different impression of what I think waxy is like. Think hard surf wax versus soft hair wax. To me waxy is the hard surf wax. Other factors contribute to a hard texture, but there is a definite chew that makes it waxy. This is why chocolate makers are skeptical of soy lecithin and how much cocoa butter to use. To me this was soft and delectable with it's fast melt-time from the cocoa butter. I don't find it waxy at all no matter which side you tend to fall on. I find it quite nice and a good contrast to the crispy, salty ham.
Best of all, they didn't go skimpy with the ham. You hear that Vosges? You can actually put pieces of ham and bacon in your products and still get good results. Stop being cheap and charging a mint for a product with little or no meat in it!
Final Score: 90.4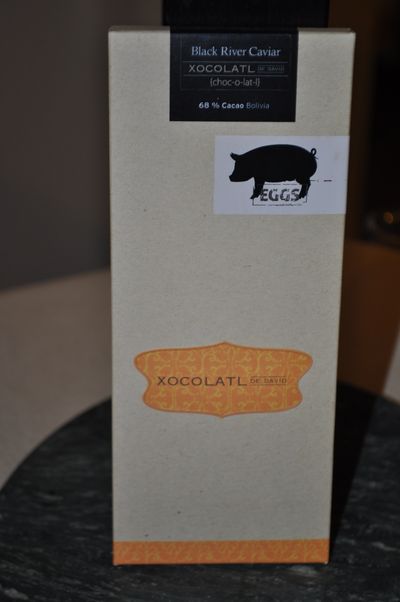 Eggs (Black River Caviar)
Type: Filled Bittersweet, 68%
Bean Varietal: Unknown, probably a wild hybrid.
Ingredients: Cocoa mass, sugar, cocoa butter, Black River Caviar, sea salt.
Sample Size: 2.2oz or 62g
Appearance: Flat, no pattern, non-monogrammed simple molding, streaking and a little ashy on the back side with air bubbles, shiny (camera didn't really convey that) but matted markings on the top surface, deep dark brown color.
Score: 79
Snap: Good firm snap, small snap sound, a little crumbly on the break lines.
Score: 89
Aroma: Briney sea water, ocean, floral jasmine, roasted cacao, lightly smoky.
Score: 94
Taste: Sweet sugars, roasted cacao, then salt, and very briney, metallic-y caviar taste, jasmine, berries, pen ink, and wood, some smoked characters hidden in there too. Like smoked salmon.
Score: 92
Texture: Creamy, silky texture, fast melt-time, crunchy caviar and large salt crystals.
Score: 95
This one is a bit of a mixed bag for me. If you love caviar, then you will love this bar. For me it was a good balance of a more neutral chocolate origin and salty, briney, fish tastes. I didn't think it was perfect but that's also because I am not very big on caviar. But as for the balance, the caviar did not over take this despite the nose. It didn't over power it and the chocolate flavors definitely made an appearance.
It opens up sweet and soft, it hits you with sugars up front and then there is course salt, sea water brininess, and a metallic fishy caviar taste. It doesn't last long, but it is definitely noticeable. It's a big pop. Then the chocolate lets off some very nice jasmine flavors, almost as if it's trying to clean up the brine, and some fruity berries, and a little smoke which gives off an almost smoked salmon effect. But no lingering fish tastes.
The texture was once again a creamy and fast melt-time, but not like the Country Ham. This bar was much more firm but still maintained the same integrity of a silky smooth texture. I like what they are doing with these textures.
I think this is pretty cool for chocolate. It's definitely a novelty and the balance was right with this Bolivian cacao versus briny caviar. A different take on sweet and salty. Just a little odd match up with jasmine, berries, and sugars, and salty, briney, caviar.
Final Score: 89.8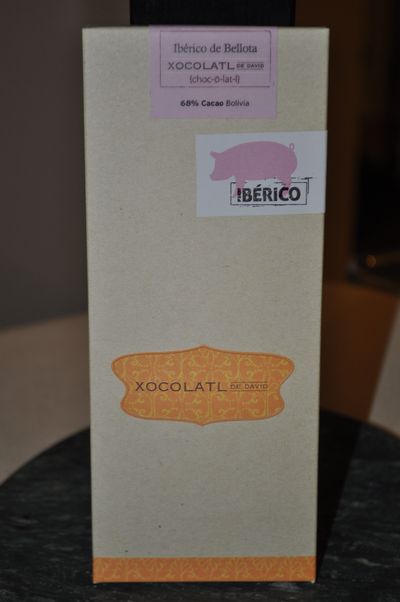 Ibérico de Bellota
Type: Flavored bittersweet, 68%
Bean Varietal: Unknown, probably some wild hybrid.
Ingredients: Cocoa mass, sugar, cocoa butter, Ibérico de Bellota (pork) lard, fleur de sel.
Sample Size: 2.2 oz or 62g
Appearance: Same streaky back surface with the plain and flat non-monogrammed molding, shiny surface, but matting on the front, very soft to touch. melting in my fingers with nano-seconds of touching. Softer brown color.
Score: 79
Snap: Very dull, very soft, very light popping sound almost inaudible, and it bends before it snaps. Having said all that, it still managed to produce a fairly decent snap giving the make up of this bar.
Score: 79
Aroma: Roasted nuts, salty, mild pen ink, buttery, berries, smoke.
Score: 93
Taste: Sweet sugars, peppery, savory, a light oily pork taste, salt, pepperoncini, wood, fruity, nutty.
Score: 94
Texture: Silky smooth, creamy, fast melt-time.
Score: 96
Basically this is a lard chocolate bar. The lardo adds almost no flavor to this chocolate sans some savory and very transparent oily pork flavors. It's so subtle you almost don't know it's there. It sits on top of every taste point like an oil slick on water, reminding you it's there but not really interfering with the chocolate. There is some salt mixed in and you then taste the lard more, but it's almost like it subdues the chocolate flavors. Where as sugars tend to enhance fruity flavors on chocolate, the salt in this case is holding it down a bit. It is a more mild and subtler chocolate, but this makes it seem almost like it's an overly delicate porcelana bean.
It's very sweet and sugary right up front, then there is a bit of black pepper flavors, nutty, fruity and woody and then this oily taste followed by some tangy pepperoncini tastes. You'd hardly notice the lardo at all without the salt to remind you it's there.
It's very interesting. I don't know why but I was expecting bigger PORK flavor with this Spanish ham lardo. It mostly adds to the insanely good and silky smooth creamy texture. There is a hint or a trace of the lardo here and there but ultimately it's just traces on a subdued bar of chocolate. It tames it and then sort of haunts it like a ghost. Not to be convoluted here, but it's very odd and interesting.
I like it very much. It has salt, peanuts, pepperoncini, black pepper, fruits, and pork flavors. Very dynamic for one bar, yet still soft and still fairly delicate. It deserves a much higher score. The appearance was weak though and the snap was well, it was bad. I had a hard time deciding what to do with the snap score. In the end I judged it for what it was like the other bars. Even though this bar is double-edged with soft cocoa butters and lard, it had a better than expected snap too. I thought it would be a lot softer considering it begins melting the second your skin touches it.
Final Score: 88.2
Just for the sake of argument, my digital camera was not showing the shine on these bars, but I was able to get a good shot with my iPhone so you could see what I mean. There is a great reflection of my lamp in the shine.