Once again my partners in craft. American Craft Chocolate makers The Mast Brothers. This time they have paired up with Stumptown Coffee. Stumptown is out of Portland, Oregon with branches out in Seattle and now in New York. They make some of the best coffee in the nation. You might see Wil Wheaton tweet about this place a time or two. Sixpoint Craft Ales, another New York connection and fellow partner in the craft world, also uses Stumptown in some of their beer offerings. Locals supporting locals.
Madagascar base peppered with coffee beans on top. The beans are direct trade from Africa, part of the Kayanza Province in Burundi. The coffee beans are then roasted in Red Hook, Brooklyn. Madagascar beans are organically farmed in Madagascar and then roasted, cracked, winnowed and stone-ground, and aged in Williamsburg, Brooklyn.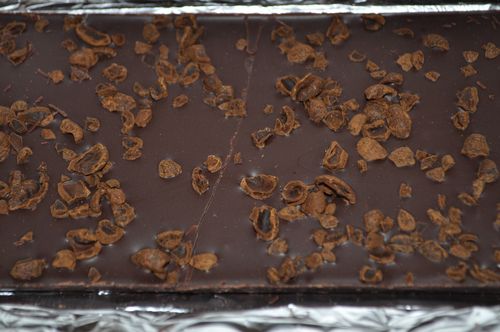 Mast Brothers Dark Chocolate + Stumptown Coffee
Type: Bittersweet, 72%
Bean Varietal: Unknown but probably Trinitario.
Ingredients: Cacao 72%, organic cane sugar, coffee beans.
Sample Size: 2.5oz or 70g
Appearance: Amazing contrast between the brown on brown colors of the chocolate and coffee beans. The chocolate was a lighter brown and a bit ashy. But the coffee beans were bright and popped against the background of the bar. The actual molded surface was ashy as well but smooth.
Score: 91
Snap: Decent and firm snap. Clean, but asymmetrical break lines.
Score: 92
Aroma: All coffee. Not freshly brewed coffee, but rich cracked beans. A bit like used coffee grinds. The roasted cocoa enhances the coffee aroma.
Score: 91
Taste: Coffee right up front, but then the tangy sharpness of the madagascar cocoa takes over. Sharp at first and a little bit acidic. But then it's followed by rich fruitiness and roasted wood flavors on the cocoa. Classic Madagascar flavors. It finishes with the crunchy coffee bits leaving a coffee and fruity taste. Very well balanced on the finish. The coffee is also not bitter and not acidic. Just lovely and roasted.
Score: 95
Texture: Creamy and crunchy. It's obviously supposed to be crunchy but the chocolate texture was smooth and creamy and the coffee beans were excellent and crunchy but not gritty.
Score: 91
The appearance score should have been a bit lower, but that gorgeous contrast of lighter chocolate and coffee beans saved the day. It was ashy. It's tough when reviewing the Mast Brothers. They shine when their bars are super fresh. With in a couple of weeks. After that they are very sensitive products. It only really effects the appearance in small ways. Maybe some ashy surfaces and maybe some streaking.
The taste on this bar is fantastic. The big bold complexities of Madagascar cocoa is exactly what was needed to balance and play off of the coffee beans. The cocoa added a big spike of acidity and bitterness, but quickly smoothed out with fruits, and roasted wood flavors. This toned down what might have been a double whammy of bitterness from the coffee beans and allowed a lovely rich roasted flavor off the beans. Very well balanced on the finish but the opening was huge for various flavors.
And the texture was great too. Crunchy and creamy at the same time. Not gritty.
I loved this. It's gorgeous to look at and tastes awesome. There is a lot going on with the flavor of this bar. I think this is one of their best flavored bars yet. That's a pretty big statement. If you have ever tried their Salt and Pepper bar then you will know that that bar was tough to beat.
Be advised though, to expect a big caffeine kick. Chocolate naturally contains it and more than most people are aware of. And of course the coffee beans. You will be jacked so I advise eating it little bits at a time. Unless you are at work and really need to woken up, then you can eat this whole thing.
Final Score: 92.4