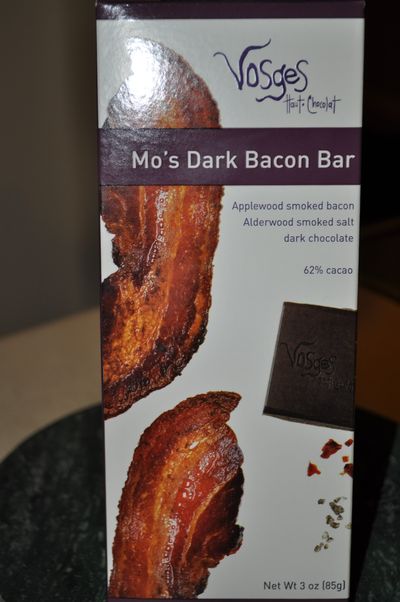 Sometimes I go through so much chocolate I forget about notes I have been sitting on. This is one of those moments with Vosges. I had tried the Mo's Bacon Bar in milk chocolate and I liked it very much. I just had to give the dark chocolate bar a chance. It's pretty inexcusable to let notes about a bacon and dark chocolate bar to go by unpublished for this long, nearly a year ago now, but that won't stop me from posting these tempting notes now. Although this bar isn't the most pristine looking bar I have reviewed, it's still a bacon and chocolate bar. You know what's up.
Type: Flavored Semisweet, 62% (48% cocoa solids, 39% cocoa butter)
Bean Varietal: Unknown
Ingredients: Dark chocolate (cocoa mass, sugar, cocoa butter, soy lecithin, vanilla), 10% uncured bacon (pork, sea salt, raw sugar, white pepper, dry juniper berries, celery juice, lactic acid-starter culture), salt.
Sample Size: 3oz or 85g
Appearance: Very messy surface. Same issues I had with the Milk Bar. Far more matted appearance with this bar. This comes from it's sealed plastic wrapper. The type of wrapper that seals everything in and I appreciate, but makes for messy surfaces. Monogrammed, large square molding. Deep, dark rich brown color.
Score: 75
Snap: Good firm snap feel, light snapping sound.
Score: 90
Aroma: Big, deep aroma of cocoa and cocoa powder. Bacon, salt, smoke, pepper, nutty, smells sweet and cocoa-y and then the bacon.
Score: 94
Taste: Sweet and salty, deep rich chocolate right up front, bold chocolate with a big nutty flavor that comes through even through the bacon, salty, crispy bacon.
Score: 95
Texture: Smooth chocolate silky texture, quick melt time, crispy bacon bits. *Waxy.
Score: 92
Very tasty bar of chocolate, fun and trendy. Despite it's bad matting on the surface, it was still a relative shiny surface. That's something you couldn't tell based on the pictures. The flash highlighted the matting in a bigger way. I can't get too mad about it since I prefer the sealed plastic wrappers. They hold in all the aromas and keep chocolate much longer. But it always does leave these kinds of appearance issues.
The aroma was surprising. I expected all smoke and bacon, but got deep rich cocoa aromas instead. Nutty, and cocoa-y, then the bacon aromas of smoke, pork and pepper. It was a nice balance.
The taste was pretty balanced, big rich chocolate flavors for a 62% bar, but the chocolate texture was fantastic. Lot's of cocoa butter and it was good. Very smooth and silky. *It was a bit waxy however, if you just chomped on a square. If you let it sit for a second before chewing into it, you get a sense of the silky quality.
Despite a balance of flavors, I am still disappointed with the bacon. It's crispy and flavorful, but pathetic with the tiny nuggets peppered through the bar. The package shows you two delicious looking slabs of bacon and you really hope for that inside, but all you get is the taste, essence of, rather than the real deal. I mean yes, the bacon bits are real, but I want BACON in my chocolate not bacon bit salad toppers. Not to mention the bacon in the milk bar still had some chewy fat bits in it. This bar, it was all crunch. They amount of bits are also skimpy. It's simply not what the package advertises. With the way Vosges is priced, you should be getting so much more.
Still it is bacon and chocolate and it does taste really good. It does hit some good technical marks despite the bad ones. I think this is a fun for the chocolate purists or snobs about dark chocolate. Definitely good for bacon nerds. But while I like this bar a great deal, I think I like the Milk bar more.
Final Score: 89.2