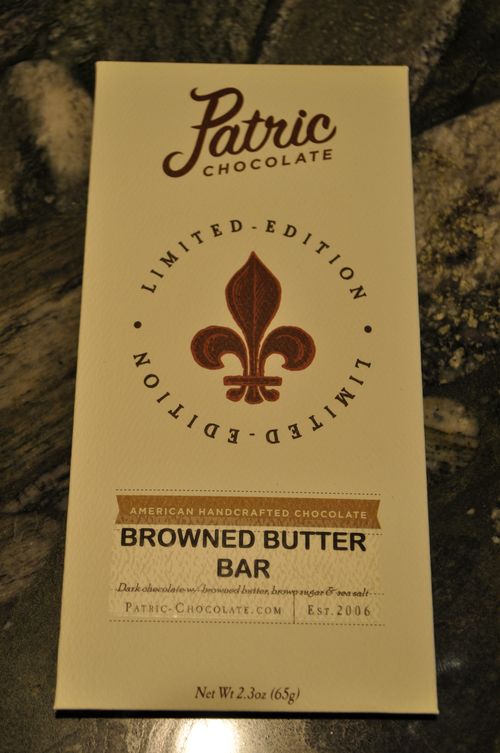 Limited Edition Browned Butter Bar
A mishap on my part. The announcement for this bar went out from Patric Chocolate and sold out the next morning when I pulled out my wallet to buy. Thankfully the internet is a wondrous place where like minded folks have my back. Scott from DallasFood.org was able to send me a bar from his private stash. I am very grateful.
I am not normally a race to get on the trends kind of gal. When there is a special release I will get on it if it sounds like something I want. Browned Butter was a must for me. But apparently it was the bar for everyone else too.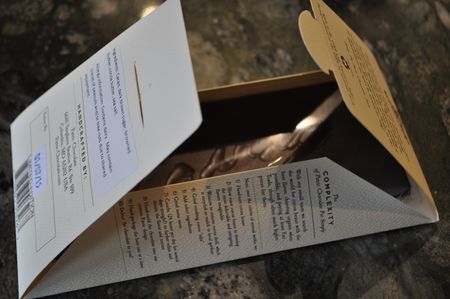 Patric has new packaging that is worlds better than before. Before it was a very simple package with dark colors and cocoa pods. I didn't mind it but according to some it looked like other bars on the market. Then it was hipster postcard look with neon colors and splatter paint design on the molding. The molding is still the same but the outside packaging is much better. It suits the quality of chocolate you are about to eat. That's why I didn't like the hipster packaging before. You got get yourself out there and make your product shine, but sometimes what's in the package is so good, you don't need fancy bells and whistles. Patric doesn't need the bells and whistles at all.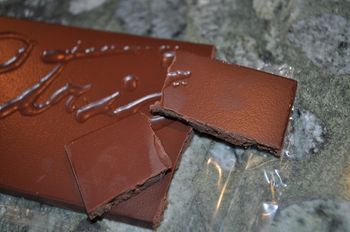 Browned Butter Bar
Type: Flavored, dark chocolate
Bean Varietal: Blend
Ingredients: Cacao, dark brown sugar, browned butter, cocoa butter, sea salt.
Sample size: 2.3oz or 65g
Appearance: Signature molded bar, splatter paint logo design, shiny but muted pattern on most of the surface. Virtually blemish free. One small mark on the surface. Very minor. Cellophane covering stuck to the back of the bar leaving some matted marks but still an impressive shine on the back even with that.
Score: 93
Snap: Virtually no snap at all. It bent before breaking in two. Super soft bar but still had a little bit of a break. No snap sound.
Score: 77
Aroma: Tart fruits, rich butter, lightly woody and nutty, smells like a creamy, and fruity aroma milk chocolate. Black pepper from deeper olfaction.
Score: 93
Taste: Buttery, tangy, fruity, balanced sea salt rich and full flavored. Bitter notes, a little acidic tang, milky buttery lingering flavors. Cocoa-y aftertaste.
Score: 96
Texture: Soft, creamy, smooth, a little chewy, quick melt-time.
Score: 97
I am going to be completely honest here, I am not sure how much snap should be taken into consideration here. Added butter (fats and oils) to the bar it was naturally going to be softer. It has a very weak snap and bended full on before snapping. But still the break was a bit more than I expected. Also, the softness led to the adhesion of the cellophane but still there was a good shine quality left on the bar. Those beginning marks should be taken with a gain of salt. The over all score is it what it is, but pay more attention to aroma, texture, and taste.
Texturally it was fantastic on the palate. I know some reviewers out there don't like super soft  texture on chocolate but in this context, it's perfect. A butter chocolate bar with a luxurious fast melting texture that is creamy and smooth. It melts on your tongue allowing you to take in the huge range of flavors faster.
Very full flavored. First taste is that big buttery taste. Although it smells like milk chocolate and has some hints of milk chocolate on the taste, it's definitely not like milk chocolate. Rich with higher cacao percentage using Madagascar cacao for the base, it gives huge tangy and fruity flavors that balance really well with the salt and butter. Balance is the key here and the browned butter really did work so well with this bar and complex fruitiness of the Madagascar beans. Patric is one of the few chocolate makers in the US who does the best with Madagascar beans. 
I should also note the brown sugar for sweetener in this bar. It's not usual that you see brown or dark sugars in chocolate because of added flavors to the bar. I didn't get a huge molasses taste on this bar but it was more fruitier and richer than typical Patric Madagascar bars. More than just the butter.
Fantastic bar. I am so glad I got to try this. I promise never to slack if I see something I want from Patric again. Browned butter is a flavor not to be denied. It's so rich and wonderful and really lent an awesome flavor to this blended bar.
In my mind this bar should be a solid 95 in score.
Final Score: 91.2